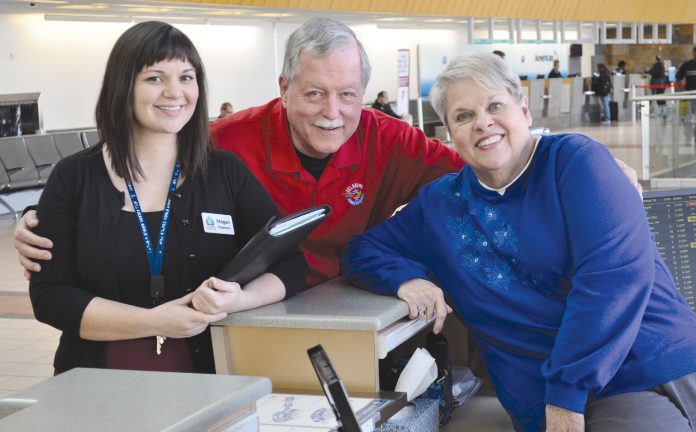 Volunteers help travelers on their way
by Bobby Anderson
Staff Writer
When Paul and Kim Sanders retired they wanted to volunteer.
The first assignment they found was stuffing envelopes for an upcoming local fundraiser.
It wasn't exactly what they were looking for.
"The majority of my life I've been an outside salesperson," Paul Sanders explained. "Sitting in an office just wasn't my cup of tea."
But while he was volunteering he did strike up a conversation with someone who volunteered at Will Rogers World Airport.
An invitation was extended and he decided to give it a try.
It's been eight years now since Sanders – and eventually wife Kim – began manning the Traveler's Aid welcome centers at Will Rogers World Airport.
And for both of them it's one of the highlights of their week.
"It's a lot of fun. We have a good time," Kim Sanders said. "We meet different people. Everyone who comes through with questions is always friendly."
The Sanders' and around 70 others volunteer their time each week to man one of the welcome center booths – one on the main terminal level and the other by baggage claim.
WELCOME WAGON
Will Rogers World Airport sees around four million passengers annually.
That's a lot of coming and going and volunteers like Paul and Kim are in the thick of it.
NBA stars, mayors from other cities and TV personalities – are just a few of the people that have come to Paul over the years looking for help.
"It's a fun experience and it's only four hours a day so you're not tied down," Paul said. "It's a four-hour shift so if you've got to be gone or going on a trip … we've got people who can come in."
Upward Transitions (formerly Traveler's Aid) runs the visitor's center at Will Rogers World Airport. For more than 90 years, Upward Transitions has touched the lives of Oklahomans, elevating those in need, stranded or homeless to a position of self-sufficiency.
Upward Transitions was founded in 1925 as Travelers Aid and was one of the first agencies to become a member of the United Way of Central Oklahoma. The group receives support from a diverse set of funding sources including the United Way, private foundations, federal, county and city grants.
Megan Chapman serves as the Traveler's Aid Volunteer Coordinator.
"One of the things that we have the opportunity to do that not a lot of agencies can do is we can provide financial assistance for stranded travelers," Chapman said. "It could be anything from you getting pickpocketed on your way here and you can't pay for a taxi. We do help stranded traveler's get home. That's our mission of our agency both here and downtown – to bring people home."
Chapman said her organization has been called on to help victims of domestic violence often find their way to the airport. Those stranded at the airport overnight or facing personal emergencies can also turn to the group.
And they're greeted largely by senior volunteers trained to make things a littler easier.
"I'm always looking for people who are friendly," Chapman said. "This is an interactive position. It's not sitting in an office stuffing envelopes and doing mailings. The needs are greater. People are looking for lost baggage or a place to eat."
"Often our volunteers are the first face people see or the first person someone talks to when they arrive in Oklahoma. We're kind of looking for people who want to be ambassadors of Oklahoma City and the airport."
Chapman was a Will Rogers airport volunteer after six years in the Navy. She loved the experience and a year into her service the position of director came open.
"The reason I love airports isn't the airplanes – don't get me wrong, I still have a heart for aviation – but it's because of the people," Chapman said. "You meet so many people. Everyone in here has a story whether they're traveling through on vacation or grieving the loss of a loved one. We like to find out what their stories are."
That's the hook for Kim, whose smile automatically lights up a room.
"It gets us out and it helps other people," Kim said. "When you get done at night you've done something. And here it's something different every time. It's not like an office. You never know what's going to happen."
For more information on how to volunteer you can contact Chapman at 405-232-5507, extension 107.