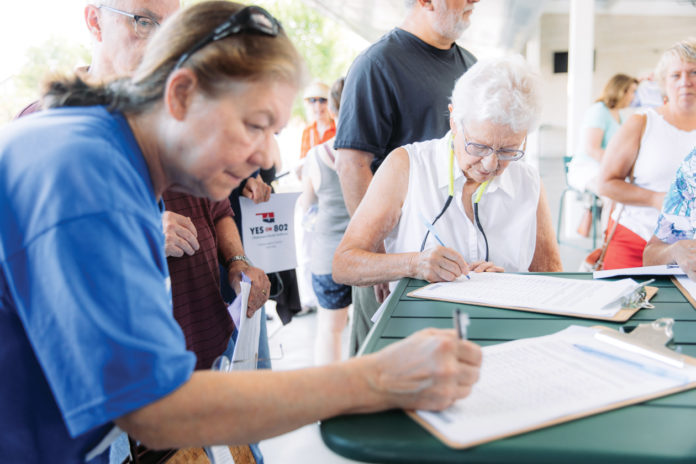 by Bobby Anderson, Staff Writer
Last fall, some 313,677 Oklahomans signed their name to a petition to put Medicaid expansion in our state to a vote of the people.
It was the largest signature mandate for any state question in Oklahoma history.
On June 30, all Okahomans will get the chance to weigh in on whether or not the state will take advantage of federal funding to help the most vulnerable in our state pay for healthcare.
Medicaid expansion through a yes vote on State Question 802 would help Oklahomans struggling to get by – like individuals making less than $17,000 a year or a family of three making less than $29,000.
People who would be covered by Medicaid expansion include parents who work hard at jobs that don't offer insurance, seniors nearing retirement who have lost their healthcare, and Oklahomans who are trapped in the coverage gap –meaning they make too much money to qualify for Medicaid but too little to afford care on the insurance exchange.
Medicaid expansion provides a lifeline for Oklahoma families who are slipping through the cracks in our healthcare system and it halts the agonizing choice that too many families face when deciding if they can afford critical medical care.
"I think now – more than ever – Oklahomans understand that having healthcare is so critical," said Amber England, campaign manager for Yes on 802, an advocacy group that has helped get the initiative on the ballot. "Too many Oklahomans find themselves in a position working two or three jobs trying to make ends meet but they have to make the decisions like 'Do I buy groceries or medicine.'"
The Yes On 802 campaign began April 2019 to put Medicaid expansion on the ballot in 2020. It is supported by a growing coalition of Oklahoma doctors, nurses, patients, business executives, non-profit organizations, healthcare advocates and hospitals.
Voters from across the state participated in the signature collection during a 90-day period.
Thirty-six states have already expanded Medicaid, and billions of tax dollars are already going to those states. Last year, voters in Utah, Nebraska, and Idaho all approved Medicaid expansion.
Expanding Medicaid would bring more than a billion of our dollars back to Oklahoma every year. The money we pay in federal taxes now is already paying for healthcare in states like New York and California.
Oklahoma has the second highest uninsured rate in the U.S. at 19.7 percent. Among low income (<138% of the federal poverty level) adults, the uninsured rate is 32% in metro Oklahoma counties, and 38% in rural counties.
One in 12 Oklahoma children (below 200 percent of poverty) is uninsured (8.1%).
England explained expanding Medicaid allows the state to be reimbursed $9 for every $1 the state spends on Medicaid care.
"It's not just the morally right thing to do but the fiscally right thing," England said.
The Yes on 802 campaign was nearly halfway through its effort to offer 30 house parties in 30 days to inform voters of the state questions before social distancing interrupted the effort.
But the current global pandemic brought the issue into everyone's homes.
"Oklahomans understand the value of healthcare more than ever," England said. "Too many Oklahomans over the past two months have been personally impacted by this virus. Many have not had access to the care they need and I think it's more personal to folks now."
Proposition 802 will appear on the June 30 ballot.
If passed, the measure would add a requirement to the state Constitution mandating that it offer Medicaid coverage to qualifying working age people in Oklahoma no later than July 1, 2021
With current social distancing guidelines, England encourages voters to ensure they will be able to vote by requesting an absentee ballot be mailed to them.
The Oklahoma Hospital Association is an advocate in increasing Medicaid coverage in Oklahoma.
"This pandemic has really highlighted the need for increasing the number of Oklahomans with health insurance coverage and we're still committed to seeing Medicaid expansion through to fruition. Now more than ever, hospitals need this coverage expansion in order to continue serving their communities," said Patti Davis, president, Oklahoma Hospital Association.