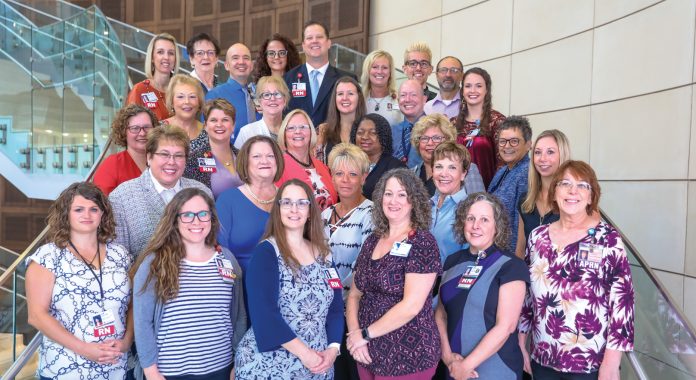 The Great 100 Nurses Foundation has recently chosen their top 100 registered nurses from Oklahoma and OU Medicine dominated with 32 honorees, the most from any Oklahoma health care organization.
The foundation honors thousands of nurses across several states. These exemplary nurses are selected based on their concern for humanity, their contributions to their profession and their mentoring of others. Peers submitted nominations earlier this summer.
"OU Medicine is proud of all of our nurses and congratulates our 32 honorees for this well-deserved recognition," said Cathy Pierce, Chief Nurse Executive at OU Medicine. "We strive to create a nursing culture where our nurses can learn and thrive while making significant contributions to the field of nursing that improves outcomes for our patients. They truly deserve this honor."
The 100 chosen nurses across the state will be honored in an invite-only celebration Sept. 10 at the Hard Rock Hotel & Casino in Catoosa, featuring keynote speaker Tracey Moffatt. Out of all of the honorees statewide, OU Medicine has the most award recipients.
ABOUT GREAT 100 NURSES FOUNDATION
The Great 100 Nurses Foundation was founded by PK Scheerle, RN in New Orleans, Louisiana thirty-two years ago. Since its founding, the Great 100 Celebrations have honored thousands of Nurses across Louisiana, North Carolina, Texas, Oklahoma and now Arkansas! These exemplary Nurses are selected based on their concern for humanity, their contributions to the profession of Nursing, and their mentoring of others. It is a great honor in the life of the Nurse to be selected as a Great 100 Honoree and our Foundation helps each RN recognize themselves as Nurse Heroes.
We are very proud of our program. Each year, community, health care, government leaders, family, friends and peers join together to honor these Great 100 Nurses. The funds raised through the celebration are used not only to honor the nurses involved with the celebration, but to also support nursing advocacy, nursing scholarships, and nursing research for the betterment of lives, publication of nursing discoveries and the implementation of those discoveries.