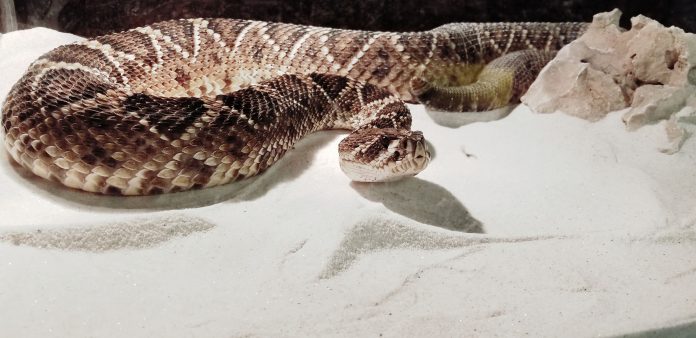 It is summer and Oklahoma families are spending more time at lakes and state parks. With that, the possibility of contact with one of Oklahoma's many venomous snakes becomes a reality. A new local exhibit offers the opportunity to see these creatures up close and personal in a safe setting to help identify them in the wild.
OKC Rattlesnake Museum will open daily beginning July 5th at 1501 S. Agnew, in Oklahoma City's Stockyards District. The museum includes 26 exhibits featuring all of the rattlesnakes native to Oklahoma, as well as Oklahoma's other dangerous snakes — copperheads and cottonmouths. Other rattlesnakes from around the U.S., and a Gila Monster (large venomous lizard) are also on exhibit. Carl Sandefer, museum curator, is available for any questions visitors might have during their tour of the museum.
One of the rattlesnakes on display is an Eastern Diamondback named "Big Girl." She is over five feet long and weighs 22 pounds. Eastern Diamondback Rattlesnakes are the largest of any rattlesnake species, as well as the heaviest venomous snakes in North America. This particular rattlesnake is found in the southeastern United States.
OKC Rattlesnake Museum will be open 11 a.m. to 4 p.m., Monday through Saturday. Admission is free, but donations are appreciated. For more information, go to: https://www.facebook.com/snakemuseumokc/ or call (405) 850-5905.