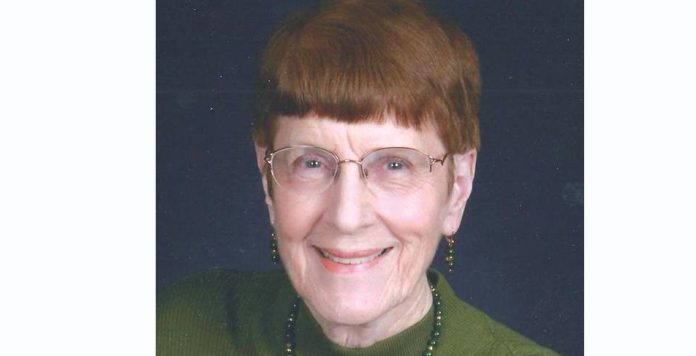 During her long and distinguished career in nursing, Barbara Holtzclaw, Ph.D., R.N., has worked in three different but complementary worlds – providing care at the patient's bedside; conducting research to improve that care; and educating the next generation to further the field through their own research.
It is the synergy of those three that has allowed her to advance the discipline of nursing in significant ways. Holtzclaw is retiring this summer as a research leader and professor in the Fran and Earl Ziegler College of Nursing at the University of Oklahoma Health Sciences Center, although as academicians are prone to do, it may be on paper only. She continues to conduct research and mentor nursing science students on the path she began many years ago.
"My research is a combination of my clinical experience, my curiosity of how physiological mechanisms work, and a mentor who showed me how nursing research can make a difference in clinical care," she said. "Working with students allows me to foster their interest in nursing research the same way my mentor did many years ago."
Holtzclaw is retiring as Associate Director of Translational Science for the Donald W. Reynolds Center of Geriatric Nursing Excellence at the OU College of Nursing. Prior to that, she served as Associate Dean for Research for the college, as well as interim director for the Ph.D. in Nursing program, which she helped to establish in 2008. Previously, she was a research director at the Vanderbilt University School of Nursing in Tennessee and Associate Dean for Research and Director of Doctoral Studies at the University of Texas Health Science Center in San Antonio. Joining the faculty at the OU College of Nursing in 2000 was like coming home – she earned her bachelor's degree in nursing and a doctorate in higher education from OU, and she directed a Family Nurse Practitioner certificate program and taught in the undergraduate and master's degree programs at OU from 1968 to 1987.
Holtzclaw was introduced to nursing research in the 1970s while pursuing her master's degree at the University of California at San Francisco, where her mentor was studying shivering in people who were being therapeutically cooled. During surgery, patients' temperatures fall and their metabolisms decrease while they're asleep, and for some procedures, like open heart surgery, patients are intentionally made hypothermic.
"That's all fine while they're asleep, but when they start to wake up, they start shivering," she said. "When they shiver, their temperature rises and their blood pressure rises – there's a heavy metabolic cost to shivering."
Holtzclaw's interest in the body's thermoregulation only grew from there. She experimented with wrapping patients' arms and feet – where the most dominant sensors are – in three layers of terrycloth toweling to see if she could prevent shivering even though the patient was being cooled. During her post-doctoral fellowship at the University of Pennsylvania, her research delved further into post-operative temperature change and the negative effects of such energy expenditure. At an annual meeting of the American Society of Anesthesiologists, she presented the results of her study, conducted with a cardiovascular anesthesiologist, which established shivering as the cause of a significant increase in metabolic rate and cardiac effort.
"During the study, I remember pointing out to a new doctor that his patient was shivering, and he said, 'Well, how do you expect them to get warm?' I responded, 'Would you have your patient go out and shovel snow?' I went on, 'No, but your patient is using the same amount of oxygen and is under as much metabolic stress as if they were shoveling snow.'"
Holtzclaw's research expanded to investigate shivering in patients with cancer who were taking an antifungal drug called Amphotericin B. The body responds to the drug by running a fever and shivering, not because the patient is actually cold, but because the drug tricked their nervous system into raising its thermostat to a higher level, so it thinks they're cold. The wrapping intervention worked to suppress shivering. She then studied the same phenomenon in patients with HIV who had opportunistic infections with high fevers, and again the wrapping intervention worked. All along the way, her research raised awareness among nurses and physicians about the risks of shivering.
"It has been satisfying to find a research area that affects almost every walk of life," Holtzclaw said. "Shivering doesn't happen by itself – it happens within all these other scenarios. That has allowed me to take my research in slightly different directions regarding thermoregulation."
More recently, Holtzclaw has been working with a graduate student on the concept of immunosenescence – the gradual deterioration of the immune system with age – and its effect on vaccine response in older adults. These effects lower older adults' protection against the virus, even with vaccination, which points to the extra precautions needed with this age group, she said.
During her career, Holtzclaw published two books, wrote numerous articles, and gave presentations around the world on the topics of fever, shivering and hypothermia. She was founding editor of the Southern Online Journal of Nursing Research and continues to serve on review panels and advisory boards for numerous other journals. She is a fellow of the American Academy of Nursing and the Gerontological Society of America, among many other honors.
While her research has been highly regarded, Holtzclaw has also played a significant, but sometimes behind-the-scenes, role as educator and mentor to many students.
"Dr. Holtzclaw has been absolutely committed to mentorship, which includes students, early-career colleagues, senior colleagues, and others outside the discipline. She always finds ways to help people be successful," said Lazelle Benefield, Ph.D., R.N., Professor and Dean Emeritus of the OU College of Nursing and director of its Donald W. Reynolds Center of Geriatric Nursing Excellence.
OU College of Nursing Dean Julie Hoff, Ph.D., MPH, R.N., added, "Students, faculty and staff have all been touched by Dr. Holtzclaw's passion for teaching, research and nursing."
The OU College of Nursing is part of the OU Health Sciences Center, a leader in education, research and patient care and one of only four comprehensive academic health centers in the nation with seven professional colleges. To find out more, visit nursing.ouhsc.edu.