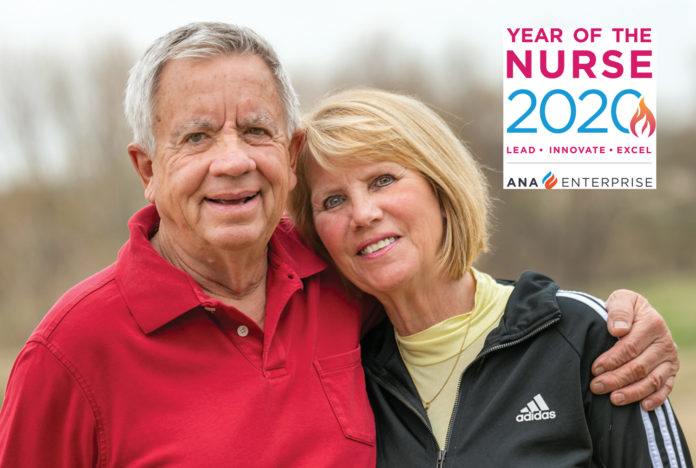 story and photo by Vickie Jenkins, Staff Writer
Growing up in Holdenville, OK in the late sixties, people considered this as golden town living; a safe place to live, small in size and friendly folks. At the tender age of twelve, Barbara McDougal was like most girls, beginning to notice those once dreaded species called boys. She began to push her childish ways to the side, knowing that she would soon be a teenager. Barbara took notice of a certain boy that had just moved to the neighborhood, only one block away from her. She peeked out the window each time he walked by her house as he adventured out, exploring the mighty streets in the neighborhood.
As Barbara and her girlfriends gathered, Barbara found herself secretly pointing this boy out, telling them how cute he was, along with a firm statement of, "Someday, that boy is going to be mine."
It wasn't long before Barbara became more interested in this new boy in town. She would casually be sitting on the front porch at the most convenient planned out times. It wasn't long before this boy walked by her house, stopping to introduce himself. It was just like one of those love stories on the big screen; the two of them stood there, gazing into each other's eyes, as though a light suddenly came on. They knew the love bug had gotten to both of them. They had been love-struck!
His name was Bobby Aldridge and he was sixteen-year- old. He drove around town in his blue '57 Chevy and Barbara remembers the car being far out! After a few visits between the families and getting to know each other a little better, Barbara was allowed to meet Bobby for lunch at the local Dairy Queen. They spent their time holding hands as they listened to the juke box play some of their favorite music; Donavan's Hurdy Gurdy Man and Tommy James and the Shondells. Soon, the relationship between the two of them progressed and they were inseparable!
In this time and age, when a boy liked a girl, he gave her a token of his love by giving her a drop, a necklace with the boy's initials on it; Bobby's initials being RLA. Now, they were going steady! The relationship between Barbara and Bobby was going perfect!
It was in 1970, that Barbara got the news that Bobby and his family were moving from Holdenville, to Oklahoma City, OK. No, this couldn't happen! Both families hated to see the sweet couple separate but it had to be. Bobby's dad had taken on a new job in Oklahoma City, OK. After the move, frequent visits were made by Barbara as her parents would drive to OKC, allowing Barbara to spend as much time as possible with Bobby. Little did they know that their relationship would be coming to an end in the near future.
Life brings changes when we least expect it and our paths take off in different directions.
Barbara graduated in 1974 and attended Oklahoma State University. This was a whole new world for her; college, new friends and discoveries of being an adult. Barbara became an LPN in 1978, working in Stillwater, OKC and even moved to Dallas, Texas for a while. Barbara realized that she needed to go back to school for her RN. She moved back to OKC in 2007 to begin RN school at OSU/OKC.
Time moves on. Barbara had just finished one of her classes and decided to go a near-by restaurant for lunch. As she sat at a booth, she noticed a gentleman sitting at a booth, across the room, not far from her. Taking a second look, he looked very familiar. Was it Bobby? With a feeling of nervousness and a little flushed, she got up and walked over to him. Yes, it was Bobby! They enjoyed talking to each other and reminisced about old times. Their love story picked up where they left off.
Barbara and Bobby were married on October 7, 2017. Barbara wore his initials, RLA as a charm on her charm bracelet in their wedding. This was the something old for her wedding.
Now, it's the year 2020. Bobby is a homebuilder in OKC and Barbara is an RN at Mercy Rehab Hospital. Today, they still hold hands as they listen to some of their favorite music; Donavan's Hurdy Gurdy Man and Tommy James and the Shondells.
From first love to last love, fifty-one years later and the love is still growing.