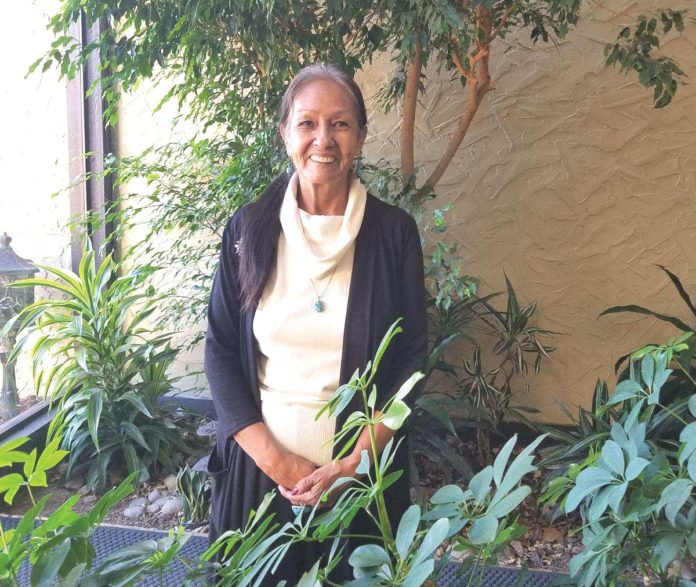 Diane Martinez is the picture of a resilient journey through difficulties to success. As a Creek Indian and member of the Muscogee (Creek) Nation, her traditions are very important to her. She attends the Weoguf-kee (Muddy Waters) Ceremonial Grounds in Hanna, Oklahoma. Diane has learned some of her native Mvskoke language through classes at the College of the Muscogee Nation and tries to teach her grandchildren. She has survived many challenges and found a place where she can thrive. As a participant in the National Indian Council on Aging's Senior Community Service Employment Program (SCSEP), Diane now works 20 – 30 hours per week to supplement her company retirement income. She has found a place with NICOA SCSEP to grow and learn additional employment skills.
Life was not always rosy for Diane. In 2014 at the age of 57, Diane resigned from her job. As time drifted forward, she felt more and more useless. The lumbering days lacked purpose. Being without a regular wage, she felt aimless and soon struggled financially. What seemed like a good idea, soon began to impact Diane's goals and dreams. Emotionally, the lack of purpose and financial security was taking a toll on her wellbeing.
Diane states went through a period of being homeless and living in a shelter. She felt depressed and without hope. About this period, she states, "I knew and believed there was no hope for me." She declares that she felt like meaningful employment was beyond her – "having gray hair and no teeth and being an older person."
Working three different jobs over a four-year period and trying to live on a small pension, as well as income from baking goods and making jewelry, Diane moved to different places and stayed with different people. She lived with many relatives, but she kept a desire to have a stable income and to get into her own place. Diane suffers with back problems and arthritis. So, doing the physical work of the past was not very conducive to good bodily or mental health. Her decision to resign from a job she performed for 27 years was turning into a terribly difficult journey.
In 2019 Diane heard about the SCSEP program through a friend who was in the program in Okmulgee, Oklahoma. Her decision to apply for SCSEP has led her to definite changes. "When I called NICOA to see what they were all about I had no clue. I now know that NICOA SCSEP helps me to plan, have guidance, set goals, and believe in myself." Working in the NICOA Central Region office as a receptionist trainee, Diane is gaining valuable skills that impact her opportunities for future unsubsidized employment.
"I am still able to work, and now I am becoming independent with more knowledge and wisdom. Through this program, I learned to be mindful and to help others like I was helped." Through the SCSEP on-the-job training Diane states that she has "been spared and given an opportunity." As a result of her own hard work, she has gained what she so often desired in her heart, a home and the skills to take care of herself financially, physically, and mentally. "I am grateful, and I appreciate this program."
Diane's goals and interests for her future include both employment and traditional aspirations. She has in mind to return to work fulltime in a clerical position. She wants to work five to ten more years and to continue to be independent. Diane hopes to stay connected to family, being surrounded by her grandkids. As important as these goals are, she hopes equally to continue to be connected to her Mvskoke-Muscogee culture through language learning, dances and traditional ceremonies. To her this will be a sound life and a demonstration to her family of how to age well as an elder. NICOA SCSEP is contributing as a valuable resource along this part of her journey.