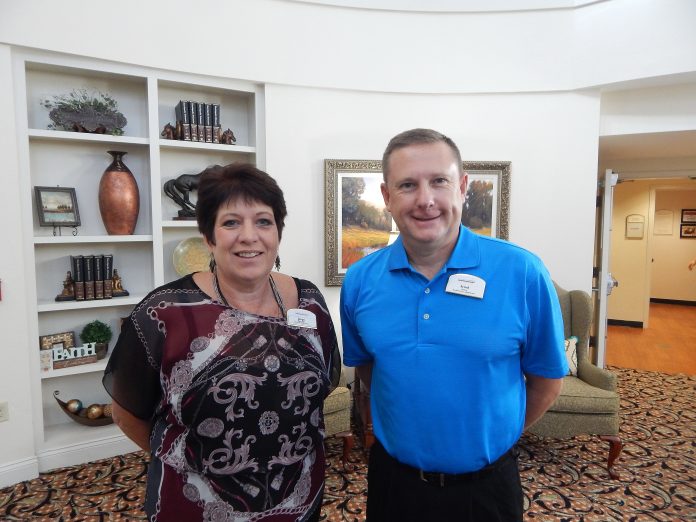 by Jason Chandler
Staff Writer
Jerod Buttram spoke to a resident the other day who has lived in Independent living at Concordia Life Care Community. He's now living is assisted living, said Buttram, Concordia Life Care administrator.
That's the ease of Concordia, having a continuum of care to age in place.
"He's a very stern, strong man," Buttram said. "And he's come to me more than once that I know more about him than anyone else. His family is pretty active with him, but he still feels that we are close enough that I know more about him than even a family does."
Buttram knows that's the type of reward that one doesn't take for granted. Such a compliment is earned, he said.
"It was very heartfelt."
All under one roof, Concordia Life Care Community is a faith based continuing care retirement community offering all levels of care from assisted living to memory support and skilled nursing.
Concordia was developed by 12 Lutheran churches during the 1950s. Now Concordia is the only community under the auspices of Lutheran Senior Citizens, Inc. Concordia can generally serve about 200 senior, Buttram said.
When a resident qualifies to live there, they are committed to receive whatever contractual level they need for the rest of their life.
Buttram has witnessed the transitions of life many of the residents experience, said Jacquelyn Rolen, RN, and director of Health Services.
When working with seniors, nurses and anyone who works at Concordia must have a heart to earn more than a paycheck, Buttram continued.
"If you get that and you have the servant heart, then the rewards are much greater than financial," Buttram said. "And I fell the majority of the staff and the residents that live here get that concept."
Finding that fit is almost magical, he said. You transcend a pay check, and that is what makes the caregiver and the Concordia environment special, he explained.
Rolen came to work at Concordia because she immediately sensed a different feeling there. She felt welcomed and that ambiance shines on the residents who live there.
"The residents are happy," she said.
They are part of a community, sort of like a small town, said Buttram, who has served on a city commissioner in New Mexico.
"Concordia is a life care community. And it acts like an independent community does," he said. "We have our own boards that get involved in the governance. You have residents who take a vested interest in their neighbors."
They will report to staff if their neighbors are not feeling well or if they haven't seen them out as often lately, Buttram said.
"They are a huge source for us about our own residents," Buttram continued. "And so together, we care for everybody."
Buttram has found his niche due to the fact that Concordia acts like a small town. Being faith based, there are a lot of residents from the Nazarene church and the Lutheran church, Rolen said.
"We have some ministers here that live here," she said. "You can feel the faith in here."
In Buttram's office is a framed expression stating, "Every day is a gift," which seems to reflect the general attitude of each hallway.
"Someone (a nurse) was over today checking Assisted Living to see how they're doing," Rolen said. "One of the residents said, 'Have a normal day,' and I looked at him (the nurse) and said, 'What's a normal day? I hope you don't have too many emergencies today.'"
There is nothing about providing care to individuals that is routine, Buttram said. Every day is different and unique with its own challenges and rewards, he added.
Buttram and Rolen enjoy being assessable to the Concordia staff, many of whom have worked at other places and had never met the administrator and the administrator didn't know them.
"Here, the staff knows both of us," Buttram said. "They know the administrator by name and come in and share issues about work and personal. I've had that response to me I don't know how many times. Too me that's a good thing." Nurses don't run the other way when they see the director of nurses.
"In some places you hide, but here they come to Jackie," he said.
Rolen said she has been a nurse for a long time and always wanted to be an open-door. She makes corrections when a nurse is wrong, but she tries to be positive because it provides better results and communication.
"I've always felt that you can't keep correcting somebody if you can't tell them how to do something right," Rolen said.
Buttram said the best approach is to see that new challenges are a learning experience. The idea is to grow, he said. People make mistakes but the hope is that they don't repeat mistakes, but learn from it.
"Hopefully we have that here," he said.
Groups of men play poker in one room and you turn the corner and others are singing Happy Birthday to their neighbors and friends.