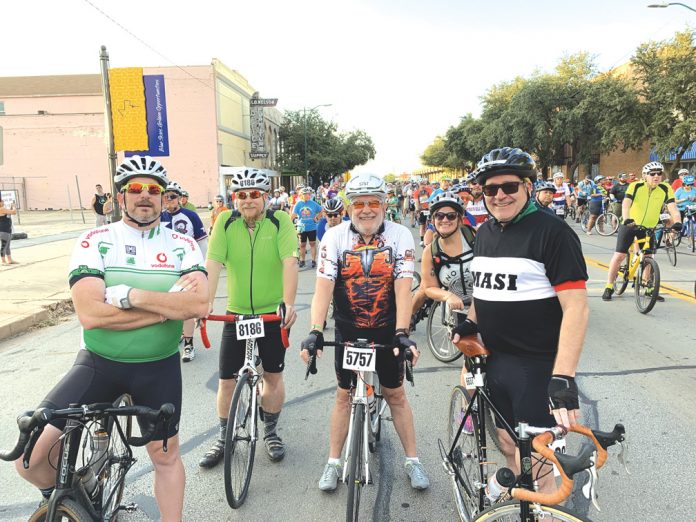 Story by Darl Devault, Contributing Editor
For Oklahoma senior bicycle riders who became serious riders during COVID-19 the 40th Anniversary Hotter'N Hell 100 (HHH) the weekend of August 26-29 in Wichita Falls, Texas can be a post COVID celebration.
As the largest century ride in the nation, for the retirement privileged crowd the event can be likened to the crowded spectacle of Woodstock in the 1960s. Participants select from several distances to ride in the August heat at one of best supported bicycle rides attended by more than 10,000 riders. It has seen 14,000 some years.
The event is so big no article can describe everything on offer for attendees to do and see. There are more than 100 committee members who put on the event. It features more than one thousand volunteers during the weekend. The HHH website offers a 51-page downloadable Ride Guide at https://tinyurl.com/z7633umv
Besides being the best attended, it is the safest, best supported and most robust century ride including the largest bicycle consumer show available every year. The booths feature new bicycle innovations and major manufacturers starting Friday, running through Saturday.
"If you have time, it's fun to explore the area. You can ride to Lake Wichita on trails or explore Lucy Park," said Dixie Duff, a retired OKC nurse who has ridden HHH nine times. "The HHH is not a time to try new food or drink, especially if you are doing it the first time, but they do a great job of offering many choices."
Duff also said to not let the 100 miles in the event name scare riders off. The ride offers lesser mile courses with huge rest stops with medical support and Support and Gear (SAG) support throughout the courses. Info is available at Hotter'N Hell (hh100.org).
All this just a two-and-a-half-hour drive from OKC. The distance is 140 miles using I 44 through Lawton.
Beginning Saturday at 7 a.m., cyclists of all ages are welcome to ride the classic HHH endurance ride with 10K, 25-mile distances for younger cyclists, 50 mile, 100K, 75 mile and the namesake100-mile route. Adjacent to the HHH ride finish the organizers stage USA Cycling criterium races Saturday and Sunday.
While more than 10,000 cyclists descend on Wichita Falls the event offers tent camping close in where thousands of people camp out in tents the night before. Shower facilities opening Friday night for the campers are open 24 hours till after the event so riders can shower near the start/finish area before they begin their trip home.
Bicycle clubs from surrounding states often rent buses and stay as far away as Lawton, Okla. or closer-in cities, filling up those accommodations. They get up early Saturday to take their bus into Wichita Falls to stage for the start.
One thing does live up to its name being in Texas in August—so most of the riders shy away from the 100-mile course. Cycling skills, training, and resolve will be tested. This is not an ordinary ride. Fuel for cycling is available at a huge spaghetti dinner and a pre-ride breakfast buffet.
The start for the ride is staged by those riding the longest distances at the front. For some people, the start itself is a party where they meet with friends beginning at 4 a.m. They are soon joined by 10,000+ other riders who have trained to complete their chosen distances.
For those people who are riding the middle distances the start is just as exciting. Again its anticipation is the specialness of having attended the Woodstock music festival.
All that pent up human energy is unleashed after the National Anthem, U.S. Air Force Fly Over and cannon blast. Many say to experience the excitement of a start of a major organized ride, the best place to see it is at the HHH.
Seniors new to the sport will want to attend the 2021 HHH Science of Cycling Symposium: From Lab to the Road featuring tips for cyclists riding the HHH. Area experts will present 30-to-45-minute presentations designed to be easy to understand. The free Symposium runs from 9 a.m. to noon and 1 to 3 p.m. Friday in the MPEC amphitheater. No registration is required. A question-and-answer period will follow each talk.
The great routes; friendly, well-supplied rest stops; a staff of nearly 1,000 dedicated professional medical support; and a fleet of SAG wagons awaits. HHH provides riders with every chance to achieve their goals in the brutal North Texas heat and wind—while having a safe and memorable experience accomplishing them.
No matter how far seniors ride it is about the camaraderie of riding along with thousands of other bicyclists who are enjoying a lifelong sport providing a wonderful health benefit without the overuse injuries of many of the other endurance sports.