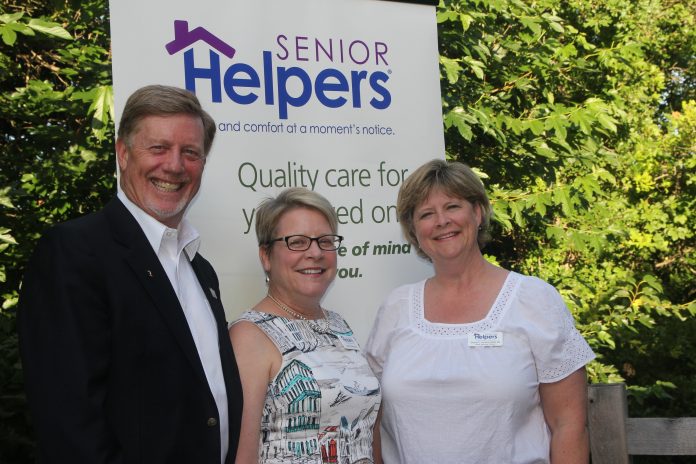 Local In-home Senior Care Company to Bring 50 New Jobs to the Area
Senior Helpers, the nation's premier provider of in-home senior care, today announced the official opening of its Greater Oklahoma City North location, to be managed and operated by husband and wife team John and Laurie Stansbury together with their partner, Sharon Johnson MSN, RN, CNE, who will serve as president and chief nursing officer. The new franchise will serve senior citizens and their families throughout the Greater Oklahoma City area, which includes Edmond, Deer Creek, Piedmont, Warr Acres, Bethany, Yukon, Mustang, Midwest City, Del City, Moore-Norman, and Guthrie. It hopes to bring more than 50 new jobs to the region over the next year. Senior Helpers' professionally trained caregivers will help local seniors continue to enjoy the comfort of their own home despite age-related illnesses and mobility challenges.
"All three of us have personal experience caring for a family member living with early onset Alzheimer's, and we understand profoundly how challenging it can be without the proper care," said Laurie. "Through Senior Helpers, we're providing a valuable resource by helping to alleviate this stress and ensure a better quality of life for families in our community through personalized in-home senior care." Sharon adds, "Over the years, Senior Helpers has established itself as the best option for navigating the challenges of in-home senior care today, and we are proud to be a part of this company."
Founded in 2001, Senior Helpers operates with a vision to be the leading home care company in each community it serves. Its caregivers in Oklahoma City are fully trained and certified to offer the highest level of care possible based on the company's Senior Gems® Alzheimer's and Dementia care program. As the gold standard for excellence in personalized in-home senior care, the program was developed in conjunction with nationally recognized dementia care expert Teepa Snow and is endorsed by the Alzheimer's Foundation of America and the American Society on Aging. Local residents will also benefit from the company's new Parkinson's Care Program, a specialized training and certification program created in conjunction with leading experts from the National Parkinson Foundation's Center of Excellence.
"We're pleased to welcome Laurie, John and Sharon to our team as the newest Senior Helpers franchise owners," said Chris Buitron, vice president of marketing for Senior Helpers. "This amazing triobrings a passion for their community and an acute understanding of in-home senior care to their new roles. This will serve them well and also will be rewarding for seniors and families living in Oklahoma City and the surrounding area."
Senior Helpers is the nation's largest premier in-home senior care company in the U.S. with over 270 franchised businesses operating across the country. Founded in 2001 with a vision to help seniors who wish to remain in their homes despite age-related illnesses and mobility challenges, Senior Helpers has now cared for tens of thousands of seniors with a pledge to provide "care and comfort at a moment's notice." Senior Helpers offers a wide range of personal care and companion services, including trained Alzheimer's, dementia and Parkinson's care, to assist seniors who wish to live independently. Learn more by visiting http://www.seniorhelpers.com.