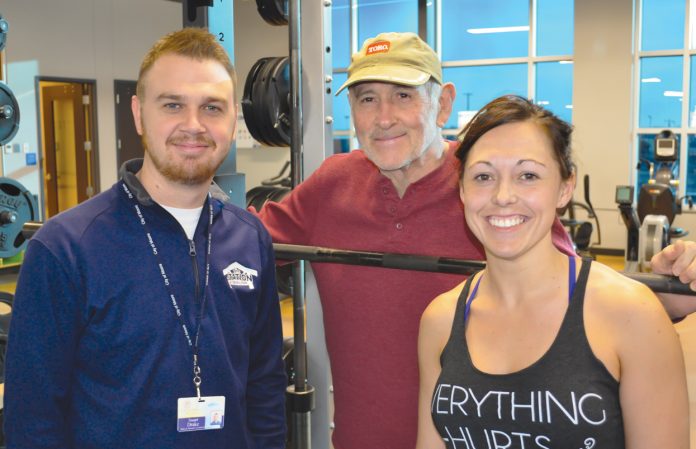 story and photos by Bobby Anderson, Staff Writer
Twice every day, Larry Jernigan, 68, renews his lease on life, working out at The Station at Central Park in Moore.
It's a gift he gives himself and one his Medicare plan pays for.
"Why not do it when you've got it?" said Jernigan, who played football and wrestled at Blackwell High School growing up. "(The Station) is beautiful and the equipment is awesome. I like this walking track up here, especially in the winter. The walking track outside is going to be nice in the spring.
"The aquatics is great, too."
The Station at Central Park is one of a long list of health facilities in the metro that participate in the Silver Sneakers program which gives free facility access to those age 54 and up.
Stuart Drake is the sales and rental coordinator for The Station. He said the facility has been trying for half a year to get Silver Sneakers certified.
"It's a good opportunity for us because it brings in a lot more people who wouldn't be able to afford a pass here," Drake says. "It's an opportunity for people to be part of our facility and to take classes with other people. They love the facility because it's new, it's clean … and it's not too busy."
"From 9 to about 10:30 a.m. they're about 75 percent of the population that's here."
Since December, more than 60 seniors have signed up for the program through The Station.
Silver Sneakers participants get full access to equipment, facilities and the various instructor-led fitness classes offered at The Station.
Hailey Donaldson is one of those instructors and sees the power exercise gives seniors.
"Age should never be a barrier to your health and fitness," Donaldson said. "I love that Silver Sneakers encourages seniors to keep moving and keep their health a priority."
NATIONAL REACH
For millions of older adults, the path to improved well-being starts with SilverSneakers Fitness. Founded in 1992 by Mary Swanson, SilverSneakers has been helping its members take charge of their health for more than 24 years by partnering with health plans to provide convenient access to a comprehensive fitness solution.
The program provides access to fitness and wellness facilities, proprietary and group exercise classes led by certified instructors, online resources, social events and a support network of other participants across the nation.
Participants have access to more than 13,000 fitness and wellness centers across the country,.
REAL BENEFITS
According to the SilverSneakers Annual Participation Survey, 84 percent of participants complete moderate to vigorous aerobic activity three or more times per week, a testament to the program's ability to engage members in their own well-being.
Additionally, 94 percent of participants state that they are in good or excellent health, and 90 percent report more energy to accomplish daily activities.
Members also utilize preventative care more often, are admitted to the hospital less, and have lower overall healthcare costs.
In addition to the physical benefits, SilverSneakers improves mental and emotional well-being through social events, access to health resources and educational seminars and program camaraderie – which keeps members coming back.
In fact, 73 percent of participants attend class with a friend and 49 percent say other members help motivate them to exercise.
Drake said once more seniors enroll he plans on offering more social events to keep seniors engaged between workouts.
During his working years Jernigan spent 18 years as a BNSF Railroad track foreman.
He built and rebuilt the tracks sitting less than 100 yards away from The Station.
"I followed the project as it developed and it just got to be so nice looking that me and my oldest son came in to check it out," Jernigan said. "Come to find out they accepted Silver Sneakers."
The Station is a $26.2 million venture approved by Moore residents opened in 2016. Some 53,000 square feet of workout space is situated on the 51-acre site. A 45,000-square-foot aquatic facility is located next door allowing lap swim, classes as well as slides, a kiddie pool and a lazy river.
"My body feels a lot better," Jernigan said. "Being retired for several years I had to drive myself into doing something but it's a lot easier when you've got people around. You see them doing it and you want to do it, too."
Currently, one in five older adults is eligible for a SilverSneakers Fitness benefit through the nation's leading Medicare Advantage health plans, Medicare Supplement carriers and group retiree plans.
You can check your eligibility today by calling toll-free 1-888-423-4632, calling The Station locally at 405-793-5090 or go online to silversneakers.com.