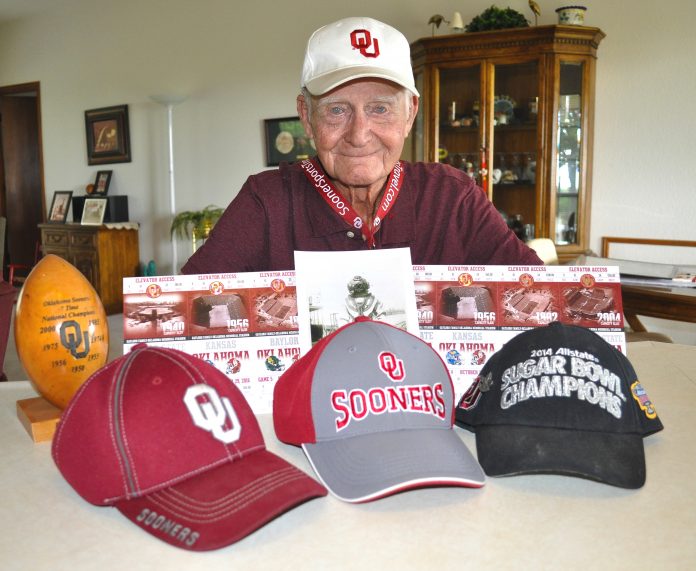 Story and photo by Mike Lee, Staff Writer
For the past 57 seasons, Zee Howell has faithfully manned Section 9, Row 60 seats 23 and 24 at Gaylord Family Oklahoma Memorial Stadium.
The 94-year-old is one of the university's oldest season ticket holders and he plans on starting his 58th OU football season when Louisiana-Monroe comes to town on Sept. 10 at 6 p.m.
But Oklahoma football is only part of the story when it comes to this former Navy diver.
"OU has given a real good account of theirselves, they sure have," Howell said sitting in his home that bears a Norman address but has a Goldsby water tower in the front yard.
Howell has seen it all during five decades as a season ticket holder.
He's gotten a front-row seat to four of the team's seven national championship runs. He's seen teams coached by Barry, Bud, Bob and unfortunately Blake.
The Idabel native has written more than his fair share of checks to the university, each more than the last.
So why buy season tickets?
"You get lot better seats," Howell said with a chuckle. "You come in on game day you may be sitting two blocks up the road."
One row down and seven seats over sits Howell's kids.
"He wanted a pair close enough for my brother and I so he could keep an eye on us but we were far enough away we couldn't bug him," daughter Valencia Howell says.
The only OU-Texas game Howell has missed was in 1957 when Valencia was born at the old Presbyterian Hospital.
"He still hasn't forgotten about that. It's not my fault," Valencia said in her defense. "My brother was born nine years to the day within two hours of the exact same time. The doctor had gotten hold of (mom) in advance and told her 'you can go, but don't get too excited.'"
Game day in the Howell household consists of brewing a pot of strong coffee and reading the newspaper before heading to the stadium early to avoid the traffic. He'll sit in the stadium well after the game for the same reason.
Now retired, Howell has time on his hands and he doesn't mind that.
At age 18, Howell completed his Naval training in San Diego just before World War II.
"There was a ship sitting out in the bay and one chief said 'that old ship is a good working ship that can go to sea and haul three million gallons of oil. Don't worry about it. The Japanese aren't worrying about our tankers they want our destroyers,' Howell remembered a chief saying.
"Guess what? It was the first damn one that got sunk."
Howell was on that ship – the U.S.S. Neches – in his bunk January 23, 1942 when a Japanese two-man sub followed it out of the Pearl Harbor bay around the defensive netting and kept pace for a few miles before unloading two torpedoes.
December 7, 1941 may have been a day that lived in infamy but it was January 23rd that Howell found himself bobbing in the ocean.
He was one of 56 sailors trapped inside a room in the belly of the ship and the only one who got out of that space.
The next day the U.S.S. Jarvis picked up the 182 survivors and took them back to Pearl Harbor.
After leaving the military Howell went to work at Tinker Field. He got in on the ground floor of the computerization of the base and eventually retired as a civilian second chief.
After that he had plenty of time to devote to his favorite passion – OU sports.
At softball games his seat right behind home plate puts him right in earshot of the umpire, who had better call it fair and square or else Howell lets him know about it.
Howell, also a huge softball fan, has his opinions on many of OU's coaches.
On OU Softball Coach Patty Gasso, who just led her squad to a third national title:
"She's earning her money," he says.
On Bob Stoops: "The success he's had kind of speaks for itself I guess," Howell says.
On Athletic Director Joe Castiglione: "Well, he makes a lot of money," Howell said with a chuckle.
Rain or shine you can expect to see Howell at Owen Field come the second weekend in September.
In his estimation, there's no place he'd rather be.
And for 58 years now he's had the best seats in the house.