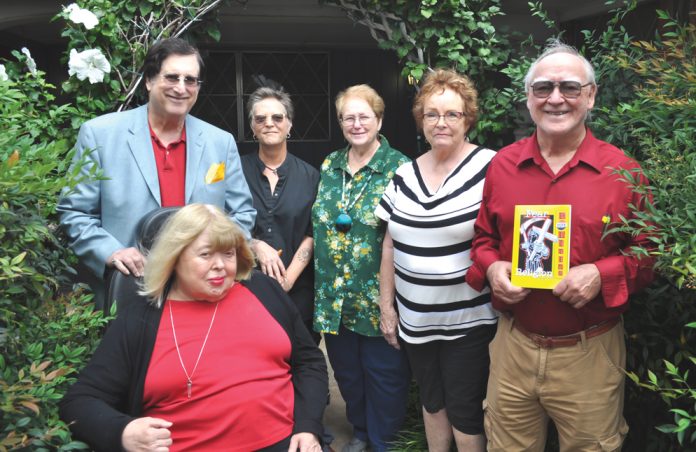 by Bobby Anderson, Staff Writer
A sociologist, a psychologist and a benedictine nun walk into a room.
Sounds like the beginnings of a good joke.
But for John Karlin, PhD, those are just a few of the cast of characters that helped create his new book: Fear, Religion, Politics: Well I'll Be Darn!
Karlin spent the last year of his life writing this book that takes a look at the intertwining of three things deeply personal to Americans.
"It was incredible in the sense that how much insight humans have but not realize it," Karlin said. "In researching this I kept seeing these little lights in other people's works."
Karlin was aided by Dr. Melvyn Preisz, Rhonda Bell, Judy Martin, Marsha McMillin, Gerry Lantagne and others in developing his second book. Each brought their own unique talents.
Preisz is a local clinical psychologist who befriended Karlin years ago.
"I agree with Dr. Karlin's timely and insightful assessments of this unprecedented crisis," Preisz said. "From my own psychological viewpoint, these enemies of our individual freedoms collude to divide and conquer the good within us, and to continue to attack our personal conscience from a buffet of lies."
Karlin stresses he has no political motives with this book.
His wish for what readers walk away with is simple.
"Simply an understanding of those undercurrents, a complete, full, intense understanding of … what's actually happening underneath the surface," Karlin said. "I just expose those undercurrents, that was my whole concern. I write from a sociological perspective."
"I'm not the only one who has picked up on this. What I found is pieces of those themes in many, many other works."
Karlin cites some 120 references in his work, that he says was a labor love performed with dear friends.
"Our intent was to give seniors out there a message that you can do stuff like this. You're never too old," the 72-year-old Karlin said. "Don't just sit, you're capable of doing stuff."
More than 20 years of Karlin's life have been spent in teaching, largely at Northwestern Oklahoma State in Alva, Oklahoma City University and Phillips University.
While teaching sociology and criminal justice at OCU, Karlin begin his friendship with Preisz.
Preisz introduced him to Lantagne, who introduced Martin, a former Benedictine nun and things began falling into place.
"It was just friends introducing friends," Karlin said. "It was basically happenstance then realized 'Gosh, look at all this talent."
The motives were simple.
"I just didn't like the way things were going in this country especially politically and socially in terms of the turmoil and discontent," Karlin said. "I thought there had to be something underneath that. As a sociologist you always know that what's on the surface isn't always the whole story."
"Sometimes in our culture there are some very deep undercurrents that help explain."
Karlin recalled attending Louisiana State University for his doctorate. A conversation with an old fisherman came to mind.
The fisherman pointed to the Mississippi River and told Karlin to watch it closely.
"It's just real slow, old man river kind of thing but underneath that is just incredible turmoil," Karlin said. "The Mississippi in spots is almost a mile deep and a lot of people don't realize that because the undercurrent is cutting it."
"There are literally complete trees down there. That's the way culture and society can be."
That got Karlin thinking about what's underneath today's politics and headlines.
"What's under that is not good," he said.
Karlin's book flows through three sequences with the first being our innate fear of death and how we view our own mortality.
"And how that came to actually produce the phenomena we call religion in society," Karlin said. "Any religion, it doesn't matter what it is, came from the fear of death because religion was a way to escape that tension and fear."
The second sequence evaluated Christianity and the life of Jesus Christ.
"I looked at what (Jesus Christ) was actually trying to accomplish in his own time and he was trying to accomplish something," Karlin said. "You'll find that as somewhat of a shocker."
The third sequence takes things into the political realm.
"That's where the dream goes awry because a big chunk of our Christian community want to blend religion and politics to the point where they are no longer distinguishable and that's not good," Karlin said.
"That's what has created most of the problems you see in society today. Basically, it's the drive towards theocracy."
Karlin's book is now available on Amazon. He will do a benefit book signing for the Peace House at the Peace Festival at the Civic Center Music Hall November 10 from 10 a.m. to 4 p.m.
The Peace House will get $5 for every book sold.