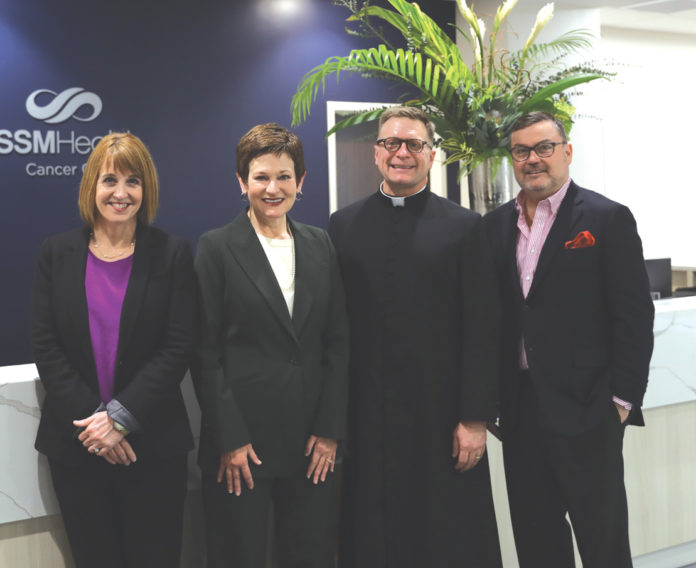 Project funded by nearly $5 million in donations
SSM Health St. Anthony Hospital recently announced the opening of a newly expanded area designed to enhance exceptional care for cancer patients. The opening of the newest addition to the Frank C. Love Cancer Institute was commemorated in a blessing ceremony on Friday, February 14.
The expansion of the Institute was necessary to respond to the growing number of patients needing cancer care at St. Anthony Hospital. With the opening of the new clinical space, the Institute more than doubles its size to nearly 16,000 square feet. The cancer program moved from its former location on the ground floor to a spacious third floor space with natural lighting and many amenities conducive to healing and comfort.
"We are pleased to expand the Frank C. Love Cancer Institute to enhance the exceptional care and comfort for our patients and their families," stated Tammy Powell, President, SSM Health St. Anthony Hospital. "The project was made possible by generous donations to the SSM Health St. Anthony Foundation from The Chickasaw Nation, the J.E. & L.E. Mabee Foundation, the Tom and Judy Love Family, physicians, employees, board members, volunteers, patients, individuals, businesses and Foundations."
Foundation Board members Mike Milligan and Jamie Farha, along with Dr. Thy Nguyen, Section Chair of Oncology, led the philanthropy efforts to fund the expansion. The Institute's team of medical oncologists Dr. Michael Bowen, Dr. Thy Nguyen, Dr. David Lam and Dr. Todd Kliewer were actively involved in all aspects of the design of the expanded space, being mindful of the overall experience of both patients and staff. The physician offices will be adjacent to a chemotherapy infusion area for patient comfort and convenience.
The space features updated finishes that extend beyond the clinical space into the four-story atrium. REES Architecture & Design served as the architecture firm for the project, and Waldrop Construction was the general contractor. The atrium acts as a physical connection between the various floors that make up the Institute. A refreshing palette of bright whites and creams is contrasted by rich navy blue. Crisp wood tones and dramatic lighting are evident throughout the space. Beyond the aesthetics, the space was carefully planned to focus on the needs of patients and their families seeking treatment, as well as the staff dedicated to their care.
For more information about the Frank C. Love Cancer Institute or for a physician referral, call 405-231-8866.