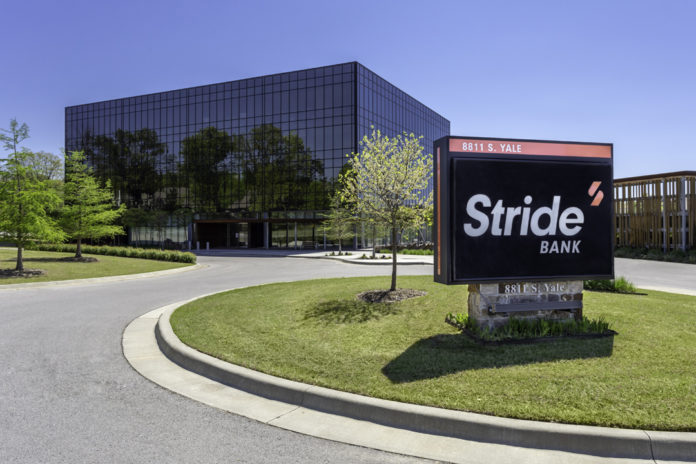 Stride Bank has managed to secure over 400 SBA PPP loans and saved an estimated 6,407 jobs
The staff at Stride Bank has been working around the clock for weeks now to ensure local businesses are approved for the Small Business Administration's Payroll Protection
Program loans. The funds may have run out for the initial phase of the program, but Stride isn't slowing down their efforts any time soon.
As the federal government works to provide a second wave of SBA PPP funding, Stride Bank is putting in the extra effort to ensure anyone left out of phase one funding will find relief with phase two.
So far, throughout this process, Stride Bank has managed to secure over 400 SBA PPP loans, provided over $59 million in potentially forgivable funds and saved an estimated 6,407 jobs.
When asked how Stride has managed to secure so much funding and ensure the approval of so many loans, Kevin Guarnera, the leader of Stride Bank's dedicated SBA team, responded, "We've been a part of our community for over 100 years. We're not about to quit on anyone now. Local small businesses are in trouble, and they've been thrown a lifeline. It's our job to make sure as many small businesses as possible secure that lifeline and find safety."
Guarnera and his team have been sought out by others in the industry as the experts on getting these loans approved quickly and efficiently. By understanding the guidelines inside and out and working overtime to get applications processed, the team at Stride has helped numerous local businesses find that lifeline.
"When you're a part of a community, you protect it and everyone in it. We won't stop until this is over," added Guarnera.
Founded in 1913, Stride Bank is an Oklahoma-based financial institution that holds over $800 million in assets.
Offering a full range of financial services such as consumer and commercial banking, mortgage, wealth management, and treasury management, we have also developed and currently manage highly specialized payment solutions for several national fintech companies. While we are unwavering in our pursuit to continue innovating and offering new financial solutions, we will always remain loyal to our community banking roots in Oklahoma. We have branches throughout Oklahoma in Enid, Tulsa, Oklahoma City, Bartlesville, Blackwell, Woodward, and Mooreland. Member FDIC. Equal Housing Lender. Learn more at www.stridebank.com.
Debbie Blacklock is the Senior Vice President and Manager of the Stride Bank Healthcare Division. Founded in 1913, Stride Bank is a full-service, Oklahoma-owned-and-operated financial institution with offices in Oklahoma City, Tulsa, Bartlesville, Enid, Woodward, Mooreland, and Blackwell. As an industry leader throughout the U.S. in real-time, next-generation payments, Stride Bank provides mobile banking and a full spectrum of Treasury Management Services. The Stride Bank Healthcare Division provides loans and other financial solutions for senior housing, long-term care, specialty hospitals, surgery centers, physicians, dentists, and other ambulatory healthcare providers. Debbie has 21 years of commercial banking experience in Oklahoma with over nine years in the healthcare space. Stride Bank, Member FDIC, Equal Housing Lender.
Publisher's Note: Upon finding out our local financial institution was not able to secure SBA loans, we were forced to look elsewhere. Because we "were not a customer of theirs," three other banks refused to even look at our application for the PPP loan. Fortunately, we made contact with Stride Bank, who worked diligently to secure our PPP even though we were not currently a customer. This publication does not generally recommend or endorse one business over another, but Stride Bank won our respect. A special thanks to Debbie Blacklock, Senior Vice President, Manager of Healthcare Banking at Stride Bank, N.A. for her hard work. OKNT recommends Stride Bank to our Healthcare Friends. VISIT US AT: https://stridebank.com/