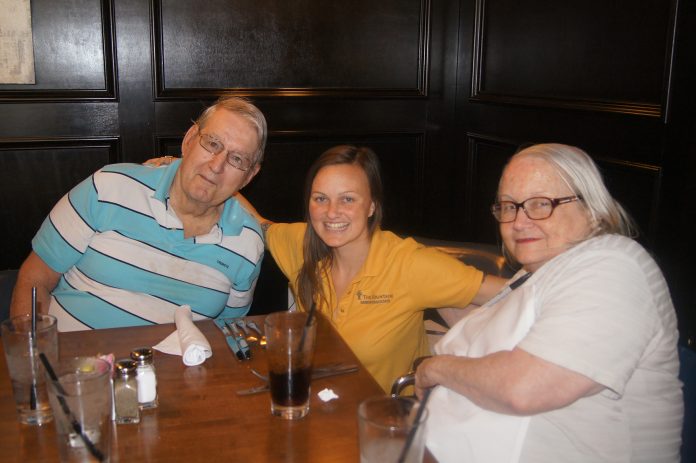 The Fountains at Canterbury, in northwest Oklahoma City, is known for its thriving campus of residents keeping busy with new, exciting activities and programs.
While brainstorming fresh, extraordinary outings for her residents, The Fountains at Canterbury associate Kaitlan Kenworthy came up with an idea for a delicious notion to add to the group's famed bucket list outings, something she fondly calls 'Diners, Drive-Ins and Dives, Canterbury-style.'
"I wanted to create new, exciting, fun excursions for residents," said Kenworthy.
The inspiration for her delicious idea was derived from the hit Food Network show "Diners, Drive-Ins and Dives" with host Guy Fieri, and specifically the nine locations he visited in Oklahoma. The group has been to nearly all of the featured locations, including Clanton's Café in Vinita, Eischen's Bar in Okarche, the Rock Café in Stroud and Oklahoma City culinary legends Cattlemen's Steakhouse, Ingrid's Kitchen, Leo's BBQ and Mama E's Wings and Waffles.
Their most recent excursion was to Nic's Place Diner and Lounge. The new location offered natural light cascaded into a large, dark-wood room as several residents waited eagerly to order. They commented on the lovely décor, discussed who wanted to split the large portions with whom and reminisced on their previous outings.
"I'm excited to try [Nic's]. We've been to a little bit of everything," said Ann Forester, resident of The Fountains at Canterbury. "I have not missed a trip since we started making them to various restaurants."
As Forester finished the first bite of her 'Old School Burger' she remarked, "It's very good."
Kenworthy said the program has been a hit with residents and she hopes to continue taking them to new places, even after they've completed the current series of outings.
"I think the residents have really enjoyed getting out, visiting new places and trying new food." said Kenworthy. "It would be amazing if Guy Fieri would come back to Oklahoma and go to a restaurant with our group to give them a live rendition of his show!"
As the residents of The Fountains at Canterbury are approaching the last outing in their 'Diners, Drive-Ins and Dives, Canterbury-style' series to The Diner in Norman this July, they are excited about the location, but sad to see the series come to a close. However, residents should not fear boredom as Kenworthy is already planning their next adventure.
The Fountains at Canterbury is dedicated to being the first choice in senior living, providing a continuum of care including independent living, assisted living, memory care, innovative rehabilitation therapies and skilled care. The Fountains at Canterbury is managed by Watermark Retirement Communities and is committed to creating an extraordinary community where people thrive. To learn more, please call (405) 381-8165 or go online to www.watermarkcommunities.com.