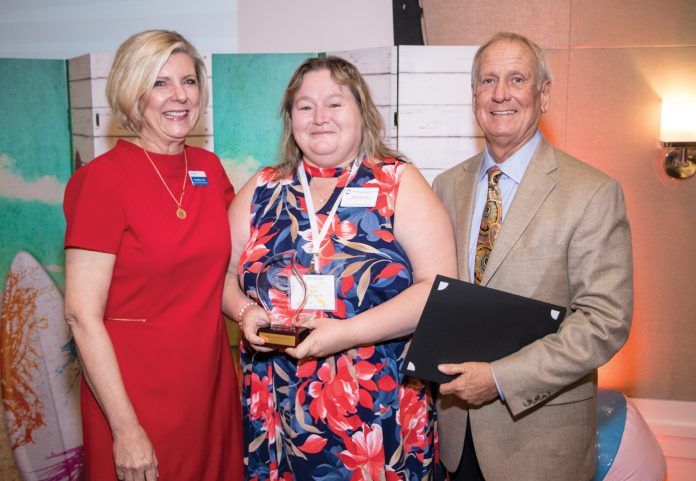 Vickie Jenkins
Staff Writer
Do you like surprises? You know, those happy surprises when you least expect it? On May 2, 2018, Cheryl Bales, DON, Administrator Executive Director attended the annual OKALA conference in Tulsa, OK. Cheryl got one of those happy surprises when she heard her name being called for Administrator of the Year! She was presented the award by local television News Anchor Kelly Ogle. "I was moved to tears and very excited because of all of the nominations that were read from the presenter. Afterwards, I understood from my peers that it was a very hard secret to keep due to the fact that I serve on the board of directors for the Oklahoma Assisted Living Association," Cheryl said. "It was something that I never expected," she added.
Cheryl grew up in the small town of Schulter, just south of Tulsa, OK and graduated with a total of 15 seniors in her graduating class. She attended nursing school in Okmulgee at Green Country Vocational Technical School, graduating in December 1998. I started working as a CNA and Medical Technician at Henryetta Medical Center on the med/surg floor right after nursing school," she said.
Cheryl currently works for Tealridge Assisted Living and Memory Care as the Administrator/DON/E.D. where she has been for 2 years. She has been in the Assisted Living industry for 17 years. "I have always enjoyed helping others and I guess that is why I became a nurse. It is something that I was meant to do," she said.
Asking Cheryl what qualities make a good nurse, she replied, "Good quality nursing comes from within and you must have empathy. You must work as a TEAM player. You must treat each resident/patient as if they were your own family members and give them excellent care. You must demand excellence, without micromanaging your team mates, "she replied.
Did anyone influence you to become a nurse? I ask Cheryl. "I think I was influenced by a number of RN's whom I worked with as a CNA. There was Darlene Baker, Carolyn Parker, Vicki Deturk, Dana Hirsch and many more. They all had an influence on my life. They were very patient and took the time to teach me and so I obtained a lot of on-the-job experience hands on."
I asked Cheryl if she would describe herself in 3 words. "I would describe myself as fair, honest and dependable. I always listen to both sides (and then the middle) before coming to a conclusion. I try to always be at work and not call in unless absolutely necessary. Residents deserve continuity and to feel safe and secure and you can do that by being there," she said.
Cheryl's favorite thing about her job is working to make a difference in the lives of her patients and her staff every day. "I like helping family members to have peace of mind in order to feel secure about their loved ones. Not to be confused with my greatest reward. My greatest reward as a nurse is the humbling response from a family whom I have made a difference in the lives of their loved ones. That is my greatest reward. Just knowing that I was able to make it easier makes it all worth it," she answered with a smile on her face.
Cheryl is married to her best friend, Calven Bales of Davenport, OK. They have 5 children. Cheryl's hobbies are a little different from most nurses and unique in a good way. "I love to hunt and fish and when I am not working, you can find me in our boat or fishing at a pond. During deer season, you can find me in a tree stand," she said.
Leaving words of advice if anyone is thinking about becoming a nurse and making a career in the medical field, Cheryl has some words of encouragement for you; never give up! Always be real! Be open-minded and never get on a power trip! Lead by example!
After learning a little about Cheryl and her outstanding work at Tealridge Assisted Living and Memory Care, it is easy to see how she became, Administrator of the Year, 2018. Congratulations Cheryl!