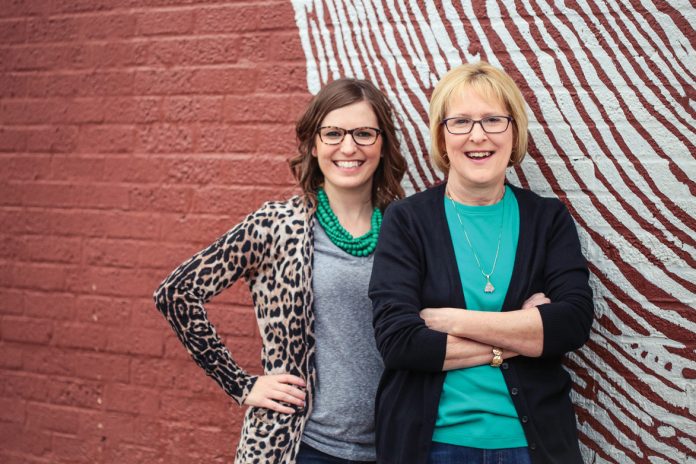 story and photo by Bobby Anderson, Staff Writer
A mother and daughter's leisurely stroll through a craft fair has turned into a unique opportunity for thousands of Oklahoma craft lovers and businesses alike.
Karen Jobe had crafted all through her daughter's childhood before finally getting her to join in on the fun.
A few years back, they found themselves at a craft show one day talking to each other like mothers and daughters often do.
"We were telling each other what we would do differently because it wasn't like the best one," Jobe said. "We decided we were on the wrong side of this and we could do this really well. That's basically how we started.
"We decided we would go big or go home."
Going big has turned into the Indie Trunk Show, which has grown to more than 200 Oklahoma vendors and 2,500 in average attendance, the largest and only one of its kind in the state.
Daughter Stacy, a former financial analyst in the natural gas industry, and Karen, a former Reading Specialist, have found their niche promoting local artisans.
The duo rented the smallest building they could at the Oklahoma State Fairgrounds in 2014. Eighty-five vendors showed up for the inaugural event with a waiting list for more.
Bigger and bigger buildings were rented at the fairgrounds until a lease was finally inked on the 71,000-square foot building known as The Pavilion.
"We made it and we never really intended on getting outside of Oklahoma City but some of our vendors who started with us and have done every show with us felt like they had good exposure in OKC and asked us to do August," Jobe said.
Eight Oklahoma City Shows and two Tulsa shows have been held to date.
The duo will debut a new offering on September 24 with the Indie Bride Bridal Show and Market at OKC Farmer's Market.
Florists, wedding favors, calligraphers, wedding decor, bridal party wear, bakeries, jewelry, photographers, gifts for the bridal party, dress makers/designers, stationary, rentals, musicians, caterers, and more expected.
There will be samples from wedding caterers and even a cash bar.
Food trucks are also expected.
"We are different," Jobe said of the Indie Trunk Show.. "We don't have to try really hard. It's hard to explain how we're different but when people walk into our show they totally get it."
Along the way, Stacy had a child while working as a financial analyst with OG&E.
The Indie Trunk show has allowed her to stay home and raise her son.
"That's the best thing in the world," Jobe said. "We both have our strengths and we work together well. Since we are mother and daughter we know what the other thinks. There's a trust there that I don't think you can have with another person unless you're related like we are."
The rules are simple: you have to be from Oklahoma and you have to be independently owned to get into the Indie Trunk Show..
"There's a lot of different kinds of shows. There's lots of junk and vintage and we found a huge group of people who don't really feel like … that's not their target audience."
Shopping local and shopping with independent business has always been the driving force behind the Indie Trunk shows.
More than 200 vendors showed up when the Indie Trunk Show resurfaced in Oklahoma City in June.
The success has spawned opportunities for workshops to teach others how to market themselves and their products. This September the Indie Girl Boss Workshop Retreat will spring up in downtown Oklahoma City. Topics ranging from visual merchandising to Social Media for Creative Businesses are scheduled to be covered.
Karen and Stacy will cover several topics as will guest speakers.
"The thing we want people to know is that everyone there is an independent business and that's how they're making a living," Jobe said of the shows. "We have so many vendors that everything they have is hand-made, one-of-a-kind and we have the boutique shopping.
"You can buy every kind of gift or anything for yourself you can possible find and it's all in one place. There's very few places where you can go and do that."
And few places with a mother and daughter can bond so well.