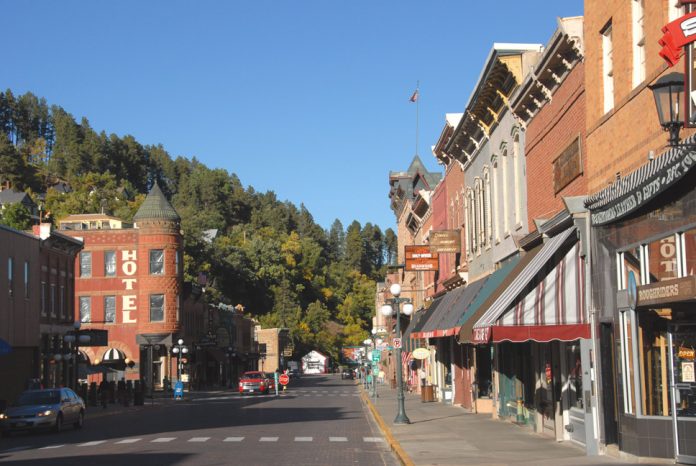 Photography and Text by Terry "Travels with Terry" Zinn [email protected]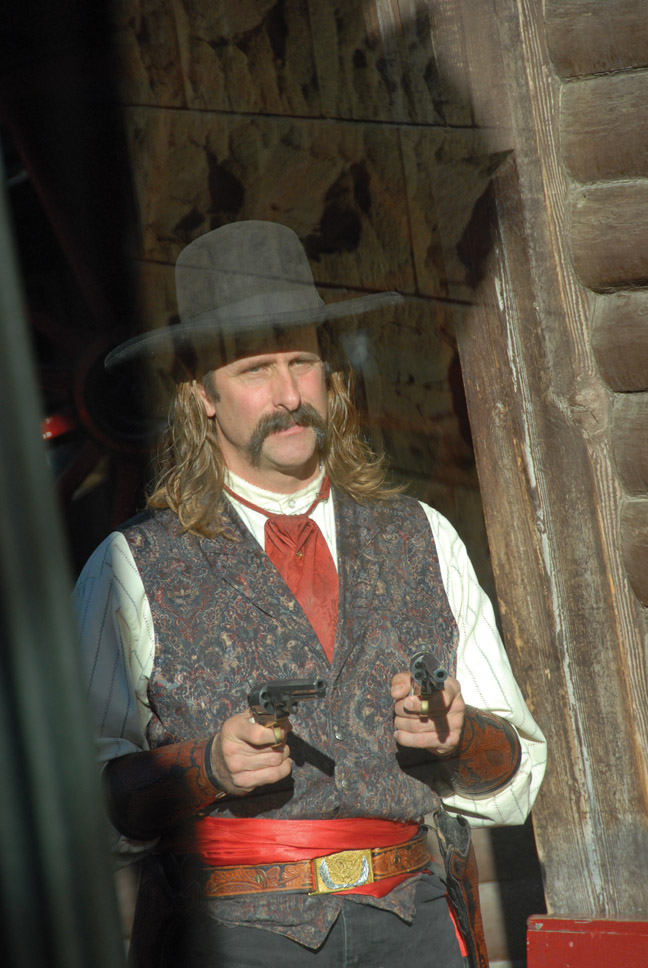 Most people may only think of Mount Rushmore when they think about South Dakota. While it is not to be missed there are other attractions which need to be recognized.
The entire city of Deadwood is a national historic landmark. In Deadwood
you can ponder the truth at the foot of Wild Bill's grave in Mount Moriah cemetery (along with Calamity Jane's), tour Adams Museum and House, pan for gold at the Broken Boot Mine, choose from various guided tours, or take a self-guided walking tour into the past that puts the Wild West into perspective. You may even run into an incarnation of Wild Bill himself, either at the number 10 saloon or on horseback inspecting main street.
And there's plenty of casinos for your gaming pleasure along with some fine eateries. One such is Kevin Costner's Diamond Lil's, where I had a pleasant Martini during sunset over main street. Costner's memorabilia and costumes from his films are on display throughout the dining room, and if that was not enough finery, the top floor hosts a fine dining restaurant complete with piano and beveled glass décor.
Deadwood, South Dakota, is full of surprises such as Costner's founded and funded Museum of the Tatanka (Buffalo) Museum right outside of town. Even with expert Lakota interpreters, displays of costumes worn in "Dances With Wolves", and historic explanatory panels, the best part of Tatanka is the monumental 17 part sculpture of an Indian hunt near a buffalo jump. With wafts of movie theme music and the rustling of Dakota grass, this hill top venue is the pride of South Dakota, itself. Hats off and congratulations to Kevin Costner for giving back to America with the preservation and inspiration found at Tatanka: Story of the Bison interpretive Center and Sculpture. (For more information you may visit http://www.storyofthebison.com.
Up to 60 million Bison once roamed the Great Plains of North America. By the close of the 19th century, it was estimated that less than 1,000 bison survived.
This is their story… "I believe today that this place is bigger than the dream I had for it. What it means to anyone that comes here will be up to them. Tatanka was not designed as the white man's version of the Native American. Rather it stands as a centerpiece for two cultures, one whose very lives depended on the buffalo and one who saw it as a means to an end. It recognizes and accepts that this is our mutual history. It can also represent the chance to move forward." Kevin Costner, Attraction Founder/Owner
The badlands is another South Dakota wonder. (www.nps.gov/badl/index.htm) Roaming among the many outcroppings of natural time sculptured stone you are transported to another world. Containing the world's richest Oligocene epoch fossil beds, dating 37-28 million years old, the evolutionary stories of mammals such as the horse and rhinoceros arise from the 244,000 acres of sharply eroded buttes, pinnacles, and spires.
Hill City calls itself the Heart of the Black Hills. The history of Hill city reaches back into Pennington County's oldest archives. In 1876, it was the first settlement established in conjunction with the initial discovery of Black Hills gold in French Creek, 13 miles south of where Hill City sits today. Miners came from far and wide to prospect in and around this small mountain town, now referred to as "The Heart of the Hills." Although the first settlement in the count, it was the second community to develop in the greater Black Hills area, springing up shortly after the town of Custer.
In addition to livening up the local scene in the dark of winter, Open Stage Concerts gives new talent and seasoned acts alike a supportive place to hone their craft. It also helps local promoters find and hire performers for summer shows and festivals. Local and regional singer/songwriters and poets are regulars, but storytellers, dancers, jugglers, and joke tellers are welcome too. The audience's free-will donations help support their scholarship program and art education grants for local kids.
Open Stage concerts at the High Country Guest Ranch will be held February 9 and 23, and March 9 and 23, with doors open at 5:15 pm with the buffet starting at 5:30 pm.
Other Hill City attractions are the Museum at Black Hills Institute and the Black Hills Institute of geological Research and the South Dakota State Railroad Museum which might quench your curiosity.
While on your way to other South Dakota sights you may wish to explore Deadwood and Hill City.
Mr. Terry Zinn – Travel Editor
Past President: International Food Wine and Travel Writers Association
http://realtraveladventures.com/author/zinn