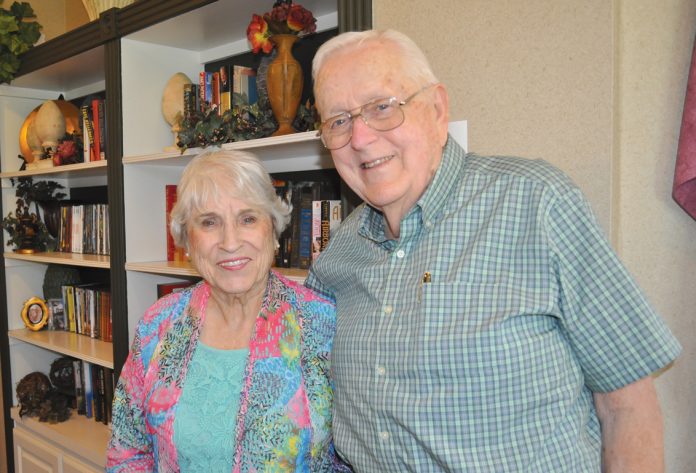 by Bobby Anderson, Staff Writer
Excitement is buzzing up and down the halls at Village on the Park in Oklahoma City.
The retirement community is atwitter over what is expected to be the blockbuster event of the summer – the wedding of residents Ann Trumbly and Bud Barker.
"He caught me in a weak moment," the 84-year-old Trumbly smiled when asked what led to the upcoming August ceremony.
Both currently reside in separate cottages at Village on the Park and each lost spouses in the past.
Neither ever dreamed they would remarry.
"We just clicked, we really did," Barker said. "We weren't expecting it but it happened."
The couple's first official date came last October when a group of Village on the Park travelers went to Royal Bavaria restaurant in Moore to celebrate Octoberfest.
For weeks Barker had been telling Marketing Director Karen Proctor that he planned on "bringing a friend" but declined to say who it was.
"And forever they were just going to be friends," Proctor said, unfolding the story.
The couple agreed to go out once a week for dinner. One week Trumbly would pay, the next Barker would pick up the check.
"Somewhere along the way they shocked me," Proctor said. "They're both educated. They both love music and they both just love talking to each other."
A few months ago the couple pulled Proctor aside to tell her the big news.
"I just cried and cried and cried," Proctor said. "I was shocked. They had kept saying over and over it was nice to have a good friend."
But both agreed it was great to have a best friend again.
EVERYONE'S ABUZZ
"Everybody's so excited," Proctor said. "We've had residents who have gone and bought dresses – even though it's going to be super casual." Everybody feels a part of it because they knew them with their other spouses and were so sad when their spouses passed away.
"It's been fun to see them have so much fun."
Cake and punch will be served back at Village on the Park.
"Real simple. That was Ann's orders," Proctor said.
She helped the bride-to-be shop for a wedding dress – all without ever leaving Village on the Park, helping Trumbly navigate the Internet for the perfect gown that was delivered to her house.
"They've got about 50 flower girls," Proctor joked.
Barker swears he's not nervous.
"Everybody has been fantastic, they really have," Barker said. "Our children – she has a son and daughter and I have a son and daughter – and they're all tickled to death. They could see we needed somebody."
The couple doesn't plan on registering anywhere, in fact, it might be the first wedding in history where guests receive all of the gifts.
The bride and groom are currently trying to downsize their respective cottages so that they may move in with each other after the wedding.
Once the nuptials are complete the two will fly down to Ft. Lauderdale to embark on a Caribbean cruise honeymoon.
But do the two have any skinny-dipping plans?
"I don't know about that yet," the 87-year-old Barker laughed. "Age is funny."
Both are excited for the date to finally get here later this month.
They say planning – even a simple ceremony – doesn't get any easier the second time around.
"Sometimes I wonder how we're going to get through this. It's not the marrying him (part) it's about all the stuff you have to go through," Trumbly said.
Trumbly has always been sort of a mother-figure for Proctor so it was Proctor who sat the couple down early just to make sure they had their bases covered.
The two had already discussed it with their respective families. A Sunday compromise was struck, with the couple attending Trumbly's Catholic mass on Saturday nights and Barker's Baptist church on Sundays.
Barker says he may be getting the better end of the deal, especially since Trumbly's cottage has a washer and dryer as well as a covered carport for his Lincoln.
"There's a lot of advantages for me, I don't know about her," he teased.
But the groom has shown he may be handy in the kitchen.
"I fixed her a bacon and tomato sandwich last night," he said with pride. "Someone gave us a real nice tomato out of the garden and we stole some bread and bacon out of the kitchen and I cooked it in my room."
It's moments like those both were missing.
And they never expected to find them again.
"This is a marvelous place here. Everybody here is family," Barker said.