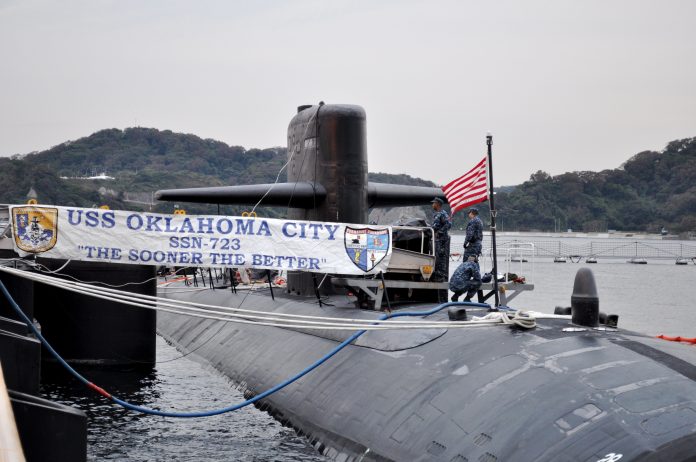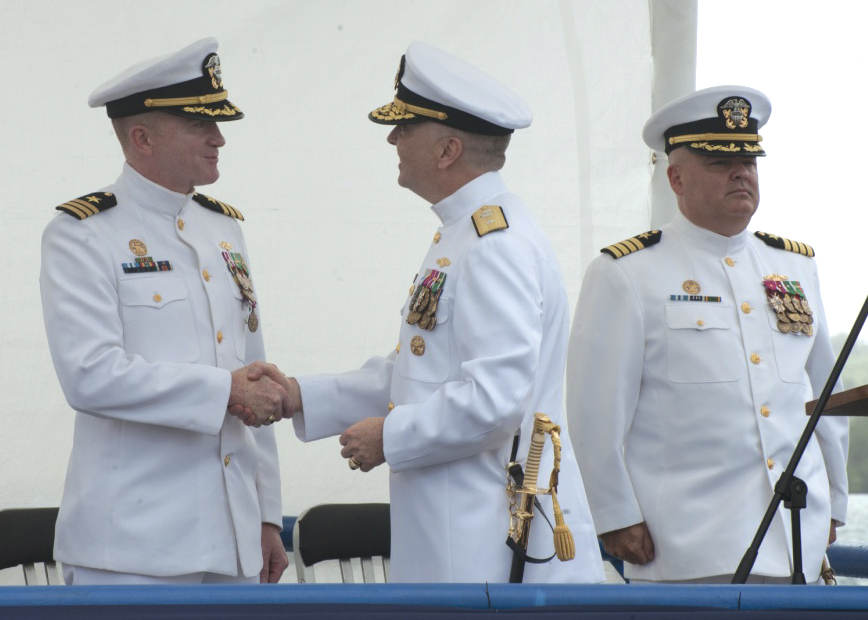 Cmdr. Steve Lawrence relieved Cmdr. Thomas P. O'Donnell as commanding officer of Los Angeles-class fast attack submarine USS Oklahoma City (SSN 723) in a time-honored change of command ceremony at Naval Base Guam, Nov. 9.
Rear Adm. James Waters, III, director, Maritime Headquarters, U.S. Pacific Fleet, was the guest speaker for the ceremony. He congratulated O'Donnell and the crew of Oklahoma City on an outstanding job and successful deployment.
"Thomas [O'Donnell] ensured his team was ready for the gauntlet," said Waters. "In fact, no crew was more ready than Oklahoma City at the time they deployed, providing an essential link in a long unbroken chain bringing American influence and combat power to the Western Pacific."
Waters presented O'Donnell, a native of Mystic, Connecticut, with a Meritorious Service Medal for his tenure as commanding officer.
As O'Donnell took the podium for the last time, he addressed the crew of the Oklahoma City.
"Thank you for believing in yourselves and the ship over the last two and a half years and for allowing me to stand at the helm of your great warship," said O'Donnell. "I am proud to have watched so many of you embody the command visions tenants of know your job, do your job, and train yourself out of a job."
O'Donnell is scheduled to report to commander, Submarine Force, U.S. Pacific Fleet as his next command, where he will serve as the prospective commanding officer instructor. Lawrence expressed his excitement for the ship's future upon assuming command of Oklahoma City.
"I will always strive to accomplish the mission first," said Lawrence. "It will be my absolute honor to sail with you into harm's way to protect our country."
Lawrence, a native of Bridgeport, Pennsylvania, is a 2001 graduate of the United States Navy Academy where he received a Bachelor of Science degree in Aerospace Engineering.