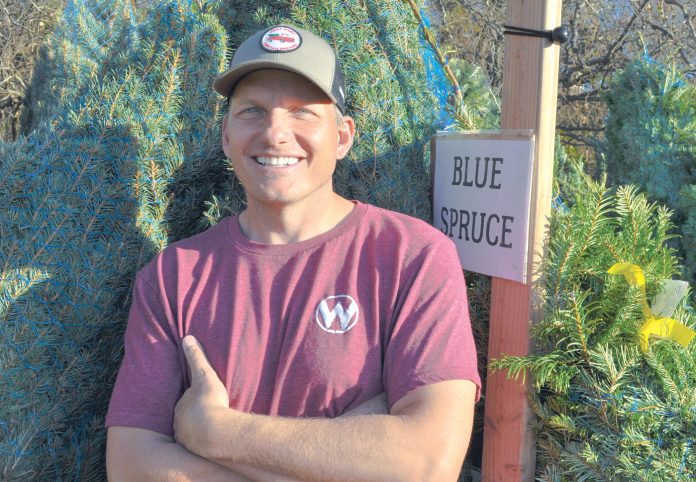 by Bobby Anderson, Staff Writer
Jesse Wells is in a growth industry.
The only problem for this urban Christmas tree farmer is that 365 days yields about 18 inches of growth.
But that's OK. The Wells Family Christmas Tree Farm is in its second year and is already experiencing record growth.
And the lasting memories local families are experiencing by coming together and selecting their Christmas tree has already exceeded any business plan Wells had for the venture.
"You get to do a lot of good stuff," Jesse Wells smiled, surveying his farm just before opening the gates.
The Norman farm traces its roots back to Thanksgiving 2014 when the Wells family pulled the old artificial tree out of the attic one last time just to give it away.
Neither were raised with real trees but they decided it was the perfect time to take their son to a local tree farm just down the road and start a new family tradition.
Turns out both were thinking the same thing as Jesse sawed away.
"She was having this thought we should (open a farm)," he said. "We didn't have any idea. This is three years in the making, our second year to be open but we had no clue."
The Wells family simply provides the trees, what happens from there can be amazing.
A father trying to work his way back into his children's lives brings the family out. Grandparents show their grandkids what a real tree looks and smells like for the first time.
And young families make memories that will last a lifetime.
"Nobody ever says 'You've got a Christmas tree farm? That's horrible,'" Jesse says. "Even if they don't like Christmas trees or Christmas they think it's a pretty cool deal. It's just good vibrations, good spirit growing Christmas trees."
"This is not even really about the trees. They're a part of the story but it's more about what people get to experience together as a family when they're here."
Jesse Wells never expected to have a Christmas destination just outside his front door but he has one now. The Wayne native now has a full-blown winter wonderland with trees, concessions and games.
"We planned on moving out here and being alone with 12 acres," Wells laughed.
This time of year, neither Jesse nor Katy sit still for very long. Katy handles the finances and the bulk of the paperwork while Jesse is constantly moving outside.
BUILD IT AND THEY
WILL COME
It's year two in the experiment but the Wells Family Christmas Tree Farm is already a success.
On this day, Jesse is diagnosing an issue with a customer tree all the while hanging out in the background keeping a watchful eye on a young man from Mississippi who is about to propose to his girlfriend.
"I grew up on land but I grew up hating mowing and raking and pulling weeds," Jesse said. "I think it was more of the Christmas spirit and I think we both had the idea it would be a cool thing for other families."
"We've always been believers and we've always felt this place is God's place and the house and everything. So this was just kind of an extension of that. So now it's just having people out here and letting them experience what we get to experience every day."
Wells went to the University of Oklahoma and now works in the Devon Energy IT department. Katy is a local fitness instructor in addition to running around a 13-year-old son who is active in sports.
Groups have already begun booking private events.
The final week in November local non-profit Hearts for Hearing, a provider of cochlear implants for children, brought 164 adults and 135 children for an evening of tree shopping and celebration.
Fellow farmers told Wells to just order 100 trees last year because, well, you just never know.
They ordered 400.
"We had a good community of friends and really God just stepped in," he said.
A spot on a local news channel aired that morning.
"There was an immediate flood of people that morning," he smiled. "We got rid of all our trees in three weeks."
Stepping out in faith, the Wells' ordered 1,000 trees for their second year. Some 222 sold the first weekend.
With current planting and growth rates, fresh-cut trees from the Wells farm are still about two years away. At the end of year three, the farm should produce between 400 to 500 each year.
For now they sell trees from Michigan, Oregon and North Carolina. Blue Spruce, Fraser fir, Virginia Pine and a host of other varieties are available.
There are other tree farms in Oklahoma to make memories at. You can contact the Oklahoma Christmas Tree Association to find one close to you.