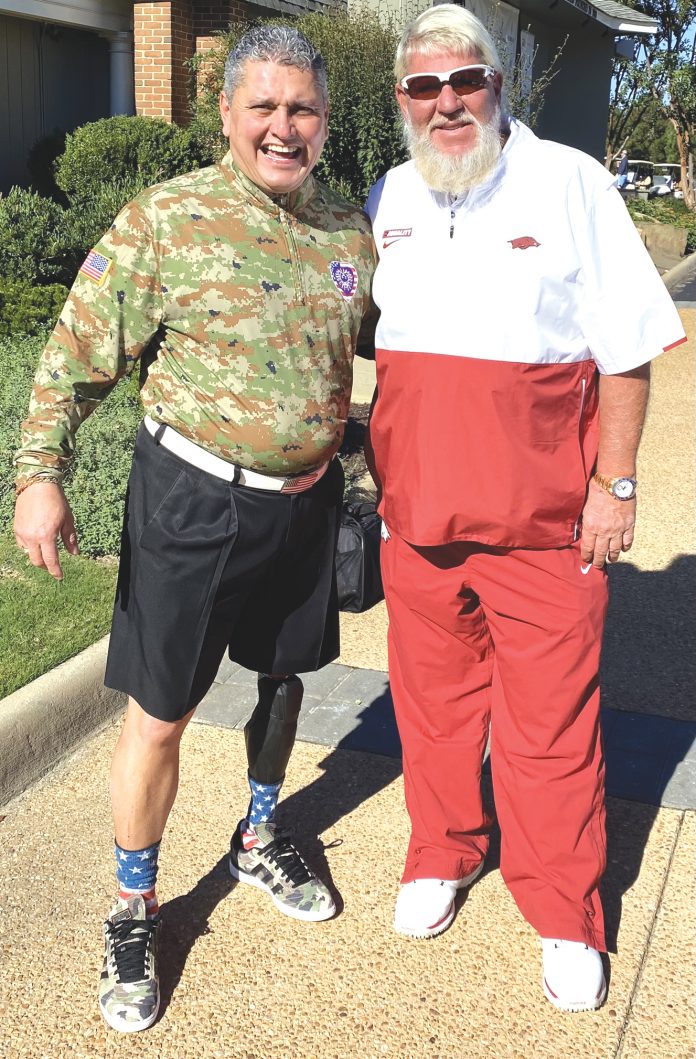 Story and photo by Darl Devault, Contributing Editor
You know when an Oklahoman has massively advocated for the greater good when they become nationally known for earning the camaraderie and trust between active duty and former United States military service members.
The hallmark for Edmond, Okla. resident Major Edward Pulido's, U.S. Army (Ret.) advocacy for his fellow veterans is known throughout the veteran services movement simply as Major Ed.
When the National Veterans Foundation lists its first podcast it simply states: Major Ed was our first guest to be interviewed on the American Heroes Network Radio 1/15/2013 on our first program.
Major Ed's challenging work and determination to serve other veterans since his devastating injuries cut short his career while serving with the Coalition Military Assistance Training Teams under the command of General David Petraeus has promoted him into something rarer than rank, a brand in the veterans services movement.
Not consciously trying to build his brand bigger, he is simply displaying integrity by sharing his thoughts, feelings, words and actions to bring attention to the plight of America's defenders after they have served.
Approached for an interview with the attention afforded the upcoming Veterans Day November 11 he changed the emphasis of this story from himself in a selfless gesture. He is advocating Oklahoman veterans attend the November 15-16 Oklahoma Department of Veterans Affairs 2021 Governor's Symposium for Veterans Services in Norman.
The event featuring Gov. Kevin Stitt and his wife Sarah speaking in separate plenary sessions the first day runs 8 a.m. to 4 p.m. both days at the Norman Armed Forces Reserve Center, 4000 Thunderbird St.
Topics are Suicide Prevention, Lethal Means Safety, Women Veterans, Native Veterans, Crisis Care and Management, Best Practices, Employment, Education, and more.
There will be special sessions on Veteran Agriculture as a means for Employment and Mental Health, and the release of OKVALOR (Oklahoma's Veterans Assistance Locator).
Question, Persuade, Refer and Talk Saves Lives training will be available to those interested in suicide prevention training. Info at Governor's Symposium (oklahoma.gov)
"Major Ed has stated in his work with the John Daly – Major Ed Heart of a Lion Foundation 'At the end of the day it's all about empowering and supporting those that fight for our freedom,'" said Lisa Mussett, U.S. Air Force veteran and Women Veterans Program Director with the Oklahoma Department of Veterans Affairs who has worked alongside Pulido for many years. "Major Ed's statement about empowering and supporting our veterans is a key mission of the upcoming symposium. We strive to highlight many partners across the state, those providing services to veterans and their families."
Mussett will offer a breakout session at the symposium, to discuss a special project for Women Veterans called the HerStory Project. "The project includes photographing women veterans to accompany the State Veteran Registry," Mussett said. She extends a personal invitation to the 30,669 women veterans in Oklahoma to attend the Symposium, to learn more about the HerStory Project and the annual Women Veterans Recognition Day Program. Women vets can email her directly at [email protected]
Deployed to Iraq during Operation Iraqi Freedom, Pulido was fighting in a war where wounds had increased in severity as a result of a change in enemy tactics. The insurgency war had intensified with increased sophistication and use of improvised explosive devices (IED).
On August 17th, 2004, after 19 years with the U.S. Army and U.S. Army Reserve, the 36 -year-old Hispanic officer's life was changed forever. He was severely wounded by one of those IEDs or roadside bomb in Baqubah, Iraq, 35 miles northeast of Baghdad, earning the Purple Heart medal.
"I will never forget on that day I did not just lose my leg. On that day, I sacrificed my leg for my country and for everyone in this nation to be free," Pulido said.
After that fateful day he faced multiple challenges, which, included miscommunication on his whereabouts, 17 operations, numerous hospital stays and rehabilitative sessions. Along with the loss of his left leg to amputation he was diagnosed with post-traumatic stress and traumatic brain injury. He also faced what he says was one of the toughest battles of all—whether to stay in his beloved military or become a medically discharged veteran.
He says his decision to leave the military was based in part on a compelling desire to reach out to other wounded veterans and their families who were seeking help for their injuries and post-war obstacles.
He went on to devote his life to veterans' services issues as the founder and CEO of the John Daly – Major Ed Heart of a Lion Foundation. He works with 2-time PGA Major Championship winner John Daly to provide mental, physical, and wellness support to our nation's children, first responders, and America's veterans. "Together, we will never leave our nation's children, our first responders and Americas Veterans and their families behind on the field of battle, so help us God," Pulido said.
He now sees his mission as advocating for and serving other wounded veterans with their ongoing needs while raising awareness about their sacrifices made to keep our nation whole.
"I was given a second chance to do something bigger than myself," Pulido said recently. "Before August 17, 2004, I wasn't educated about how important it was to have a purpose or a passion. But God tested me that day, gave me hope and another chance to do something really worthwhile.
Our veterans know what we can accomplish on the world stage, but they also want opportunities–to work, be productive and not be patronized or relegated to the notion they have returned home as damaged goods. Through my personal story, I want to help them reach their goals so when they encounter their own set of challenges, they can also experience their own triumph and positive change."
He is the former Sr. VP, co-founding member of the Ambassador for Folds of Honor Foundation and co-founder of Warriors for Freedom Foundation.
He worked with Marie Bartlett to self-publish his story "Warrior for Freedom: Challenge, Triumph and Change." The book details the extreme lows and highs of helping the American people understand the visible and not so visible costs of war. The book is his attempt to help the public and the corporate community understand how they can help our nation's heroes and their families.
Warrior for Freedom is now available on Amazon and on his web site www.majored.org.
A portion of the proceeds from each book sale goes to veteran charities he supports and represents: John Daly-Major Ed Heart of a Lion Foundation www.jdme.org and Warriors for Freedom: www.warriorsforfreedom.org.