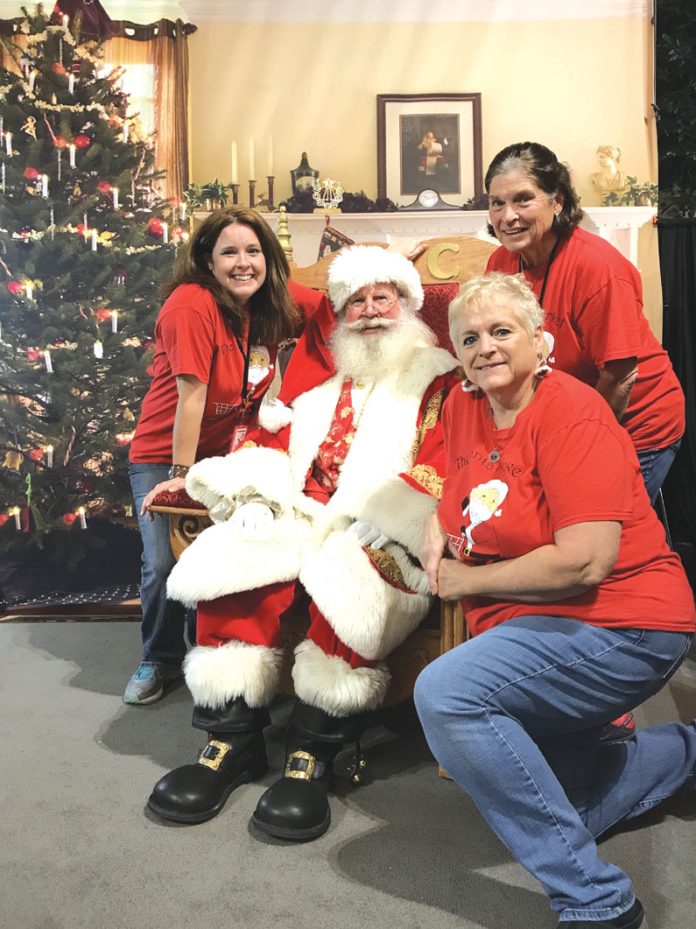 Story by Darl Devault, Contributing Editor
The Santa Market Craft Show November 19-20 at State Fair Park has evolved the last dozen years into Oklahoma City's premiere free two-day showcase for Christmas themed creations, benefiting the Alzheimer's Association of Oklahoma.
As one of Oklahoma's largest free nonprofit arts and craft shows, the 12th annual festive shopping experience will fill the Pavilion and Centennial Buildings with more than 180 carefully chosen creative vendors. It features free admission, free parking, a silent auction and more from 9 to 4 Friday and Saturday.
Visitors are encouraged to bring their children to get their free photos taken with Santa Claus at Oklahoma City's most prestigious Christmas market each year.
Shoppers are treated to a variety of home decor, homemade arts and crafts, boutique and holiday items, jewelry, children's clothes, and food goodies. Free shopping bags sponsored by local businesses will be given to the first 1,000 visitors.
Joan Clarke, along with Molly and Megan Nye began the event in 2010 after Joan's husband died of Alzheimer's in 2007. It has been a labor of love attracting many volunteers to help showcase the wares of the many high-quality vendors, who see it as an opportunity to support a local charity addressing one of America's most difficult diseases.
"Molly and I had been selling items at craft shows for years and we decided to start our own event. We booked a small room in a hotel and started out with 17 vendors," Clark said. "By the time our third year began, we realized how much work putting on a quality show involves, so we decided to make it a fundraiser. Molly immediately suggested Alzheimer's since I lost my husband to the terrible disease."
"Our excellent vendors are what make this show what it is each year. We are one big family, everyone helps promote the show, advertise, and find new merchants. They donate to our cause, both monetarily and with their products, even though it's totally voluntary," Clark said. "They help with set up, clean up and everything in between. We have 3 vendors that have been with us all 12 years. Countless more that have been with us 5, 8, even 10 years. One vendor named it 'The Greatest Show on Earth' and it truly is."
Even while spreading out over two buildings now, the organizers limit the number of crafters assigned space. Clarke says It is not about turning away new vendors, it is about only allowing a limited number of each type of vendor. They wish they could take everyone, but having a variety makes for a much better shopping experience and the merchants have a much better chance of success.
The event is now at the point where longtime merchants who display clamor to be back each year. This means the shoppers have high quality choices because the theme of the show is providing the highest quality Christmas theme material for their customers.
Clarke says some of the merchants see the event as an opportunity to make sure one of their favorite charities receive as much as possible from their craft world and from them personally.
Vendors write personal checks to the Alzheimer's Association when the Santa Market rolls around, Clarke said. They also donate some of their hand-painted ornaments, clothing, pet items, artwork, wood working, signs, candles and more to the Alzheimer's auction and Alzheimer's booth at the event.
The 12th year means the Santa Market folks also supported the annual Alzheimer's Association Walk to End Alzheimer's which occurred October 23 in downtown OKC. The Santa Market fielded a team for the walk, captained by Janie Biggs, with 11 members this year who raised $8,512 by the day of the walk.
Taking place many different dates and locations, it is the world's largest event to raise awareness and funds for Alzheimer's care, support and research. The Walk in OKC was one of the top 30 in the nation in 2020.
"We are so grateful to the Clarke and Nye families who have used their creativity and passion to end Alzheimer's to create such an amazing craft event," said Jessica N. Hogner, OKC Alzheimer's Walk Manager. "The Santa Market is not only responsible for raising more than $177,000 these last 11 years, but also helping spread awareness about Alzheimer's Disease and the free services the Alzheimer's Association provides." Contact Joan at [email protected] .