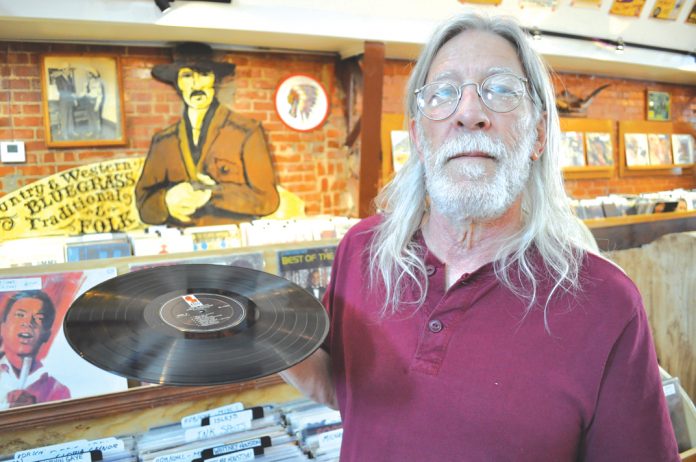 by Bobby Anderson, Staff Writer
Through the years, John Dunning has been a purveyor of antiques and lover of music.
Funny, how his two loves married a few years ago.
Now, Dunning runs Trolley Stop Records, 1212 N. Pennsylvania and is feeding the metro's resurgent appetite for vinyl records.
A story in Forbes magazine noted that since 2009 the vinyl format has experienced a 290-percent increase in growth.
You'll find CDs at Trolley Stop but they're relegated to the back. There's no doubt vinyl is the star of the show here.
"To me the unusual thing was back in the 80s CD's put vinyl out of business pretty much," he said. "But now it's kind of flip-flopped and records are putting vinyls out. They're not making the CDs as much and Best Buy and Wal-Mart, they're dropping CDs.
"The interesting part is it's the only example of a technology replacing a technology and then the replaced technology coming back and replacing it. I can't think of any other scenario."
"I've tried, stretched my brain, but can't think of any other scenario where that's happened."
Dunning's collection is massive.
"I don't really know," Dunning shrugs when asked how large. "People are bringing more in almost daily."
Trolley Stop contains just a fraction of the vinyl Dunning has collected over the years. He's got a warehouse that he keeps adding to.
It's one of the reasons he's now on Penn.
Dunning arrived to the Penn Theater a year ago this past April with nothing but a cement floor to greet him.
Wooden record cabinets and a stage were created.
By late July Trolley Stop was open for business and the old location at 18th and Classen was shuttered after a seven-year stay.
Since then a number of bands have graced the stage.
"I was just wanting a bigger venue and was driving around town and they had a big For Rent banner hanging," Dunning said.
There's a low-key vibe at the Trolley Stop.
Dunning and his wife, buy and sell. Rescue dogs litter the floor here and there, oblivious to the customers most of the time and then sauntering up for a scratch behind the ears other times.
"I just want to be a source of records for people who enjoy music," Dunning said petting one of the dogs. "And a place to have concerts, too."
Born in 1951, Dunning is now a visionary for a technology that appears to be sweeping the nation – again.
"It was really displaced but now it's just booming," Dunning said of records. "There were lots of guys that never gave it up. Then you had guys once CDs hit that gave all their records away and now they're kicking themselves."
And Dunning is there to sell them all back to them.
"The quality of the sound is better. The art is so much richer than a little plastic case," he said. "You want to sit down and read the liner notes. You get a little CD case and you try to read it and within five minutes you're tired."
An artifact, a sampling of art and a piece of of history all come packaged with unforgettable sound.
"The young ones are hopping onboard and its fascinating them because they never grew up with it so it's fascinating to them," he said. "They've kind of embraced it. And with the power of the Internet being able to listen to old songs and look up bands and history it's right at their fingertips."
"Now it's become a family affair."
One of the big things Dunning has noticed the last few years is how families come in together. There's the little ones, the tweens and teens, moms and dads and the grandparents.
"Kids can ask grandpa if they saw this band or that one," Dunning said. "It's bringing families together."
The format almost disappeared in the early 2000s. But then it caught fire again.
Like most people, Dunning watched the Beatles on Ed Sullivan.
"That got me going," he grinned.
Right after in 1964 Dunning went to the Municipal Auditorium and saw the Dave Clark Five.
He was hooked.
Trips to see Jimi Hendrix, Janis Joplin, Led Zeppelin and other bands most people wish they could see followed.
Dunning spent the 1970s living in a commune in Oklahoma City. Yes, he's a hippie and proud of it. He was responsible for helping bring more live music to the metro with the construction of the Prairie Lady concert hall.
"We had new bands that were hitting and lot of the old bands," Dunning said. "That was a lot of fun. To me that was kind of my college education, that time frame."
Now, he's teaching a proverbial master's class to those falling in love with vinyl all over again.