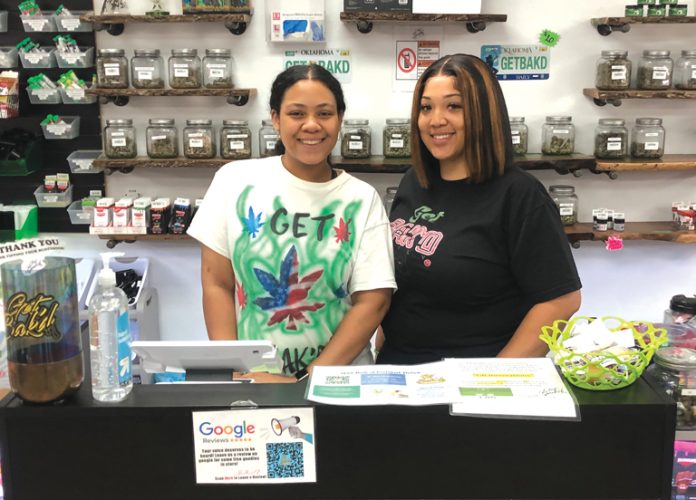 by Van Mitchell, Staff Writer
GetBak'd, located at 516 South Coltrane Road in Edmond is part of a locally owned and operated patient-driven group that has come together to provide an excellent experience and selection for the Oklahoma medical marijuana community.
The Edmond medical marijuana dispensary store opened in 2018, and its hours of operation are 10 a.m. to 8 p.m. Monday through Saturday and noon to 5 p.m. on Sundays.
Their mission is to provide the highest quality alternative treatment through a variety of cannabis and hemp-based products. They carry THC as well as CBD products to cover the patient seeking non-psychoactive treatment, to those seeking a stronger treatment through the use of high THC products.
"GetBak'd is the actual brick and mortar of the cannabis side of the of business," said Marlon King, brand marketing manager. "When you think of a pot shop, you think are just going there to get high, and to get by. GetBak'd does offer THC, but we also offer a full CBD selection that offer no mental change while delivering relief. We offer flower, gummies, capsules, topicals, tinctures, vapes, oils, edibles and patches. We are a full holistic establishment."
King said patients will need a doctor's prescription recommendation to consume THC products, CBD and Delta 8 products are 100 percent legal under the 2018 federal Farm Bill and require no medical card.
He said GetBak'd has a monthly patient drive where patients can meet with on-site physician who can evaluate their qualifications for a medical marijuana card.
"We have a doctor on staff," he said. "Patients can renew their (medical marijuana card) or get a new recommendation card at the monthly patient drive."
A medical marijuana patient license allows someone with an approved application to legally buy, use and grow medical marijuana and medical marijuana products in Oklahoma. The license is in the form of an identification card that can be used to prove an individual is a license holder. The card contains the patient's name, photo, date of birth, city and county of residence, the type of license, the date the license expires, and the patient's unique medical marijuana license number.
King said there are misconceptions on how medical marijuana works. The most common use for medical marijuana in the United States is for pain control. The cannabinoids in marijuana may reduce pain by altering pain perception pathways in the brain.
"There are so many benefits it can have," he said. "It does help relieve pain, anxiety, PTSD, helps with sleep, loss of appetite in cancer patients, neuropathy, or nerve problems. The biggest misconception is to get the relief that cannabis has, you have to feel high."
King said another misconception about cannabis is the type of people that use medical marijuana products.
"We are all professionals, parents and productive people of society," he said. "Just because we use cannabis as a natural alternative form to treat our life's challenges we have, it doesn't mean that we are the person getting high playing video games all day with no motivation. That is not it. We want to make sure that people understand that you can use cannabis with a purpose. That's why identifying with a term is important Bak'd- the relief that comes from purposeful use/consumption of cannabis."
For more information call (405) 438-2256 or email [email protected] or visit https://www.getbakd.com/.