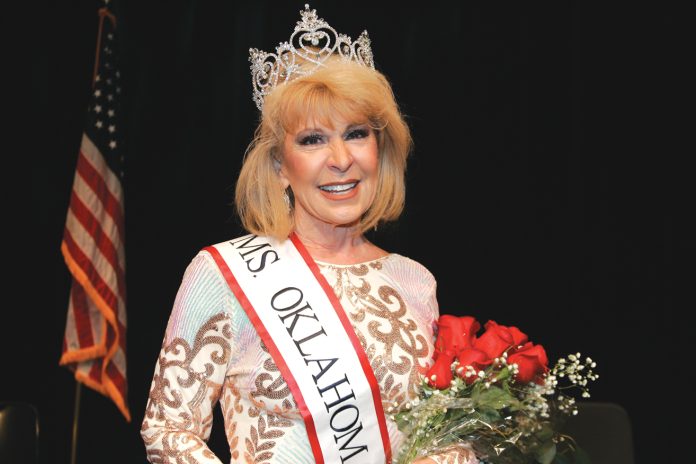 Story and photos by Darl DeVault, contributing editor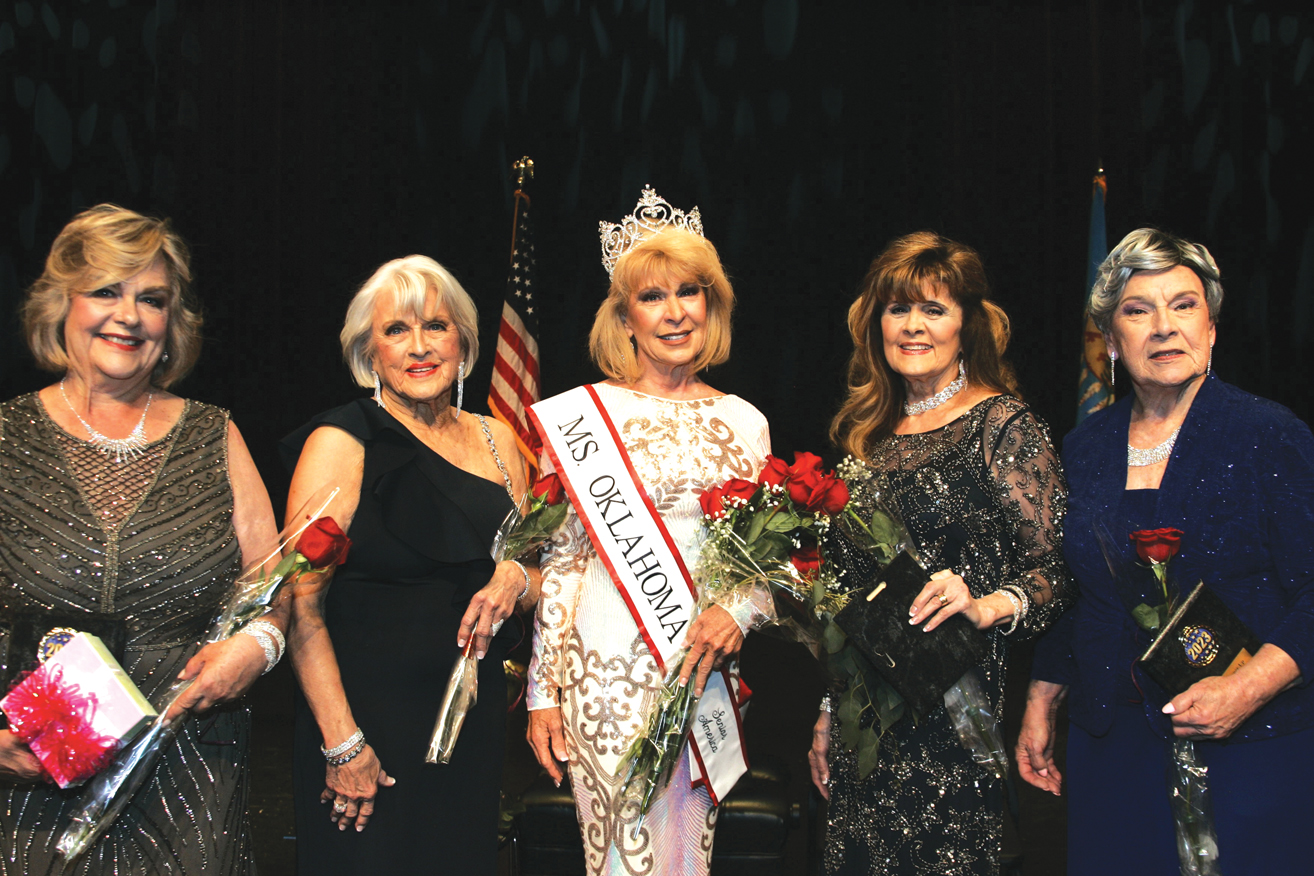 Karen Brown Tims, 70, an Arcadia businesswoman, was crowned Ms. Oklahoma Senior America 2023 at the 15th annual pageant on April 15 at the spacious Mustang Performing Arts Center with Miss Oklahoma 2022, Megan Gold, as mistress of ceremonies. Ms. Oklahoma Senior America 2022 Roxanne Parks crowned her after the judges' selection.
This annual pageant honors ladies 60 and up who personify the "Age of Elegance" by competing to reign as 2023 Ms. Oklahoma Senior America.
With 15 contestants competing in Interview, Talent, Evening Gown and a presentation of their philosophy of life, hailing from Arcadia, Jones, Newcastle, Bethany, Oklahoma City, Sand Springs, Yukon, Nichols Hills, Mead, Del City and Edmond, Oklahoma was well represented.
"Life is not over past 60. Continue to strive and accomplish, Tims said in an interview. "Our purpose is great even yet! The young people need to hear what we have learned and our guidance is imperative. This pageant and ALL the people involved inspired me and made me oh so happy! I would shout out to all women who are interested in joining us in the fun and growing with courage and confidence. It is never too late!"
Contestants were Barbara Bryant-Waggoner, Jones, Trish Carr, Newcastle, Sharron Clifton, Bethany with Wonna Cornelson, Lynn Jones, Carla Joy, Doreen Miles Williams, Edie Thomas, all of Oklahoma City and Karen Brown Tims, Arcadia. The others were Debbie Hay, Sand Springs, Ellen Henson, Yukon, Pam Holzberger, Nichols Hills, Judy Jackson, Mead, Eileen Milles, Del City and Venessa Saunders, Edmond.
The judges' selections that round out the court for the 2023 Ms. Oklahoma Senior Pageant are Barbara Bryant-Waggoner first runner up, Ellen Henson as second runner up, Lynn Jones third runner up and Sharron Clifton as fourth runner up.
The contestants displayed a hobby or talent within 2 minutes and 45 seconds, modeled a long evening gown, gave their philosophy of life within 35 seconds, and were interviewed by judges for 5 minutes.
Tims garnered the most applause for her spoken word talent presentation conveying the zest of the "Age of Elegance." Here is her "Bending Time" presentation about how all the ladies competing were so happy verbatim:
Think with me for a moment, please, and with a show of hands, who, like me, has often wondered how to slow down time? My life seems to be flying by.
The truth is, we cannot change time; however, we can change our perception of time, and we all know our perception is our reality!
Remember when we were children and how slowly time seemed to go by? Seeming that summer and Christmas would never get here?
As children, we were spontaneous, and all our experiences were new. Remember going out for recess and how fun it was and how that time went by quickly? How often would we beg, "Oh, please, just five more minutes" while doing something really fun?
My research tells me that as adults, we have become less mindful of our experiences, causing time to fly by! So…Start noticing the wonder and amazement of everything!
Let's make our day last longer by going to new places, meeting new people, trying new activities, and being spontaneous.
My research further tells me; time seems to slow down when we make drastic changes!
Break old habits! Change what you have for breakfast. Eat dinner in the dining room on China and not in front of the TV on paper.
Above all, be unpredictable; it will make your friends and, better yet, your children wonder what you are up to.
I entered this pageant!
And to prove my point, this is a two-minute timer, and in my perception, I have been speaking with you for 10 or 15 minutes. Woo Hoo! I just bent time in my life.
I leave you with this, as a mother and grandmother, I give you all permission to take more recesses, and YES, you may have five more minutes.
Tims is a busy entrepreneur running her three businesses, two of which she added since she was 60. She owns Bankers Insurance Group, CB Farms and a residential rental property firm. Her business exploits are scheduled to be featured in Forbes, Entrepreneur and Fortune magazines in the next few months as a part of a Women Business Leaders in Oklahoma article. She balances that with spending treasured time with her two granddaughters.
Her love of horses extends to cowboy mounted shooting, cutting horse contests and trail riding. She volunteers at a nonprofit horse therapy program that teaches troubled children to ride. She enjoys skeet shooting and bird hunting on her farms.
Her volunteer work includes the Oklahoma City Rescue Mission, National Cowboy Western Heritage Museum, Military Order of the Purple Heart, Oklahoma Foster Care Review Board, House of Healing, Healthy Living Center and her church.
Tims will be sponsored by the Ms. Senior Oklahoma Foundation to compete in October at the National Ms. Senior America Pageant in Atlantic City, New Jersey. The Foundation will pay her airfare, room and registration fee.
The national pageant is a nonprofit organization that honors senior women's achievements and encourages them to use their full potential to share a positive outlook on life with others. Organizers say it is more than a "beauty pageant," Senior America is a re-affirmation of life and self-worth, laughter and tears, inner beauty and outward charm.
This philosophy is based on the belief that seniors are the foundation of America and our most valuable treasure. Organizers say the younger generation has the opportunity to build a better society through seniors sharing of knowledge, experience and resources.
The Ms. Senior Oklahoma Foundation has been staging the pageant since 2008, now under the direction of State Administrator Carol Kallenberger and Directors Deborah Wedel and Dove Schmidt.
Kallenberger from Guthrie dedicates much of her time to this annual event. She says these elegant ladies reflect the grace, charm and fortitude that shines brightly throughout our state. "It was truly an amazing event with all the contestants displaying every aspect of the "Age of Elegance," Kallenberger said. "I sincerely believe that a crown is not always made of rhinestones. It is made of discipline, determination, and courage. Thanks to everyone who helped make our 2023 Ms. Oklahoma Senior America Pageant a great success."
For more information about Ms. Senior America, please visit
http://senioramerica.org.