Story by Joyce Clark, Executive Director – Saint Ann Retirement Center
As a single woman in her 60's who is also the director of a senior living campus, I often hear friends and residents comment on the challenges of finding love after reaching an age of experience. The fact is there are many more single women than men age 65 and better. The guys hold an advantage and simply have more to choose from to meet their romance needs. That means a woman interested in finding love might benefit from a strategic approach to broadening her circle of potential candidates.
The benefits of finding love later in life are numerous. Companionship and emotional support can improve overall well-being and reduce the risk of health issues such as depression and heart disease. A partner can also provide financial and practical support, making it easier to pay bills and navigate life.
Finding love at any age can be challenging, but it is possible to find a new partner even after age 60. Below are a few suggestions to help single folks succeed in their search for a mate. I may try out a few of these recommendations later this year and get back with you readers on my experiences. Call me at (405) 721-0747 Ext #301 and let me know if you have any fun or interesting stories or tips to share!
BUILD A STRONG FOUNDATION: Focus on developing self-love, clear communication skills, flexibility, and appeal. These are essential to attract someone and to maintain a healthy relationship.
JOIN SENIOR DATING WEBSITES OR APPS: Online dating can be a great way for older adults to connect with others. Look for reputable dating apps or websites and be sure to protect your personal information. Be honest about yourself and about what you are looking for in a match. This will help increase the chances of finding a compatible partner.
PRACTICE SELF-CARE: Taking care of yourself physically and emotionally will make you a more attractive and confident partner.
BE ACTIVE IN YOUR COMMUNITY: Get involved in your local community through volunteering and helping out at events. This can help you meet new people and find potential partners.
BE CONFIDENT: Believe in yourself and your ability to find love and to be loved. Confidence is attractive and can help you make a connection with someone.
DON'T RUSH: Take your time in getting to know someone and building a relationship. Love takes time to develop, and it's important to be patient and allow things to blossom naturally.
HAVE FUN: Remember that finding love should be fun and enjoyable. Don't put too much pressure on yourself and enjoy the journey.
GET OUT AND SOCIALIZE: Join clubs, groups, or organizations that align with your interests. Look for local events and activities that are geared towards seniors, such as dances, book clubs, church classes, and fitness groups. This will give you the opportunity to meet new people who share your passions. It's important to be active and engage with others in the social activities you join. Be open to conversations and make an effort to get to know people. Don't be afraid to ask someone out for coffee or a meal to get to know them better. Saint Ann Assisted & Independent Living has numerous entertainers and fun things to do. You are welcome to come join the fun. Life enrichment calendars are typically on the website:
https://www.saintannretirementcenter.com/ or you can call Lisa at (405) 721-0747 Ext #322 to have calendars emailed to you.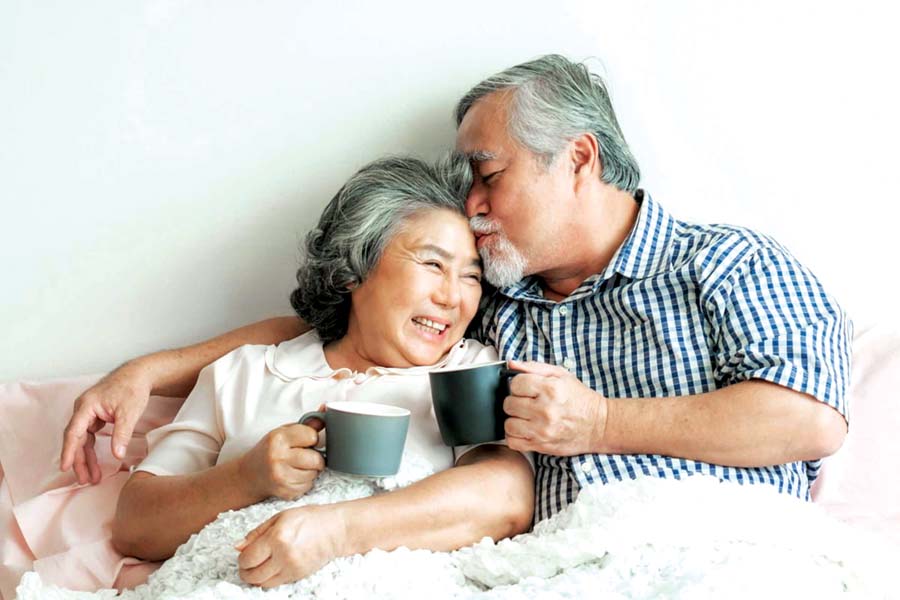 BE OPEN-MINDED: Don't limit yourself to a certain age range or type of person. You never know who you might connect with.
DON'T GIVE UP: Finding love takes time and patience. Keep an open mind and continue to put yourself out there.
TAKE UP A NEW HOBBY: Expanding your horizons can be interesting and fun. Joining a club or group that focuses on a hobby you enjoy is a great way to meet new people.
SEEK OUT PROFESSIONAL HELP: If you are struggling to find love, consider seeking out the help of a professional matchmaker or dating coach who can help you navigate the dating scene.
TAKE A CLASS: Sign up for a class that interests you, such as a cooking class, photography class, or dance class. This can be a great way to meet new people and find someone who shares your interests.
ATTEND EVENTS: This can include community festivals, fairs, concerts, or art shows. These events can provide a relaxed and fun atmosphere to meet new people and make connections.
CELEBRATE YOUR AGE: Embrace your age and all that it represents. You have a lifetime of experiences and wisdom that makes you unique and valuable.
BE KIND TO YOURSELF: Treat yourself with kindness and compassion.
INVOLVE FRIENDS & FAMILY: Ask others to connect you with someone they think may be a great match.
BE HONEST WITH YOURSELF AND OTHERS: Be open and truthful with yourself and others about what you are looking for in a relationship. This will help you find someone who truly matches your needs and wants.
LOOK FOR OTHER WAYS: For example, recently a woman placed a personal advertisement in Senior News & Living classifieds seeking a compatible man. She reports she has had tremendous results. Taking initiative and action to find love might open more doors and expedite success.
Joyce Clark is the Executive Director of Saint Ann Assisted & Independent Living in Oklahoma City. Saint Ann is an affordable and fun community that has new levels of care, including short-term respite stay. The beautiful home is a ministry of The Archdiocese of Oklahoma City and people of all faiths love living at Saint Ann. Call Lisa at (405) 721-0747 Ext #322 or visit the website https://www.saintannretirementcenter.com/ for more information about assisted or independent living.