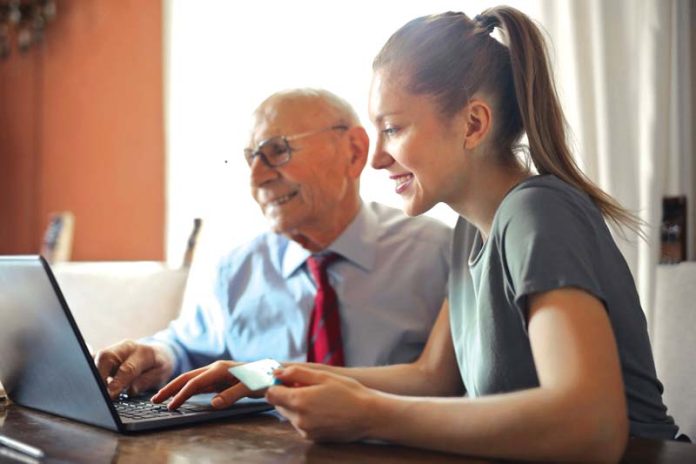 Story and photo by Lisa Gonzalez, Contributing Writer
As we age, managing financial matters can become more challenging. But staying on top of our finances is essential for avoiding financial fraud, minimizing debt, and making the most of our retirement savings. If you think your senior loved one is struggling with money management, it might be time to step in and offer to help with their financial matters. Today, Senior News and Living explores some common signs that your senior loved one may be struggling with their finances as well as some steps you can take to help out.
Look for Signs of Financial Management Issues
Financial management issues aren't always obvious, even to close loved ones. Keep an eye out for some common signs that your senior loved one may be having a hard time tending to their financial responsibilities:
Unopened mail lying around the house.

Purchases that are out of character.

Unexpected changes in their investment portfolio.

Large bank withdrawals or transfers between accounts.

Taking longer than usual to pay bills and complete other everyday financial tasks.

Paying the same bill more than once.

Repeatedly calling the bank for passwords and pin numbers.
Some of these signs might also indicate that your senior has become a victim of financial fraud or financial exploitation. If you suspect this is the case, AgingCare.com recommends gathering as many details as possible and reporting your suspicions to local law enforcement.
Help Your Loved One Sell Their Business
If your senior loved one runs a business and they're struggling to keep up with their business finances, this could be a good time to sell. Help your loved one prepare their business for sale by getting a professional business valuation. A business valuation will provide an objective perspective on the company's value, void of any sentimental value your loved one may assign to it. A valuation is also important for arriving at a realistic asking price that buyers think is fair.
Obtain Power of Attorney
Getting a general power of attorney will enable you to act on the behalf of your senior loved one both financially and legally. You'll be able to sign documents on their behalf, open or close bank accounts, withdraw funds, pay bills, cash checks, and even enter into contracts for utilities and services.
Be sure to approach your loved one with power of attorney discussions while they're still able to make their own decisions. Since this can be a difficult conversation, work to build trust before broaching the topic. Offer to help with financial matters and decisions to show that you care about what's going on in their life. Most importantly, avoid pressuring them, placing blame, or shaming them for their financial struggles.
Consider Relocating
Handling all of this long distance can be pretty daunting – if not impossible – and frequent car rides or plane trips can be exhausting, as well. If you feel like you might need to be closer to your loved one for a while to see that everything gets done right, you might want to look into buying a house in the area. Do some online research to see properties with your preferred amenities as well as price, and don't be afraid to ask tough questions when you go to look at the house.
Take Over Regular Financial Tasks
Whether or not you have power of attorney, you can help your senior loved one with a number of regular financial tasks like paying bills or monthly budgeting. This is easier to do with a joint bank account. GetCareful.com recommends considering the pros and cons of a joint account before moving forward. While a joint account will allow you to monitor transactions and help your senior loved one with their finances, it can also create complications with taxes, estate planning, and social security benefits. Consider talking to a financial advisor about this decision to ensure it's the right move for your family.
Many seniors need help with financial management at some point. If you have a parent, sibling, or spouse who is struggling with their finances, offer to lend a hand! Discuss their options, be respectful, and let them make decisions on their own. Whether you end up helping them sell their business or paying their monthly bills, your assistance will go a long way toward improving their financial well-being!
Senior News and Living provides readers a fresh publication filled with news and features with resources for the mature reader. Contact us today for more info!