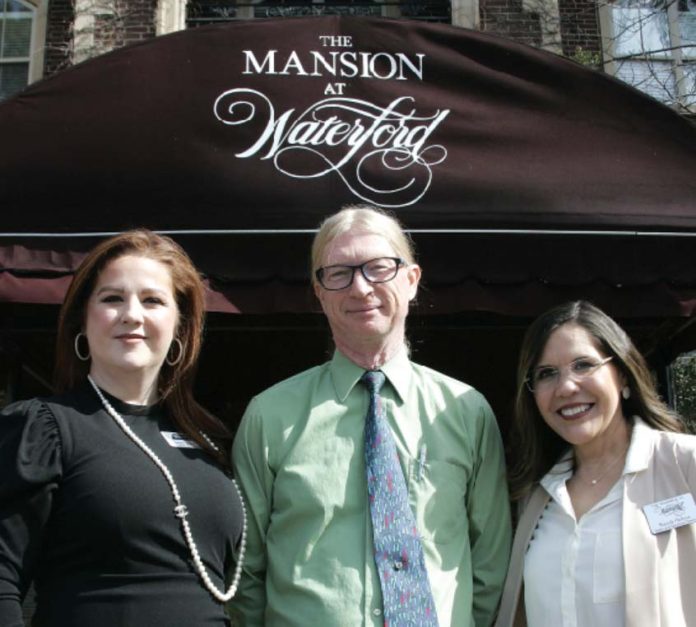 Story by Darl DeVault, contributing editor
The Mansion at Waterford Assisted Living Director of Sales and Marketing Sarah Ochoa welcomed the group of 56 Senior Business Solution colleagues to their networking luncheon on February 16. Emphasizing how their company recently purchased Glade Avenue Assisted Living and Glade Avenue South in Bethany, Ochoa spoke of the new, more affordable offerings for their metro area services there.
The Mansion at Waterford, undergoing renovations, shared its premium meeting space, their richly appointed dining room, for the monthly gathering of senior healthcare marketers and senior-focused company workers.
"It is wonderful to see those who dedicate their lives to senior living congregating and building bonds," said Jamie Spicer, regional director of sales and marketing.
The Mansion treated the networking group to one of the host's amenities, a well-received lunch of loaded potatoes and a salad bar.
Many attendees were learning about the facility for the first time, as it was the first time the event had been there in the six years the SBS group has been getting together. During the hour-and-a-half meal and networking session many community peers met for the first time. For others, it was apparent they had been attending the networking luncheons for many years.
The meeting was a more personalized version of a monthly networking newsletter with information, announcements, and networking within the senior health and retirement industry.
The luncheon continued with each invitee giving a few minutes of background on their employer and how they saw their role in helping seniors with their needs in the community. A few people outlined special events their venues were planning soon, inviting others to attend. Some providers reported real-time availability for their care, housing options, and home care and hospice providers. Speakers covered various topics ranging from personnel issues to renovation offerings and help explaining Medicare to patients and clients.
The discussion often centered on getting calls from care managers or discharge planners from hospitals and rehabs. Some explained they were available to help them find a community with openings, who is full, who can offer space, and who can provide temp nurse slots.
Heath Pruitt, with Mobility City, explained that owner Guy Colbert was busy that day putting his engineering background to work assisting veterans, seniors, the injured and disabled with their needs for wheelchairs and scooters.
Darl DeVault said the group could lobby their elected representatives for better senior services in the state at the Monday, February 27, Senior Day at the Capitol. He said they could find an extensive description of the event in his article in February's Senior News and Living issue.
Several speakers shared information about upcoming professional events. The guests were reminded of the Oklahoma Assisted Living Association's role in Oklahoma and the many events OKALA stages each year.
Jessica Hogner invited everyone to the Alzheimer's Association's Committee Kickoff Party 6-7:30 p.m. March 7 at their offices. She emphasized that they will gladly conduct special events at their facilities to support the agenda and spark interest in the Walk to End Alzheimer's, with the main ones in Tulsa and OKC.
Some providers reported real-time availability for their care, housing options, and home care and hospice providers.
A radio station representative who primarily markets information emphasized the station strives to be a dependable senior community resource.
Representatives of an Informed Senior Seminar to be held Friday, 8:30 a.m. to noon, April 14, spoke of how all the local law enforcement and state agencies will come together that day to offer seniors an overview of their many services.
Bill Muir, CSA and owner of Compass Senior Living Solutions could not attend because of family commitments. Knowing how important it is for executives addressing area aging agendas to network, he founded the monthly get-togethers six years ago. Networking is essential to his company, as it provides a free placement service giving personalized tours to some 55 senior communities in the area at every level of need.
Joe Forrest with Re/Max FIRST alerted those gathered to the financial conditions in the real estate market for those seniors seeking to sell their homes to move to senior centers. He has been helping seniors in Oklahoma for 25 years via ownership, operations and management of senior healthcare organizations. Forrest has worked in home healthcare services, independent and assisted living, and rehabilitation. He has been a realtor for the past 20 years.
Conversations before and after the more formal portion allowed attendees to stay connected with their senior industry peers while building possible referral networks.
Vistit The Mansion at Waterford