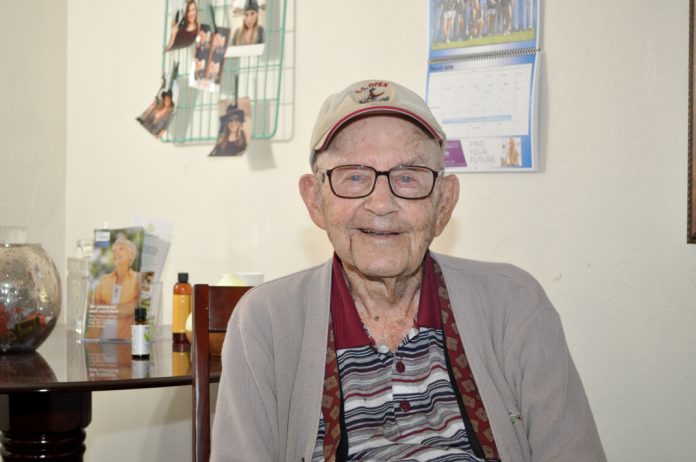 by Vickie Jenkins, staff writer
One of the residents at Heritage Assisted Living has been getting a little extra attention lately. Not only is he an all-around-good-guy but he has reached a milestone in his life. He is 100 years young! His name is Jack Bryant, a Navy Veteran who served his country in WWII.
Born in Oklahoma City, OK, Bryant likes to share his stories about his life. When Bryant was six years old, his mother had some medical issues and at the time, it was best for Bryant to move in with his grandmother. "I loved my grandmother very much and she took care of me. Her house was 3 blocks from the grade school and 4 blocks from junior high so I was within walking distance so it worked out great for me."
"When I was six, I didn't mind the walking to school, even though the 3 blocks seemed much longer back then," Bryant said. "They didn't have anything like a bus," he added. "It didn't matter what the weather was like. Even if it snowed, all of the kids in the neighborhood walked to school."
"I was around 8 years old when I became a working boy! I delivered The Daily Oklahoman newspaper!" he said in a stern voice. "Now, back then, the only form of news was the newspaper. The paper ruled everything! If someone wanted to buy a house or buy a car, they would look at the newspaper. That's just the way it was."
"I enjoyed living with my grandmother. She was set in her ways but she allowed me to 'be myself.' She showed me how to treat others, teaching me respect. She allowed me to make my own decisions, teaching me responsibility. She taught me that my opinion mattered, teaching me how to stand up for myself. I'll have to say, living with my grandmother was the best thing that could have happened to me. She taught me about life."
At age 14, Bryant moved back in with his parents. His folks moved several times over the years and he graduated from Classen high school in Oklahoma City, OK.
The next thing I knew, Bryant started talking about cars. "My first car was a Ford Model A. I'll never forget that ole thing. I was driving all over the place at the age of 15! Age didn't matter back then," Bryant paused for a moment, setting up tall and straight with pride in his voice and said, "You know, I drove for 85 years and never got a ticket."
Going down memory lane, Bryant began talking about how he met his wife, Ella. "I was in the Navy, stationed at Daytona Beach, Florida. The USO was in town and they were having a dance that night. A friend and I were coming back to our barracks when we heard music in the distance; coming from the big building across the street. My friend mentioned that he was going to go check it out and he wanted me to come along. I didn't really want to and we argued a few minutes and then, I figured I would. So, here we go, off to the dance! As we got closer to the building, the music was louder and louder…and then, I stood in the doorway. When I entered the room, there were men on one side of the room and women on the other. We were to choose who we wanted to dance with. I saw a pretty, young woman glancin' my way and I walked over and asked her to dance. That's how it all started,…she was the girl of my dreams and it wasn't long after, we got married. I can remember the details of that dance like it was yesterday," he said. "The rest is history. We were married for 71 wonderful years."
Bryant was in the Navy for 3 years. After getting out of the military, Bryant worked for B.C. Clark Jewelers here in Oklahoma City. "Ella and I lived in the Village area, raising 3 boys there. Those were some of the best times of my life," Bryant said.
Bryant is a kind, individual, storyteller that lived a good life and continues on. Serving his country in the U.S, Navy, Veteran of WWII, married to Ella for 71 years and enjoys spending time with his sons and their families as often as he can.
Bryant has made many friends along the way and will continue to do so.
A heartfelt thank you to Jack Bryant and all of the Veterans that served their country! You made a difference in our lives. Thank you!