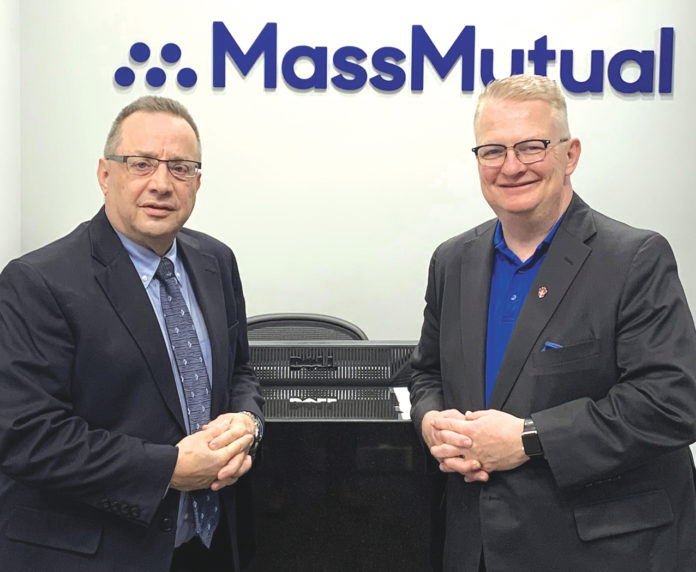 by Steven Sibley of Sibley Insures, MBA/Health Care Administration
Sibley Insures is pleased to announce their strategic partnership with Mass Mutual of Oklahoma. Mike McCall, with Mass Mutual, serves as the primary Advisor on a team of professionals focused on retirement planning. "I am very excited to have both Steve and his wife Christina as a resource for our team." Mike noted. "Our clients expect and deserve a high level of expertise and these two have it. Their input will ensure our clients have great, affordable healthcare, with ongoing support and advocacy throughout their retirement years."
Sibley Insures is an independent insurance broker in Oklahoma City, specializing in Medicare and ancillary healthcare products. Steve, from Tulsa and licensed in Oklahoma, is a retired Air Force and Army veteran and holds an MBA with an emphasis in healthcare administration from MACU in OKC. He manages the business and their marketing. Christina is also licensed in Oklahoma and Kansas, where she is originally from. She holds a Bachelor of Science degree in Health Studies with an emphasis in Gerontology. She spends her time focused on consumer education, plan selection and advocacy for her clients.
Together, Steve and Christina bring a unique balance of healthcare planning experience to the table. She's spent over 20 years as a caregiver in hands-on patient care; as an EMT, a Registered Medical Assistant in physicians' practices, the supervisor of a homecare company and a healthcare sciences educator at the college level. She is all about patient and client care. Steve explains, "I tell people it's like having someone in your corner with all this healthcare knowledge and experience, that just happens to be your favorite niece, and she will treat you like family."
Steve's career in the financial services industry started over 20 years ago. During that time he also served in the Army Reserve, as a weekend warrior and eventually as an active-duty reservist, ending his 36-year military career in September of 2017. "After retirement, I wanted to be an independent broker and add a focus on health insurance to my financial services business." Christina agreed to join him in business, got licensed and once she discovered Medicare, she loved it. Steve ended up spending the next 3 years focused on supporting Christina in her Medicare business and becoming a house husband. However, he knew that eventually he wanted to get back into the field. "With my knowledge of both financial services and how Medicare works, I knew I could carve out a niche helping advisers and their clients get a real clear picture of healthcare costs in retirement and strategically plan for it."
That is where Mike McCall comes in. He's also an Army Veteran and as a financial services advisor has over 20 years of education enhanced skillsets and experience. He's continued serving people in a specialty centered around income planning for retirement. "Life is always changing; therefore, the financial planning landscape is always evolving. I believe most people are so busy living life that they need someone at their side to help them navigate the challenges of creating sustainable income during retirement. That's what I do and I share that responsibility myself and for my family. So, it is work I take seriously and it's work I love." In addition to Mike's experience, the next most important part of his knowledge and growth has been his education. "I'm fortunate that Mass Mutual invests in my continuing education and I believe that pays dividends for my clients." With a Degree in Management and Ethics from MACU here in OKC, he also holds the esteemed professional designations of: Chartered Life Underwriter (CLU), Chartered Financial Consultant (ChFC), and Retirement Income Certified Professional (RICP). Mike's a family man, with wife Joyce, a nurse at Baptist Hospital, and two adult sons.
"Our goal is to help people do for their families, what we would do for our own." Mike points out. "We've developed a model for strategically guiding our clients through healthcare planning. We've also armed clients with a knowledgeable team of advocates, such as health insurance agents, who'll guide them into the right Medicare and ancillary plans. An Advisor, who'll skillfully recommend financial vehicles for healthcare savings to mitigate expenses not typically covered by insurance, and Attorneys, who'll ensure the proper legal healthcare documents are put into place. Our clients can be confident they have a sound, strategic, flexible plan that works very well, which, while being affordable, offers a high level of coverage, that protects their most important assets, their health, wellness and wealth. We are looking for 2021 to be a great year for helping seniors in this area." For more information contact Steven Sibley 405-850-1569, [email protected].