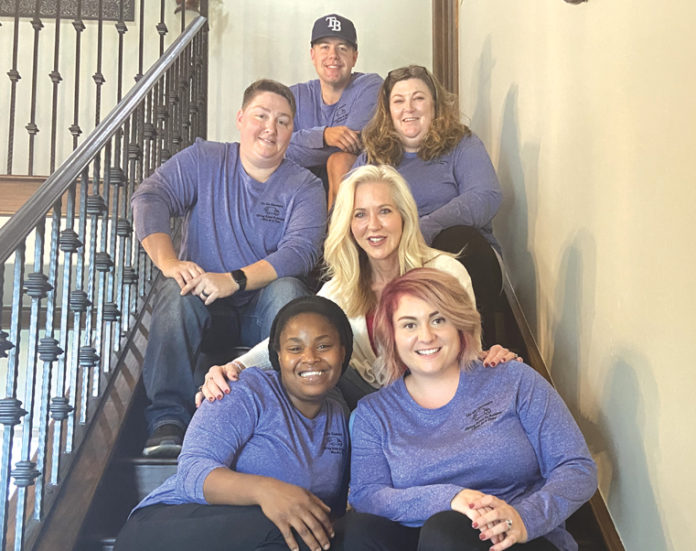 by Bobby Anderson, Staff Writer
After a career as a home builder, Gina Wallen-Conatser was happily retired.
But it seemed she kept hearing about a problem she just couldn't shake.
Friends in the medical industry kept remarking how often seniors couldn't make their scheduled appointments due to a lack of transportation.
Her parents in San Antonio would tell her stories about how unsafe it was to get around.
So with time on her hands, a problem to be solved and a family ready to help out she started Go Go Geezers, a ride service dedicated to helping people get around.
"We take seniors and people with disabilities to medical appointments, like dialysis and chemotherapy," Wallen-Conatser said. "It helps keep people healthy and with early detection some illnesses may be prevented."
"When people can get out and go on appointments, shopping and church, it helps with feelings of isolation. There is a sense of independence."
Based in Yukon, Go Go Geezers traverses not only the metro but the state with enough notice.
"Covid has made transport a little more complicated," she said. "We clean after every ride. We have plastic up that separates the driver from the rider. Drivers wear masks and gloves and we ask that riders wear masks."
Drivers go through extensive training – CPR, defensive driver, passenger assistance, wheelchair ADA just to name a few.
"They treat the riders like family members," Wallen-Conatser said. "They're very careful. When the same drivers take the rider a couple times a week they build a friendship."
Wallen-Conatser's son, Blake, is a driver and partner. A customer remarked to her the other day they see him more than they see their own family
Wallen-Conatser loves the stories her drivers tell her. One of her driver's told her a recent passenger noted her husband passed. She mentioned that a coffee would be nice but wouldn't dream about drinking it in the new Go Go Geezer van. After the driver dropped her off to her appointment he returned at the appointed time with coffee and flowers.
Operations Manager Morgan called one night to tell her she had a rider who was going to the emergency room. Insurance normally covered their ride, but this time it wouldn't.
Wallen-Conatser dispatched the Go Go Geezer van anyway to get her at 11:30 p.m. in a different town than normal.
"Everyday riders call and say wonderful things about all our drivers and dispatch," she said. "When you book a ride with us, Morgan will call you the night before and verify reservation. Morgan gets to know the riders and she visits with them."
"I tease her that she's everyone's granddaughter and best friend."
Go Go Geezers took their first ride at the end of April. The service has grown to nine vehicles with three wheelchair vans.
"I want to keep growing and helping our community get to their appointments safely," she said. "My family is in Texas and I would love to expand there. My goal is to keep hiring the best drivers who really care about the riders."
"We can take anyone. You don't have to be a senior or a person with disabilities," she said. "We take riders all week long to work, or out to eat, church, shopping. We are children and pet-friendly. We have wheelchairs, walkers or car seats to use if needed. Our vehicles are new and clean." For more information call 405-924-4248.