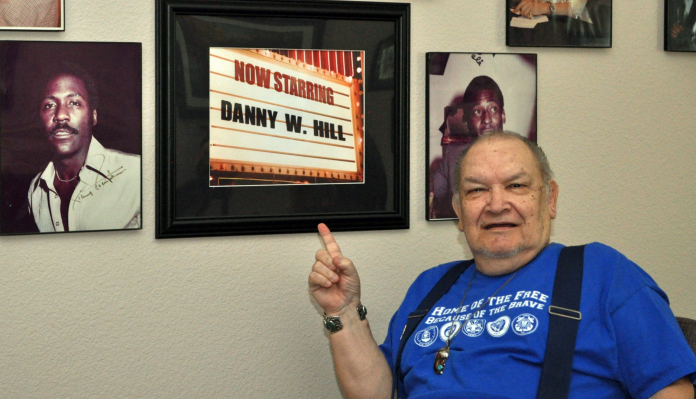 by Felicia Lucas
Danny Waldron Hill jokes that, "you can see a lot of movie stars – FREE – ALL AGES ADMITTED" when you visit his home at FOUNTAINBROOK ASSISTED LIVING CENTER IN Midwest City. The movie stars line the wall in a commons area at the Center, photos from an era of Hollywood past, many of them autographed.
A six generation Oklahoman, and CHICKASAW Nation Citizen (his grandmother was original enrollee Lizzie Columbus), Hill began taking celebrity photos when he was discharged from the Air Force in 1960, and continued until 2010 when his health and lifestyle changed with the passing of his wife and "sidekick" Mary Ella. He grew up in Southwest OKC, attending Columbus Elementary, Jackson Jr High and is a 1956 graduate of Grant High School.
Always having his camera near, Hill snapped photos of visiting celebrities while living and working for the Federal Government in the Dallas, TX area. "There seemed to always be a celebrity or two in the downtown area having lunch or performing at a concert. It was worth keeping my camera near me." Often, he would capture a photo, develop it, frame it and wait patiently for many years to have the photo signed by the personality featured. At times, he would be invited back stage for a close up or two, as was the case with Debbie Reynolds. Johnny Cash once invited him on stage to share a collage of the famous singers' many poses, and signed it in front of thousands of fans attending the concert that night.
Actors and Actresses alike enjoyed seeing photos of themselves from many years back, and would often try to purchase them – but to no avail – the photos were his private collection. Occasionally, he donates pictures from his collection to museums and restaurants featuring the particular star – most recently donating a shot of Mickey Mantle to the namesake's restaurant in Bricktown, OKC.
His large collection expands many venues and decades and includes film stars such as Elizabeth Taylor, Gregory Peck, Kirk Douglas, Mitzi Gaynor, Sophia Loren, Cecely Tyson, Richard Rountree; musicians Mel Torme, Pat Boone, Roy Rogers, Hank Thompson, Charlie Pride, Andy Warhol, Sally Struthers, Carol Channing; athletes Dorothy Hamill and Hank Aaron; and various performers like Art Linklater, Jerry Lee Jones, Liberace, Herb Alpert, Adam West as BATMAN, Cesar Romero as the JOKER, Eartha Kitt as CATWOMAN and Clayton Moore as the LONE RANGER.
Active in pow-wows and other American native events, and also serving on the Chickasaw council in Dallas, his 5 decade photos of Native American Dancers have been shared at many pow-wows (gatherings of the native tribes) and displayed in libraries across the Dallas/Ft Worth area. His expertise allowed him the opportunity to share his love and passion for the camera by public speaking at conferences and teaching Camera/Photo classes at community colleges in the Irving, Grand Prairie and Arlington area, where he lived for 40 years.
Not limited to famous people, he snapped photos of animals, flowers, trains, and of course, family! It was anticipated and expected at family reunions to view "Uncle Dan's" photos on a slide show projected on the side of a house or wall. With his family now extending into great, great nieces and nephews, his photos have become a part of the family's history with pictures of loved ones that have passed away, or aged from toddlers into grandparents…
His return to Oklahoma was bittersweet in that it was after his wife's passing. An often quiet man, (except for the boldness associated with a photographer), he was one of the first residents of FOUNTAINBROOK, and would have preferred sharing his "assisted living" experience with her, as together they could have shared the various outings and wonderful activities offered by the staff. Director Debbie Riddle has become "just like family" sharing in his new life and adventures, and allowing him to share his past loves of all things photography.