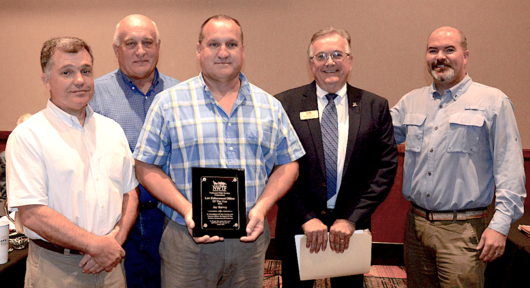 Game Warden Jay Harvey, based in Atoka County, was honored by the National Wild Turkey Federation as the Oklahoma Law Enforcement Officer of the Year for 2018 during a regular meeting of the Oklahoma Wildlife Conservation Commission on Aug. 12 in Durant.
Presenting the award were Don Chitwood, eastern Oklahoma regional director for NWTF, and Terry Bourne, president of the Little Dixie Chapter of Durant.
Harvey, who won the same honor from NWTF in 2004, began his career as a Game Warden in 1992. He has been involved with various NWTF activities, especially with Jakes events. He has volunteered with the weeklong Wildlife Youth Camp for 20 years, serving seven years as camp director. In 2005, Harvey started a wildlife law enforcement class at Southeastern Oklahoma State University. And in 2017, his proficiency in airboat operations allowed the rescue or evacuation of more than 200 people as he volunteered for disaster relief in the wake of Hurricane Harvey in the Houston area.