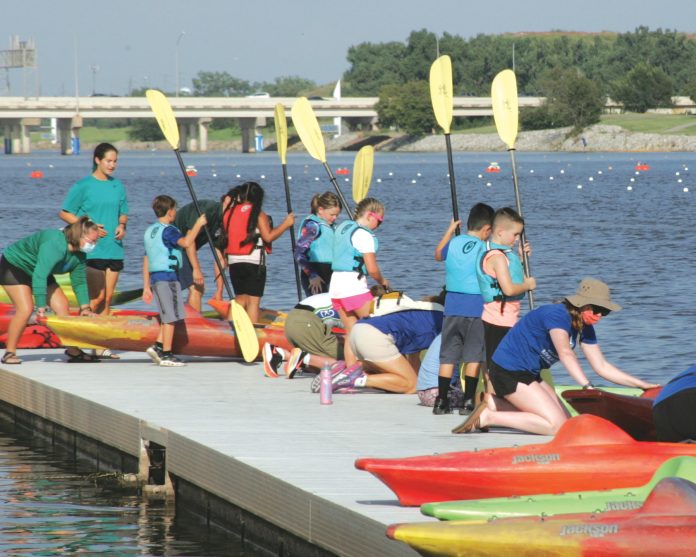 Story by Darl DeVault, Contributing Editor
Sometimes known as a Grand Activity, grandparents often help their grandkids explore new activities outdoors when they share leisure experiences.
Organizers say Oklahoma City RIVERSPORT provides such an opportunity in several locations, providing kayak lessons and rentals so grandkids and grandparents can share the healthy outdoors together.
The Oklahoma River in downtown Oklahoma City is a boon to recreational kayaking in the Boathouse District. Access these outdoor amenities at 725 S. Lincoln Blvd., located just south of Bricktown's Bass Pro Shop. Organizers rent equipment and provide quick land-based lessons to instill confidence in newfound on-the-water kayaking skills to paddlers. Instruction is vital in steering these boats to a safe and fun adventure. This extends past those interested in kayaking to various paddle sports such as stand-up paddleboarding (SUP) and whitewater kayaking with more training.
Sitting in the boat on the water, it's easy to feel how kayaking can rekindle a connection with Mother Nature. The craft glides across the river's surface with each paddle stroke at your pace and effort rate. The retirement privileged will easily keep pace with the young'uns or your companions. Your efforts may entice you to become a senior kayaker and more avid outdoor enthusiast.
This popular water sport affords paddlers an up-close-and-personal view of the river and the wildlife along waterways – cranes, geese, ducks, and the fish in the river. Wide, lightweight plastic touring boats and flatwater kayaks (also called recreational kayaks) make this possible.
A new generation of wider constructed, safer flatwater kayaks featuring easy dynamic control is fueling a paddlesport explosion. These smaller boats' control and balance make for the perfect outing with grandkids.
Paddleboarding is standing on a wide "surf" board. You use a long, angled paddle to move leisurely through the water. Ages 8+ can paddle solo, while ages 5+ can SUP with an adult. SUP is included in the RIVERSPORT day and season passes, or you can rent a board by the hour. All participants must wear a personal floatation device (lifejacket also called PFD), which is provided.
SUP is available in the Boathouse District and via RIVERSPORT Flat Tide at Lake Overholser and Lake Hefner.
Downtown in the Boathouse District, grandparents can rent kayaks and SUPs or purchase a RIVERSPORT day pass for a whole day of fun and adventure.
"The Lake Overholser Boathouse and the Stinchcomb Wildlife Refuge are hidden treasures in Oklahoma City," said Elizabeth Laurent, spokesperson for RIVERSPORT. "It's a great place for grandparents and grandkids to spend time away from digital distractions and get back to nature."
RIVERSPORT's Lake Overholser Boathouse is located on the east shore of Lake Overholser, 12 miles west, and offers hourly kayak and SUP rentals. It features the North Canadian River, which winds through the Stinchcomb Wildlife Refuge north of the lake. The Refuge is one of the best places to kayak in central Oklahoma. Quiet waterways are a great place to learn the basics.
Grandparents can easily share some fun time on the water with their grandkids as they enjoy kayaking by renting one for a few hours. RIVERSPORT Flat Tide puts you on the water in kayaks and paddleboards at the northeast corner of Lake Overholser near the Route 66 Bridge on the weekends. This Spring, the Oklahoma City Water Trust upgraded the parking lot near the Route 66 Bridge with a new gravel surface. This widening and replacing of the earthen surface make it available to about 60 cars.
Kayaker Michael Jones from Edmond left this five-star review of the Stinchcomb portion on the alltrials.com website on March 19, 2022. You can track his paddle excursion: Stinchcomb Wildlife Refuge: East Trail – Oklahoma | AllTrails: Beautiful day to kayak. The water was fairly calm. Busy on the river but not overly so. Went from the boathouse north, under bridges then up the west channel to the river. Not a lot of wildlife but heavier boat traffic is probably why. Went north on the river to near the turnpike. The water got shallow, so I headed back. Nice 3-hour workout.
Once a grandparent uses the on-the-water activities for a bonding session with their grandkids, the kids are sure to look around and see all the other opportunities RIVERSPORT has to offer. RIVERSPORT in the Boathouse District offers a wide variety of land-based activities, including a six-story adventure course, high-speed slides, climbing, bicycling, whitewater rafting, tubing, surfing and indoor skiing. RIVERSPORT also offers coached rowing and canoe/kayak programs for youth through high school age and masters (adult) athletes.
To learn more about RIVERSPORT, visit www.riversportokc.org online or email [email protected].