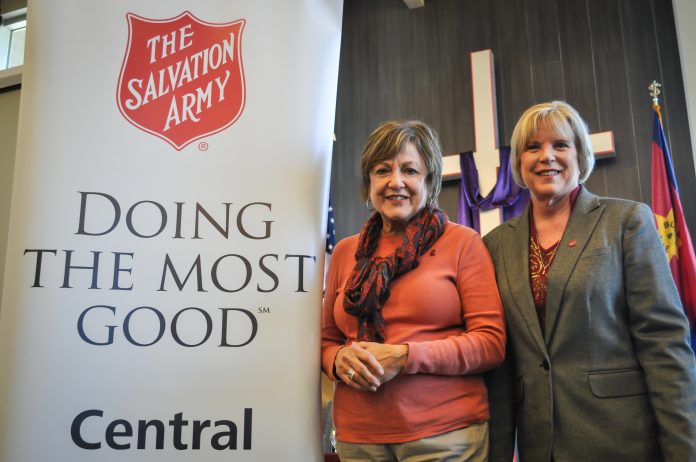 by Bobby Anderson, Staff Writer
With 200 ladies strong, the Salvation Army Central Oklahoma Women's Auxiliary helps the Army make a tremendous difference for those in need in our community.
It's an honor that June McCoy and Beth Everett remember every time they volunteer their time and services to an organization that assists some 139,000 Oklahomans each year.
And in order to help so many the auxiliary each year holds a Celebration of Hope.
"This Celebration of Hope is the ladies auxiliary's big fundraiser," McCoy, 70, explained. "This is where we get our money to be able to donate."
The Salvation Army Central Oklahoma Women's Auxiliary is hosting the 29th Annual Celebration of Hope on Wednesday, April 6, 2016 with a silent auction beginning at 10 a.m. followed by a luncheon and program at 11:30 a.m. at Church of the Servant, 14343 N MacArthur in Oklahoma City.
Tickets for the event are $45 and can be purchased by contacting Jill Walker at 405-627-1334. All reservations must be made by March 25, 2016.
This year the event will focus on lives that have been transformed by The Salvation Army's ministry with a personal testimony of one man's redemptive journey from homelessness back to self-sufficiency.
"That's our theme this year, transforming lives," Everett, 67, said. "One of the new programs that's taken our heart is called Night Watch. This is a program where the Army takes one of their disaster trucks on a Thursday night and goes under the bridges."
"We're just an arm."
The event will also celebrate 10 years of the Women's Auxiliary Buck$ 4 Bikes program which raises funds to provide bicycles to children who are on The Salvation Army's Angel Tree at Christmas.
"Because of the generosity of this community we have the incredible opportunity to provide tools that allow individuals to better their lives," said Major Charlotte Gargis, associate area commander for The Salvation Army Central Oklahoma. "We thank God for the privilege of providing hope, healing and restoration to those hurting in Central Oklahoma."
The program will also feature ventriloquist Darci Farmer and KFOR NewsChannel 4 Anchor Marianne Rafferty as emcee.
The Salvation Army Women's Auxiliary is comprised of women who have dedicated their time and talents to help transform lives through The Salvation Army's programs and services. The Celebration of Hope event began 29 years ago to raise funds to purchase Christmas gifts for Forgotten Angels, children on the Angel Tree who were not adopted, but has grown to help fund many more programs.
All funds raised through this year's event will benefit the ongoing programs and services at The Salvation Army Central Oklahoma including the shelter program, Client Choice Food Pantry, senior programs, summer camp scholarships and The Salvation Army Boys & Girls Club.
The Salvation Army, an international movement, is an evangelical part of the universal Christian church. Its message is based on the Bible.
Its ministry is motivated by the love of God. Its mission is to preach the gospel of Jesus Christ and to meet human needs in His name without discrimination.
Nearly 139,000 Oklahomans receive assistance from The Salvation Army Central Oklahoma each year through the broadest array of social services that range from providing food for the hungry, relief for disaster victims, assistance for the disabled, outreach to the elderly and ill, clothing and shelter to the homeless and opportunities for underprivileged children.
Nearly 82 cents of every dollar raised is used to support those services.
For more information, go to www.salvationarmyokcac.org. The Salvation Army Central Oklahoma Area Command is a proud partner agency of the United Way of Central Oklahoma.
McCoy came to the Celebration of Hope three years ago and was instantly hooked.
"Once I came in and looked around, listened to their programs I said 'This is the most wonderful group. I want to spend some time helping this group,'" said McCoy, a violinist who will also perform during the event. "I think the rewards of seeing what this group does for the whole metro area and reaches so many people is different than some of the other things I volunteer for.
"I think our group here is very diversified. They come from every walk of things that they've done in their lives. It's a wide variety of most interesting ladies that want to give their time to the Salvation Army.
Everett says those ladies who would like to learn more about volunteering can call 405-246-1100.
From the Angel Tree to the food pantry there's something for everyone.