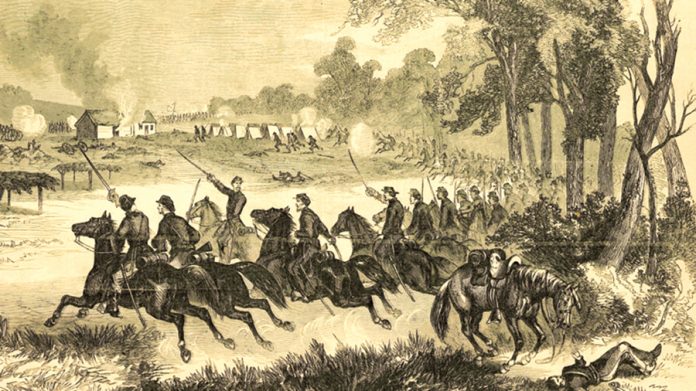 Honey Springs Battlefield is excited to announce a special presentation, "The First Indian Home Guard," to be held at the battlefield's Visitor Center on Saturday, February 26, at 1 p.m. Dr. Jane Johansson, professor in the Department of History and Political Science at Rogers State University and editor of the book "Albert C. Ellithorpe, the First Indian Home Guards, and the Civil War on the Trans-Mississippi Frontier," will speak about the regiment's unique history in relation to the Civil War in Indian Territory and the Battle of Honey Springs.
"Recruited in Kansas refugee camps in the spring of 1862, the First Indian Home Guard was a unique Civil War regiment," said Johansson. "Comprised of whites, refugee Muscogee Creeks and Seminoles, and African Creeks, the regiment served in a variety of military operations from 1862–1865. Notable actions that the unit engaged in included Locust Grove, Fort Wayne, Cane Hill, Prairie Grove, Honey Springs and many smaller encounters. This presentation will explore the regiment's background, its composition, notable personalities, military actions, relations with the federal government and the postwar era," Johansson continued.
Johansson is a native Oklahoman and graduate of Oklahoma Baptist University (OBU). After completing her bachelor's degree at OBU, Johansson attended the University of North Texas where she earned a master's degree in library science and a doctorate in United States history. She has written three books about the Civil War west of the Mississippi River, and co-edited two volumes of the papers of Will Rogers. Her most recent book, "Albert C. Ellithorpe, the First Indian Home Guards, and the Civil War on the Trans-Mississippi Frontier," was honored with the Founders Award given by the American Civil War Museum in recognition of "excellence in the editing of primary source documents." Johansson especially enjoys traveling to historic sites and visiting used bookstores with her husband, Richmond, an English professor at Northwestern Oklahoma State University.
After the presentation, visitors will have the opportunity to tour the Visitor Center's exhibits, view the new "Battle of Honey Springs" film, buy newly stocked items from the gift shop, and tour the largest Civil War battlefield in Oklahoma.
For more information regarding the presentation and Honey Springs Battlefield, please email [email protected] or [email protected], or call 918-617-7125.
Honey Springs Battlefield is located east of U.S. Highway 69 between Oktaha and Rentiesville. The Visitor Center is located on a hill within close proximity to the Oklahoma Blues Hall of Fame in Rentiesville. Take the second left after reaching the Oklahoma Blues Hall of Fame Museum (driving from the west).