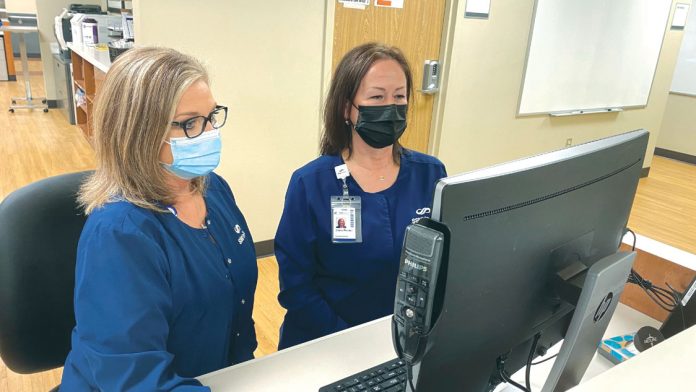 by James Coburn – Staff Writer
A patient-friendly hallmark in the health care industry has arrived at SSM Health St. Anthony Hospital – Midwest, said Debbie Pender, RN, chief nursing officer/VP patient care services. SSM Midwest went live with Epic on December 11.
SSM Midwest has brought on board Epic, a leading-edge electronic health records system to streamline all areas of operation.
SSM has utilized the Epic technology platform since 2011 to seamlessly coordinate care without a paper trail.
Epic technology allows patients to have convenient digital access to their health information. Documentation of the patient medical record is stored in the easy to access hospital computer system.
Epic is one of the most preferred platforms to document health records in the nation. The patient's entire encounter with SSM Midwest is secured, confidential, and easily accessible.
"Different departments can see that medical record," Pender said. "So, it really helps facilitate quality of care through ensuring continuity of the communication from department to department, even from the in-patient to the out-patient phase when physicians have Epic in their medical offices as well. So, that medical record goes wherever the patient goes in any hospital that has Epic."
Any patient discharged from SSM Midwest who somehow ends up in another hospital system using Epic will have their SSM record available to that hospital whether in Oklahoma or out of state. That whole record of care will go with that patient as a requirement of the Affordable Care Act. Hospitals for reimbursement purposes must come on board with an electronic medical record allowing portability of health care records from organization to organization.
"A patient's medical history and all the medications that they take travels with that patient which is very important for safe care," Pender continued. "There are some safeguards built within Epic that improve our patients' safety here."
The electronic medical record has been shown to prevent mistakes being made across the United States. Many elderly adults are known to take multiple medications. A lot of times they forget their medicine list, or they could have several doctors who have prescribed medicines as specialists. To avoid confusion, nurses can see all of a primary care physician's record from the computer. Physicians using Epic can update a patient's current medication list. Emergency rooms can easily access Epic records from a physician's office. The continuation of care is simplified.
"We are very excited to upgrade the technology at SSM Health St. Anthony Hospital – Midwest with Epic," said Dr. Kevin L. Lewis, President, SSM Health St. Anthony Hospital – Midwest & Regional President of SSM Health Medical Group Oklahoma. "We are committed to Midwest City and providing our patients with exceptional health care services."
Epic allows for safe IV infusions with medication administration with warnings implemented if guidelines are not followed properly.
"There's a lot of surveillance ability within Epic that tells us if a patient is having a stroke, if a patient perhaps has sepsis, and a lot of reports that we can get out of Epic that tell us about a patient's care experience from a quality/safety perspective," Pender said.
Several of the SSM Midwest nurses have stated that the Epic implementation was the best go-live event they've ever experienced. Nurses commented that SSM was well prepared in bringing Epic to SSM Midwest.
"We are enjoying Epic here at Midwest, since it is so user friendly," said Joy Mathews, RN manager – CCU/PCU. "Documenting on one computer eliminates the need for paper, which is convenient in caring for our critically ill patients in the CCU. Additionally, it will be a huge tool for recruiting high quality nurses to our staff."
Pender serves as a team builder as the chief nursing officer at SSM Midwest. She has been CNO of SSM Midwest since June, after SSM purchased the hospital from Community Health Systems in April. Her goal has been to enhance the leadership structure from a for-profit hospital to a not-for-profit.
A lot of SSM Midwest nurses have used Epic in previous health care organizations they have worked in. This was helpful in the transition.
"I have not met one person who thinks Epic was a bad thing," Pender said. "Now it's change, so they have to learn new work flows and the functionality within Epic, but everybody loves Epic."
She said it's nice to see seamless documentation utilized from department to department, all for the betterment of patient care.
"The care isn't just in a silo wherever you are in the hospital. A physician can see every piece of the record," Pender said. "It's been very positive."
The data analytics made available by Epic is phenomenal when evaluating best practices.
Safe and effective care is what patients deserve from any bedside nurse, Pender said.