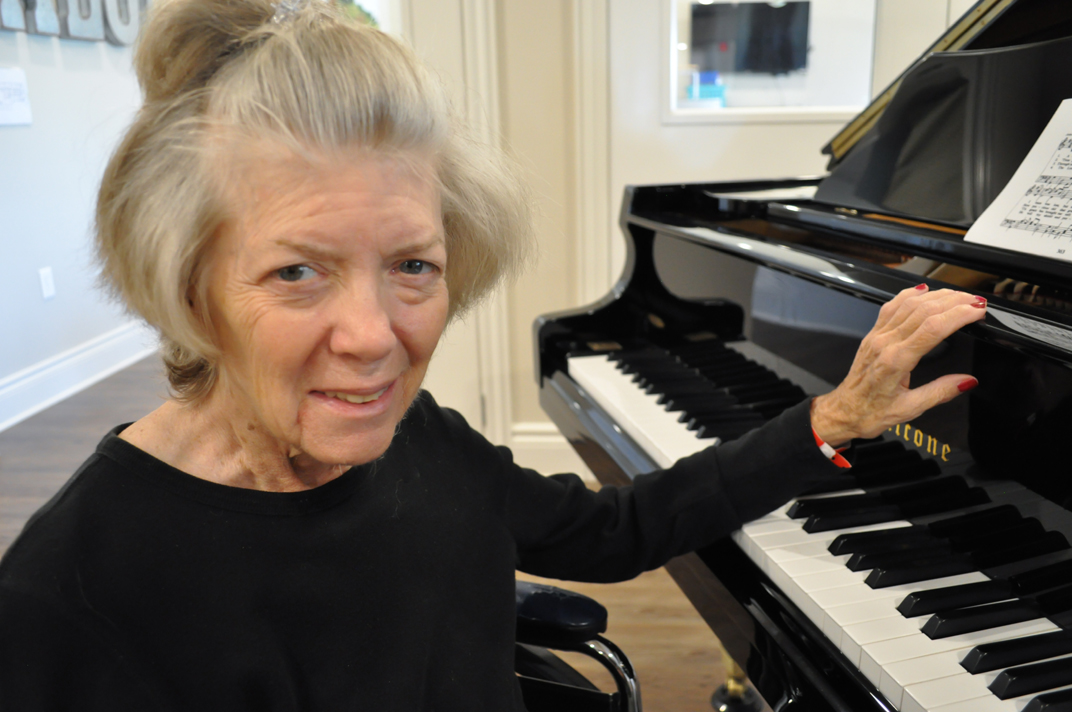 story and photos by Bobby Anderson, Staff Writer
From the moment you walk through the front door the familiar sights, sounds, and aromas of home greet you at Iris Memory Care. From the wood dining tables to the leather recliners, there's an attention to detail that tells you months if not years of careful planning went into crafting this environment for those needing memory care. Marketing Director Jessie Motsinger explained the entire environment was meticulously crafted to care for loved ones in a comfortable, stimulating environment. Each building at Iris is designed to look and feel like a high-end single-family home, yet the community also has targeted features to meet the unique needs of their residents. Day or night, weekday or weekend, family members are always welcome to spend cherished moments together at Iris.
What it boils down to is Iris Memory Care is unlike any environment you've ever experienced. And that was the goal. "For me this is more about caring for people than it is about selling," said Motsinger, who was brought on more for her background in gerontology rather than sales. "That's what motivates me. For (the owners) it's about exceptional care they didn't feel like they could find when they were going through placing their loved ones in memory care. It's very personal for all of us."
PERSONAL INVESTMENT
The founders of Iris Memory Care met several years ago while working together for a senior living company. Having both had personal experiences with dementia, they shared many of the same ideas on how the design and care model for the memory impaired could be improved. "They paid close attention to what was missing in the industry, and took note of all the design flaws you often see in other communities," said Motsinger. "I think there are many examples of what makes our community better and unique. One that stands out is the ability to see almost all of the common areas of the building from one spot. It might sound like a little detail, but in the memory care world this is a huge advantage for residents and staff. Our building's open floor plan allows residents to wander freely without fear of getting lost in a back hallway or staff missing them because of blind corners."
Executive Director Sherri Hudlow, RN, serves as the administrator. The former critical care and senior living nurse has her own personal experience with dementia with her mother. She brings that clinical and personal background to work every day and Motsinger said it benefits everyone around her. "For her it's about caring for residents and staff. The staff here are kind of like her kids," Motsinger says. "Sometimes they go on to a nursing career. In addition to making sure the staff is well equipped to care for our residents, Sherri is really interested in growing and mentoring them." The small environment allows mentoring and engagement to happen more fluidly and benefits the entire Iris community.
"What I love about Iris is that it's a small place where the owners are regularly here and always available," Motsinger said. "This is so personal to all of us and it's an exceptional physical environment. It's beautiful. And the people we work for – I feel really good working for them. They do things the right way. Taking care of people the right way is just as important to them as the bottom line."
PERSONAL CARE PATH
Each resident embarks on a uniquely tailored care path that is tailored by both family and staff. When a new resident joins the Iris community, the staff conducts a personal evaluation to identify cognitive function, social interaction, mobility challenges, special dietary needs, and more. Family members are encouraged to attend the evaluation to offer insights about past events, personality traits, friends, relatives, hobbies, and other details that will help us connect with a resident. The more information they provide the deeper the pool of knowledge that can be drawn from. "The most helpful thing is when families give us a lot of history on their loved one to assist with creating a care path," Motsinger said of the extensive interview process. From proper nutrition, hydration, and medication management to compassionate assistance with activities of daily life, the needs of each individual resident are central to their care path. As soon as a resident moves into Iris this personalized care path guides the daily work of strengthening their abilities and promoting independence. "You're seeing more engagement by just steady constant routine with a smaller group," Motsinger said. "We're trying to maintain as much independence as we can."
The Personalized Paths of Care spell out a recommended routine on a daily, weekly, and monthly basis, yet they do evolve. As a resident's needs change, Iris has the flexibility to reassess and customize their care path to fit the situation. That's why Motsinger says Iris' owners never want to grow past a certain point. "For us what's most important is we're not trying to do everything for everybody," Motsinger said. "Our goal is not to be a huge organization or take over the market. Our owners want all communities to be within in a few hour's drive so they can always be easily accessible and stay connected. We want to be thoughtful leaders in care for those with Alzheimer's and dementia, and a resource for the community." Whatever the moment may bring, a loved one's physical and emotional needs are the most important considerations at Iris Memory Care.
An important difference for Iris Memory Care is the emphasis placed on making connections. Staff members engage residents multiple times per day, and make it a point to facilitate connections among residents with similar interests. With memory impairment, activities that stimulate the senses and encourage hands-on participation can be invaluable ways to soothe or delight your loved one in the moment. Music and art play an important role in the care provided, as do stage-appropriate tasks. When anxiety or sundowning issues arise, the Snoezelen cart helps to reduce stress through sensory engagement with calming aromas, textures, sights, and sounds. You're also bound to see Motsinger's therapy dog sprawled on the floor or the light chirping of resident cockatiels in the background.
Monthly resource and informational seminars are offered by Iris to share best practice information as Motsinger taps into her healthcare background and brings people in from all fields so that others may benefit. "These seminars are truly about equipping the community with information they need," Motsinger said. "For us, if you never come live with us, that's OK. Let's share our expertise and share our knowledge." And, it's about meeting each person where they are on their memory care journey.