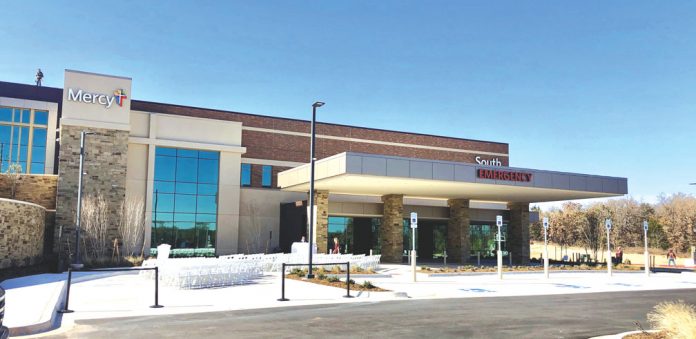 Mercy has again expanded services in Edmond with the addition of a new emergency department and primary care clinic. The new facility is now open just south of the original facility on Mercy's Edmond I-35 campus.
Mercy broke ground on the $30 million, 49,000-square-foot building in January 2018. The facility is two levels. The first level ER is an extension of Mercy Hospital Oklahoma City's emergency department and features 11 exam rooms, ultrasound, imaging services, full laboratory services, an infectious disease isolation room and a generator that allows the facility to run on full power in the event of an outage.
Fifteen emergency medicine physicians, 20 nurses and several support staff will take shifts serving patients around-the-clock. Patient care will be streamlined thanks to the ER's modern design and dedicated, in-house lab and imaging services.
On the second floor, Mercy Clinic will have 16 primary care providers including family medicine and pediatrics.
Dr. Jesse Campbell serves as chief administrative officer for Mercy Clinic and has seen patients as a primary care physician at Edmond I-35 since the first building opened in 2014.
"We have had multiple patients come into our I-35 facility looking for an emergency room," said Dr. Campbell. "I can't tell you how many times we've had to call an ambulance to take those patients to an emergency department, ultimately delaying their care. Now, we'll be able to take those patients downstairs from the primary care clinic or across the parking lot from the specialty care clinic building for the appropriate, convenient care they need."
Through Mercy's comprehensive electronic health record, care team members at the new Mercy Edmond I-35 facility will have immediate access to patient records, electronically creating a seamless experience for current Mercy patients.
"Over the last two years, we know most Edmond residents have visited a Mercy hospital or clinic," said Jim Gebhart, president of Mercy Hospital Oklahoma City and regional strategy officer. "By expanding our Edmond I-35 campus, we are now able to serve even more people and make a significant impact in our growing community."
The original Edmond I-35 facility features an outpatient surgery center, imaging, laboratory, specialty physician offices, a first-of-its-kind wellness center and Mercy Sports Performance powered by EXOS.
The new Mercy Edmond I-35 facility is located at 2301 W. I-35 Frontage Road in Edmond.