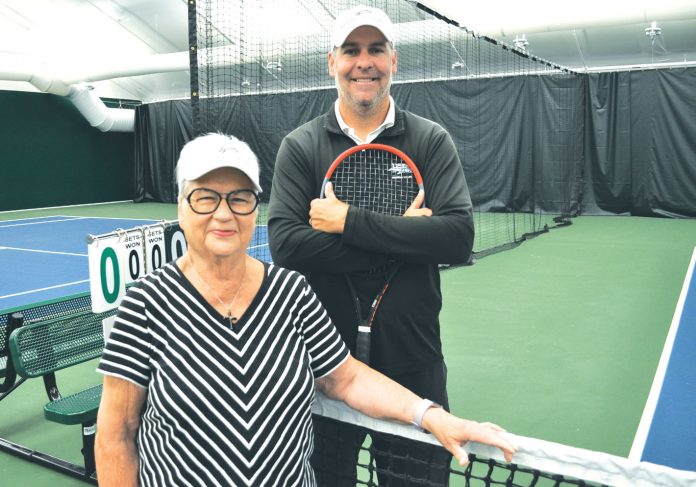 story and photos by Bobby Anderson, Staff Writer
Whether it's a tournament or just a regular weekday morning, odds are you'll find Sherry Sakoski at Westwood Tennis Center in Norman.
Sakoski has been a regular fixture at Westwood for years, but she didn't pick up the game of tennis until she was 35.
She remembers taking her three children to the courts while they were growing up.
Two times a week she would have lessons before hitting by herself on the backboard.
"Every day almost. It wasn't very far from the courts," she said. "I'd just load up the kids and head out."
Within a couple years she started traveling to tournaments, improving her skills and having some success.
Originally from Weatherford, she took a job with 3M as a chemist after going to pharmacy school. Much of her time with 3M was spent as a quality engineer, auditing the chemical components company vendors used in the manufacture of their products.
At 60 she went back to school to get her doctorate in pharmacy so she could help out her daughter who works as a pharmacist in Oklahoma CIty.
After moving back to Norman in 2003, she took lessons from then-director David Minihan before transitioning to now current-director Marc Claude.
"I'd rather play with them than play with anybody else. Isn't that something?" she laughed.
"I didn't have an opportunity to play any ball when I was young because they didn't have anything for girls at Weatherford. Then I got out into the world and my kids wanted to play so we just all learned together."
Her husband, an avid tabletop tennis player, even picked up the sport and advanced quickly.
Players always have to contend with the Oklahoma weather but construction of a new indoor tennis center will help players like Sakoski still get out on the court.
Westwood Tennis Center is considered as one of the top public facilities in the United States. In 2007, The U.S. Tennis Association recognized Westwood as the National Outstanding Facility. Currently, Westwood has 14 outdoor championship courts with four 36-foot youth courts.
The new 15,000 square foot indoor facility is a Norman Forward project, funded through a one-half-cent sales tax approved by Norman voters in October 2015. The construction contract was awarded to Flintco for $1,376,714 in August 2018.
This facility is the city's first tensile fabric structure and features two new USTA-sanctioned indoor tennis courts, reflected LED lighting, a spectator area, and an energy efficient heating and air conditioning system.
The project also included the construction of two new outdoor USTA-standard courts with lighting, fencing and bleacher areas which were completed in 2018 before the new indoor facility's construction.
"It's softer in there," she said of the new surface.
It's been two years since Sakoski had her hip replaced so she appreciates that fact.
She'll take whatever she can to keep her out on the court.
"I just like it. I like to hit the ball. I like it because it makes you stronger and in order to play tennis I have to keep up with my health," she said. "I have to eat right and I have to drink a lot of water."
Sakoski is an avid doubles player, enjoying playing up at the net.
"You'll have to ask Marc but I play pretty good for an old lady," she said. "Not as good as some of them. Oh, my goodness I know some of them that are in their 80s. It's no effort for them. It's still an effort for me to hit the ball hard."
NET GAINS
According to the International Tennis Federation, playing tennis could increase life expectancy by a decade, according to an ongoing cardiovascular study.
The Copenhagen City Heart Study has examined people over a 25-year period and evaluated improvements in life expectancy through participation in various sports and leisure-time activities.
In total, 8577 participants were examined for all-cause mortality between 10 October 1991 and 16 September 1994 until 22 March 2017, with various sports found to improve and increase life expectancy.
Of the sports included in the observational study, tennis topped the charts for potential life expectancy gains by some considerable distance, with results suggesting as many as 9.7 years could be added to an individual's existence.
This is 3.5 years more than its nearest competitor badminton, the playing of which has been found to increase life expectancy by 6.2 years, with football (soccer) having the potential to add 4.7 years and cycling 3.7 years.
Swimming was found to boost life expectancy rates by 3.4 years, jogging by 3.2 years, calisthenics by 3.1 years and health club activities by 1.5 years.
A further conclusion of the study suggests that leisure-time sports which involve greater levels of social interaction are associated with the higher levels of longevity.