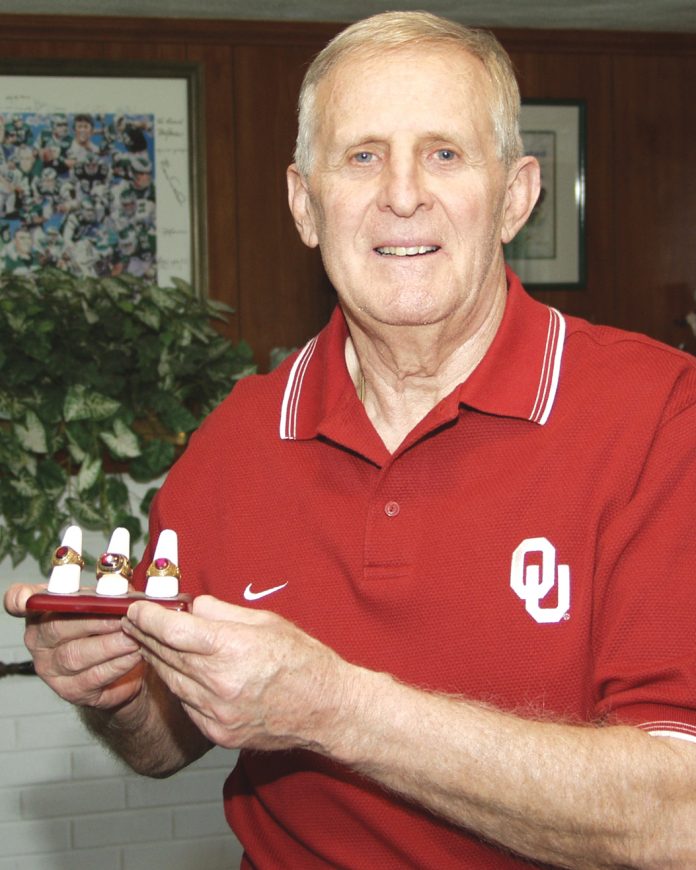 Story and photos by Darl DeVault, Contributing Editor
Senior readers may soon see historical revisionism upstage many authors' books about the University of Oklahoma's Football Program if today's writers use the treasure trove of facts about the famous Sooners that came online last year.
Now historical writers can easily go directly to the best source — stories written by student journalists who went to the games and interviewed the athletes to file their stories in the student newspaper. "The Oklahoma Daily," stretching back 120 years in now online in digital form. The Oklahoma Historical Society recently partnered with the Carl Albert Congressional Research and Studies Center at OU in the digital conversion effort to make 200,000 pages searchable by name. This free service available on The Gateway to Oklahoma History includes 9,557 issues from 1897 to 2017.
The searchable archive is important to the university and anyone seeking to search, browse or document notable accomplishments at OU for Wikipedia pages. This resource supports a diverse range of research needs across various academic disciplines for students and faculty.
"In observing how much is left out of sports stories in my 34 years of working for the "The Oklahoman," I realize the reader is often uninformed in so many ways because of the space constraints," Todd Schoenthaler said in an interview. "Now because the Inasmuch Foundation has funded digitizing the "OU Daily" into an online archive searchable by name, even the amateur historian may be better informed than previous historian authors."
Oklahoma's most successful football program now offers all future writers the definitive touchstone of authenticity, access to the story as it happened.
Extraordinary claims require extraordinary evidence. Now readers have free access to the first accounting of the historical facts rather than stories crafted after the fact.
OU's 1950s superstar and Pro Football Hall of Famer in 1998, Tommy McDonald, is an excellent example of a candidate for revisionism now that all the facts are available. Nowhere can you find some of this running back's most important OU football achievements depicted except in recent revisionism. Much has been neglected about his exploits in books about the Sooners.
McDonald won the Maxwell Award as the college football player of the year while only getting to play half the game. OU coaching legend Bud Wilkinson played the starters for the first quarter and the just-as-talented alternates for the second quarter. The starters played the third quarter while the alternates finished the fourth quarter. And yet, while playing only half the game, two-time All-American McDonald became arguably the most complete OU football player ever.
In 1955 and 1956, McDonald's track-star speed propelled him to be the top rusher on America's best rushing team. In 1955, he led OU in passing with his accurate halfback pass and scoring to become the first Sooner to score a TD in every game of a season. OU led the nation in scoring with 36.5 points per game. He was the only OU player ever to score a TD in 19 straight games.
He led OU in receiving in 1956. This makes him the only OU player ever to lead the Sooners in all four offensive categories.
Aside from that untouchable record, he played outstanding defense with many interceptions and long runbacks. McDonald also averaged kick-off returns of 25 yards and punt returns of 15.8 yards, all without wearing a facemask.
Again, extraordinary revisionist claims require extraordinary evidence. This can be found by going online to the Gateway to Oklahoma History and searching for Tommy McDonald. Finding this page:
The Oklahoma Daily (Norman, Okla.), Vol. 42, No. 63, Ed. 1 Wednesday, December 7, 1955 – Page: 6 of 16. Magnified. The Gateway to Oklahoma History (okhistory.org), the reader finds McDonald's name appears 16 times on the page in two stories about the first of back-to-back national championships he helped the team earn in 1955. One article written by student writer Louis Ferguson says it all, "McDonald turned the pitchout run-pass option play into one of the most deadly offensive weapons in football during the season. McDonald hit either senior halfback Bob Burris with a short pass or an end further downfield on 17 of 24 aerials for 265 passing yards in 1955."
McDonald's energetic urgency to score on every play because he was elated to be in the game for even a half also created the first form of the hurry-up, fast-break offense in college football.
Many authors credit Wilkinson with the fast-break offense, but careful examination of Wilkinson's interviews tells us McDonald should be credited. Wilkinson, who died in 1994 at 77, shared his reasoning for the fastest offensive pace possible on the gridiron in a 1983 interview for a book about the Orange Bowl "There's no reason in my view to let defenses go into a defensive huddle and call a play against you. The so-called 'hurry-up' offense everybody does in the last two minutes – there's no reason not to do that for 60 minutes. You've got to be in better shape – that's why we won anyway; we were in better shape than our opponents."
Wilkinson explained McDonald's leadership got the 1955 team sprinting back to the huddle when the whistle blew to end a play.
"Tommy McDonald figures that any play that doesn't go for a touchdown is a failure," Wilkinson said in his hyperactive halfback's heyday. "When he carries the ball and doesn't score, he's mad and wants to hurry up and take another crack at it. His desire is tremendous. He jumps up and tears back to the huddle when he is tackled. It's nothing we taught him. It's something God gave him, or his parents, or somebody. The other boys picked it up from him, and that's how our fast break started."
They huddled to call the play quickly and ran to the line, where they snapped the ball on a quick count. The difference in the timing came with the speed at which they sprinted to and from the huddle and started the next play.
Wilkinson said, "Going into the season, we're not any better than they are physically, and we're not smarter than they are, and we're not any tougher than they are, but maybe we are even with them in these things. Assuming that, how are we going to win? If it's that even, they've got the ball 30 minutes, and we've got it 30 minutes. If we run 15 more plays in our 30 minutes then they can snap the ball in their 30 minutes the yards made on those 15 extra plays will win for us."
McDonald never played in a losing game at OU in three varsity seasons as part of Wilkinson's still NCAA record 47-game winning streak.
McDonald died at 84 in 2018 in Audubon near his home in King of Prussia, Penn. It overlooks Philadelphia. There he became a legend with the Eagles by powering their 1960 NFL Championship Team. Sports Illustrated titled a 1962 cover painting of McDonald catching a ball "Pro Football's Best Hands." The irony was he had small hands befitting his small stature and had lost the tip of his left thumb in a motorcycle accident.