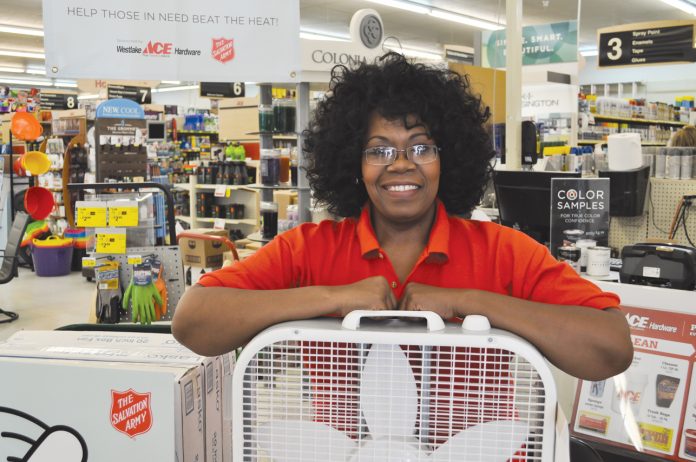 Salvation Army fights summer heat
by Bobby Anderson, Staff Writer
The temperature climbed into the 90s in May and Dee Watts started getting concerned.
"We were freaking out," said Watts, the Director of Social Services for the Salvation Army Central Oklahoma Command. "We went from spring to blazing. Normally, we have time to get these collected and get them out but we're already there."
This past June marked Watts' 27th year with the Salvation Army. She's worked on the organization's annual fan drive for 25 of those years.
But this is one of the earliest summers she can remember.
Fan distribution began in late June and will continue this month until supplies are gone.
"However many we get we will give," she said.
To request a fan you must go in person to the Salvation Army at 1001 N. Pennsylvania or contact Watts at 246-1070.
"It gives us an opportunity to help our community," Watts said. "With the weather being so hot most (clients) are medication sensitive."
A box fan costs $20. Any amount was accepted but donors were urged to purchase "a blade" for $5.
"With that limited income, with medications and limited resources (a fan) can mean everything," Watts said.
Last year, Watts was able to send out 1,100 fans to those in need.
"When we were giving out 50 fans we thought we were doing something great," Watts laughed remembering starting the program up nearly a quarter century ago. "It went up to 200 and we thought that was amazing. Then when it went to 500 we thought we had plateaued. Last year with 1,100, you just don't think there are that many people in need."
The Salvation Army also offers food pantry as well as other assistance.
Westlake Ace Hardware has been a proud sponsor for the Salvation Army to partner with for the past few years and Watts spent at least one June Saturday afternoon manning a donation table inside the 11801 S. Western location.
"It keeps us on their minds and that need and that cause," Watts said, sitting just inside the front door. "We so need Oklahomans to come in and help because it's been so drastic. (The temperature) has not had any lull and the need is so great."
One great way to stay cool is to come indoors to one of the Salvation Army's Senior Centers.
Also in June, the Salvation Army Central Oklahoma announced that it will host Let's Talk About It, Oklahoma.
The series of reading and discussion programs are made possible through a grant from Oklahoma Humanities with generous funding from the Inasmuch Foundation and the Kirkpatrick Family Fund.
The Warr Acres Senior Center, 4301 N. Ann Abor, will be the venue for the four-part series, The Oklahoma Experience: Looking for Home. The Salvation Army's senior centers are very excited to participate in this program which reinforces the search for home is not only for a place on the landscape, but also for the peace of mind that comes from a sense of belonging.
The titles in the series include: Sundown by John Joseph Mathews; The White Man's Road by Benjamin Capps; Walking on Borrowed Land by William A. Owens; and Bound for Glory by Woody Guthrie.
The first reading and discussion group is set for July 17th from 9-11 a.m. with Kurt Lively leading the discussion of the title Sundown. Participation is free, however seating is limited. Individuals wishing to participate should contact Diane Maguire, Warr Acres senior center coordinator, at 405-789-9892.
"We are very excited to be offering this reading and discussion program," said Lisa Sydnor, senior programs manager. "This series was chosen specifically because many of our participants enjoy Oklahoma history. The discussions and open dialogue between the scholar and attendees will be interesting and thought provoking. I am extremely thankful to Oklahoma Humanities for investing in The Salvation Army Central Oklahoma with this program."
The Salvation Army Central Oklahoma has been serving the elderly population for over 50 years. There are currently four senior centers in the Oklahoma City metro area serving approximately 350-425 seniors each week. The centers are open to anyone age 55 or older, free of charge. Wellness activities, lunch, Bible study, and reading and discussion groups are all a part of the current programming taking place.