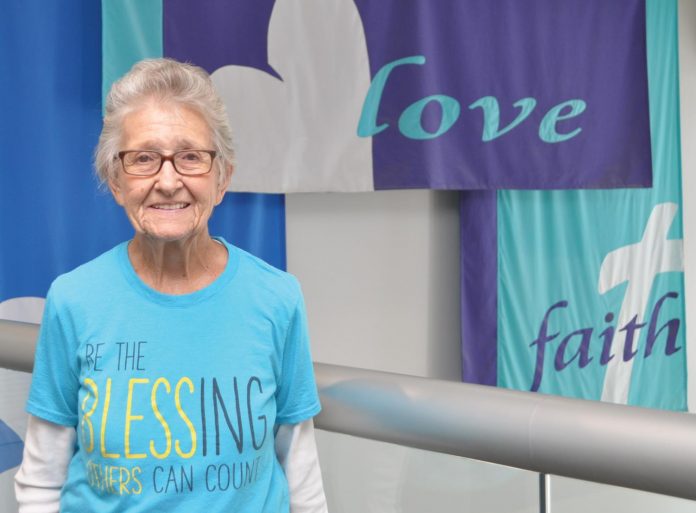 by Vickie Jenkins
Staff Writer
It takes a special person to be a nurse. It also takes a special person to be a nurse for 63 years. One special person is Vera Doughty, RN. Her whole life has been dedicated to doing what she does best, loving and caring for others. For the last 28 years, Vera has spent her time at the Children's Center Rehabilitation Hospital sharing her motherly love as she cares for the children.
Growing up in Crescent, Oklahoma, Vera moved to Oklahoma City to start Nursing School in 1952. "When I was a little girl, I didn't always want to be a nurse; I wanted to be a Veterinarian. That was in the early 40's and 50's and I knew if that was the case, I would have to deliver cows and horses, and with my little, petite size body, I knew I wasn't big enough to handle that, so I became a nurse," she replied with a laugh. Can you image me trying to deliver a cow?" she asked.
"Yes, I have always loved animals. I remember when I was a little girl; I took care of a lot of animals; Cats, dogs, and chickens. When all of the other little girls were playing with their dolls, I was out playing with the animals. I guess you could say I was playing nurse and nursing them back to health," she replied.
Vera went to Nursing School through Saint Anthony's Hospital. "My first job as a nurse was at Saint Anthony's Hospital and then I worked for 2 family practitioners. They were partners in the doctor's office. Both of them were so good and they taught me a lot of what I know today. One of the doctors ended up passing away and the other doctor retired, so all of a sudden, I didn't have a job. I found a job that I really liked and that was 28 years ago. They were such good doctors and I was the only nurse they had. After one doctor passed away and the other one retired, I had to find a job," Vera said with a laugh. "I came here to the Children's Center and I never left, so I must like it here," she added.
In Vera's opinion, it takes several qualities to make a good nurse. "A nurse has to be observant of what's going on and they have to be interested in the patient. They have to be caring and have a real desire to take care of others," she said.
It takes a mixture of love and determination, always following through and never giving up, being kind and considerate to others, always setting a goal and reaching for it, this is a mixture of Vera's strongest assets.
Working in the yard and playing with her great-grandkids is what Vera does in her spare time. "I stay busy and enjoy every minute of it," Vera said.
I asked Vera where she would travel to if she could travel anywhere in the world and she replied with a quick answer, "Oh, I would go to Switzerland. "My grandparents lived in Switzerland and I always thought it would be nice to go see where they lived. Plus, I have always been fond of the movie, Heidi. The green grass, the rolling hills… I always thought it would be a great place to visit. A beautiful place to go if I were to travel, but I don't think I will be going there anytime soon," she said with a smile.
"If I were to give advice to someone going into the medical field, I would tell them have a real desire for it, don't do it for the money or the prestige, do it for the love that comes from within your heart," she said. "They would need to have a real desire to take care of other, never expecting anything in return. Whatever they did, they shouldn't do it for the money, not for the prestige, they need to do it from their love for others," Vera said.
Words to live by: "Oh that's an easy one. The Bible," she replied.