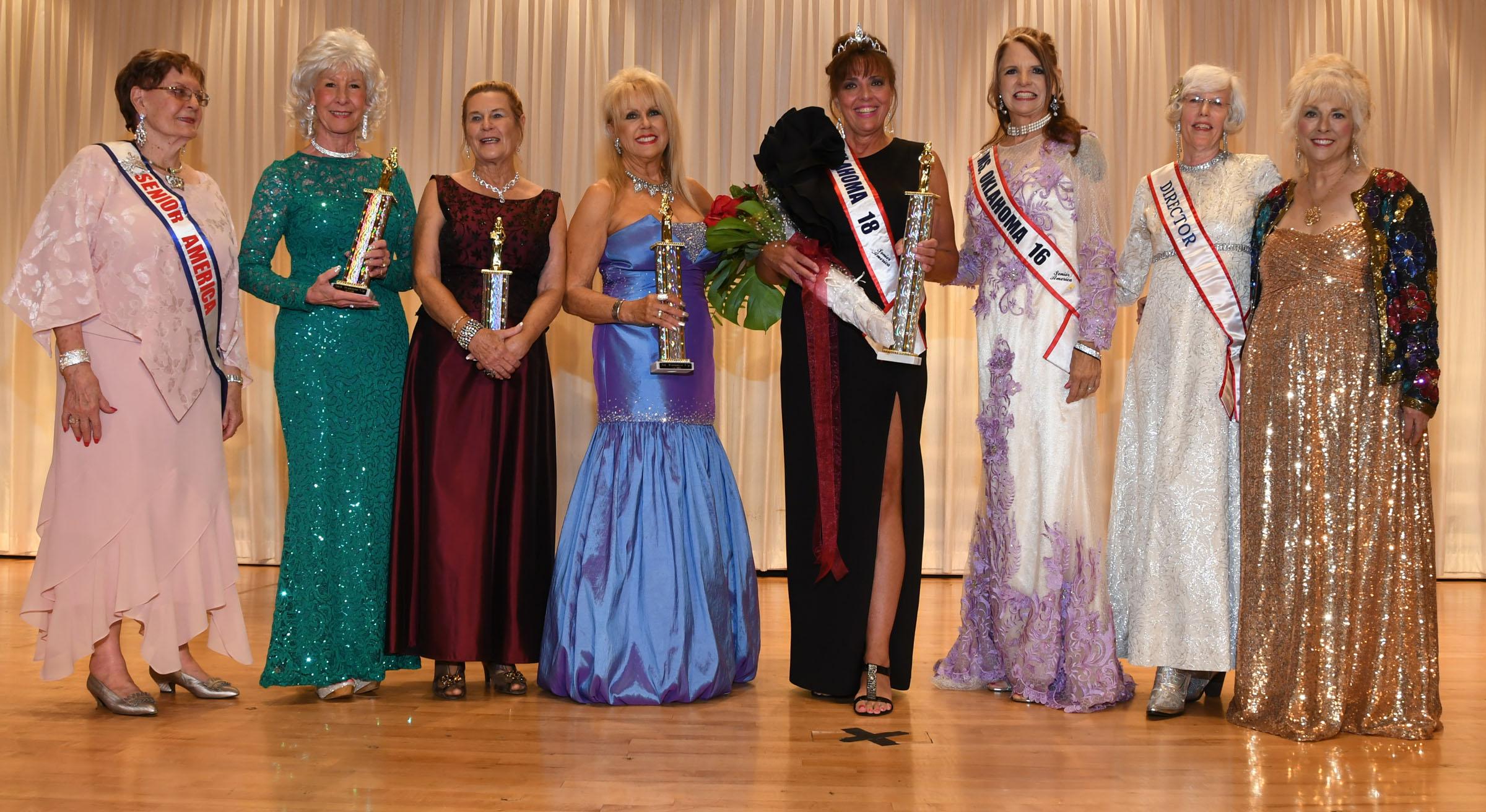 A very surprised and happy Kay Manning was crown Ms Oklahoma Senior America 2018 on Saturday, July 21.
When asked how she felt, Kay said, "I feel very blessed to have the opportunity to represent my State, tribe, community, and family as Ms Oklahoma Senior America 2018. This is such a rare happening in life to be given such an honor and I will absolutely do my best to make you all proud. I joined the pageant to get more comfortable on stage and with public speaking. I have always been a little shy and theater has been a way for me to get out of my shell. My philosophy of life is If you give a man a fish, you feed him for a day. If you teach a man to fish, you have fed him for life. As a teacher my goal is to show children what they need to know to go out into the world and succeed, as well as be independent. I have been teaching 23 years and plan to keep teaching many more."
God is first, because without Him none of this would be possible and I would not have met so many great people along the way. I am the daughter of Patrick and Jeanette Manning, spirited Oklahomans, Citizens of Potawatomi Nation Native Americans, and in a family of Sooner fans. I have a daughter, Brooke and two grandsons, Peyton and Bivin that bring me a lot of joy and keep me young at heart. I am an active participant in the Catholic Church, reading at Mass, fulfilling my need to give back for all I have been given. Recently I joined another family, the Oklahoma Senior Follies. They are the most colorful and exciting group of people I have ever had the pleasure to be around. As a teacher I work with many active seniors and try to encourage my friends to attend or volunteer. I enjoy promoting senior programs.
Ms Oklahoma Senior America 2018
Kay Manning is a teacher for the Oklahoma City Public Schools. She attended the University of Oklahoma, Marymount College of Salina, Kansas and University of Central Oklahoma (UCO). Kay transferred from OU to Marymount College where she received her Bachelor of Arts degree and an Associate in science. She later attended UCO where she earned her Early Childhood Certification in teaching. Her experience in the theatre began in OKC at Bishop McGuinness High School where she played the role of the eldest daughter, Tzeitel, in "Fiddler on the Roof'. She attended Marymount College in Salina, Kansas, and performed in "Pippin", "Camelot", "Annie Get Your Gun"," Next", "Orpheus Descending", "Waltz of the Toreadors", "The Children's Hour", and "Lysistrata" to name a few. Kay also performed the role of Jocasta in "Oedipus Rex" at Marymount College and the Manhattan, Kansas Community Theatre. In 2004, Kay was selected from over 500 singers auditioning to sing in a competition for News Channel 9 called "Gimme the Mike", Oklahoma.
First Runner Up is Kathryn Carroll Gordon was born in Midwest City. She became a member of the original Oklahoma Twisters Gymnastic Team in the 1950's. She became 1st Place Jr. Olympic Tumbling Champion, 3rd Place National Tumbling Champion and a member of the United States Pan American Gymnastics Team to Winnipeg, Canada. Kathryn graduated from Milford High School in Connecticut, where she trained in gymnastics for the 1968 Olympics. She attended the 1968 Olympic trials in Long Beach, where she qualified for the finals. Kathryn graduated from the University of Central Oklahoma with a Bachelor of Science Degree and a teaching certificate. She was on the Honor Roll and received an Outstanding Gymnast award. Recently, Kathryn graduated from a Getting Ahead class and received a State of Oklahoma citation signed by Senator Ron Sharp and Representative Dell Kerbs. Kathryn's past work history includes teaching in Mid-Del School system for 12 years; owning and operating the Edmond School of Gymnastics for 10 years and selling insurance for ten years, where she received many awards as a Million-Dollar Producer. Currently, she is working as a licensed cosmetologist. To satisfy her creative side, Kathryn has performed comedy at the Oklahoma City Joker's Comedy Club where she opened for comedians, Mack & Jaimie, acted in many commercials and training videos, tap danced as a member of "A Class Act" at the 2017 fundraiser for the Ms. Oklahoma Senior America Pageant, the 2017 Senior Follies, the Veterans' Center as well as at various nursing homes and assisted living centers. Kathryn is a member of Eastern Star where she donates her time to worthy causes. She has donated time to Project Gabriel in Shawnee, which helps pregnant girls with supplies for their babies as well as counseling. Kathryn currently attends Westminster Presbyterian Church. She is blessed with a daughter and a son who are successful as a Computer Engineer with Microsoft in Seattle and a Graphic Designer in Salt Lake City. She is proud, too, of her four grandsons and two granddaughters. She loves spending time with her family and friends.
Second Runner up Marilynn Blackmon is the mother of two children and has three grandchildren and three great grandchildren. She worked as a secretary in her 20s, and later went into sales and started her own interior design business "Interior Reflections." Some years later she changed focus and started a new business, "Pen & Pencil" office supply. As she turned 60, she went back to college, joined Toastmasters and reinvented herself. She became certified in Workforce Training and Development, and she was an Adjunct Instructor at Eastfield College in Mesquite, Texas, for three years. Then she moved back to her hometown of Ada, Oklahoma, in 2008 to completely restart her life where it began. Since that time, she has been Adjunct Instructor/Trainer at Pontotoc Technology Center in Ada for 12 years. Her goal is to help others learn to feel good about themselves and reach their full potential, which she does in every class she leads. She has a business called Fly without Baggage, and is a certified Master Coach in self-esteem elevation for children and adults. She is a public speaker whose theme is to enlighten and encourage others. She is a member of Toastmasters, Owls' Book Club and National Speakers Association. Her other interests include computer technology, singing, reading, fishing, jigsaw puzzles and her friends from Ada High School Class of 1960. She volunteers as associate Sunday School teacher at her church.
Third Runner Up Judy Jackson says she is greatly blessed, highly favored, and deeply loved by God through Jesus Christ. She is a Christian, a loving wife and a great mother. She has two sons, one lives nearby and the other is in Heaven waiting for her. She is a wonderful grandmother, a fabulous friend and an excellent teacher (retired now, from Middle School), but she still loves to teach any age group who is willing to learn. Judy is devoted to God, family, community and her Country. She believes in loving, living, laughing and spreading kindness everywhere she can. She believes we all have a purpose in life and hers is to spread encouragement in every way she can. Judy says we all need to learn something new every day until we take our last breath. She says she is like a goose, she wakes up in a new world every day. Judy says learning is living, and living is exciting. Trying to be the best person she can be helps her to be better at all the things that are important to her. It is her goal to get people excited about life and what they can do. Judy says getting someone to feel good about helping themselves to feel good about who and what they can be is an all-time high. Judy works as a volunteer so she can help someone else to have a better life. She feels doing so gives her a better life. She believes if she can teach, encourage and lift someone's day then she is doing the job God has planned for that day. With Random acts of kindness and giving a smile or a compliment to someone, she can brighten their whole day. According to Judy, we all just need a kind, encouraging word, or even just a quick prayer. It lets the world know that you care. Someone must care, so why can't it be me. In her small way she likes to believe she makes a difference. Her small part starts with her being the best person she can be, just being there when someone needs a smile, a hug or just a kind word. She feels this is her small corner of the world, and it's her job to make it the best world she can create for that day. Judy affirms she is a very blessed woman, and it is her treasure to pass a blessing or act of kindness on to someone else. That is who she is.
Other Oklahoma contestants
Betty Bradley, Duncan; Rita Engel, Ada; Pamela Holtzberger, Oklahoma City; Barbara Ann Krantz, Shady Point; Gayle Orf , Claremore; Shirley Shroff, Broken Arrow; and Winnie Stanberry, Tulsa.