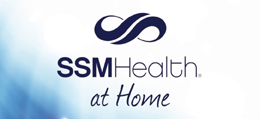 SSM Health at Home is proud to announce the health ministry now offers hospice service to people living in Oklahoma City and surrounding communities including Canadian, Cleveland, Grady, Lincoln, Logan, McClain, Oklahoma, Pottawatomie and Seminole Counties.
On May 26, 2022, SSM Health at Home achieved accreditation through the Accreditation Commission for Health Care (ACHC), demonstrating the organization's commitment to delivering high quality care through compliance with ACHC Accreditation Standards, Centers for Medicare & Medicaid Services' Conditions of Participation and Oklahoma state regulations.
"We have been providing home health services to the greater Oklahoma City area for many years. Offering hospice care will allow us to be there for patients throughout their entire health care journey," said Melody McCormick, Branch Manager for SSM Health at Home's hospice services in Oklahoma. "Adding hospice services will allow us to focus on providing compassionate care and improve quality of life for our patients at a time when they need it the most."
"We are honored to expand our services to patients and families who need us at one of the most difficult points in life and are blessed to have a tremendous team of staff ready to provide the best care possible," said Denise (dg) Gloede, President of Post-Acute at SSM Health.
"Hospice is the ultimate form of comprehensive care at the end of life. It is the combination of exceptional medical service, compassion, dignity and faith. It is an essential part of SSM Health's ministry and Mission," said Dr. Waddah Nassar, SSM Health at Home Medical Director and SSM Health Medical Group family practice physician.
To learn more about how hospice care can provide support to you or your family, please call 405-231-3755 or visit ssmhealth.com/athome.