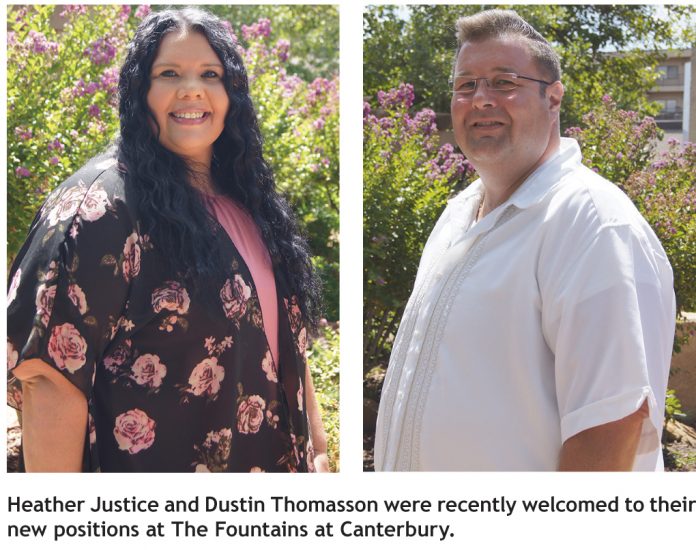 he Fountains at Canterbury, a continuum of care senior living community in Oklahoma City, welcomes Dustin Thomasson as the assistant director of nurses in rehabilitation and skilled nursing at The Springs and Heather Justice as the program director for assisted living at The Inn and memory care at The Gardens at The Fountains of Canterbury. Thomasson brings more than 22 years of nursing experience to the position, and Justice adds 16 years of experience to her position.
"The Fountains at Canterbury relies on exceptional associates to provide quality care that allows our residents to thrive," said Cody Erikson, executive director of The Fountains at Canterbury. "Dustin and Heather bring valuable experience and compassion to these positions. They will be vital to the future of The Fountains of Canterbury."
Thomasson became a registered nurse in 2002 and has worked for The Fountains at Canterbury for three years in other capacities. He was previously the director of nurses at Meadowlake Estates in Oklahoma City and a clinical director at Brookdale Bradford Village in Edmond, Oklahoma.
"I hope that the work I do each day betters the life of people both living and working in the community," said Thomasson.
Justice has been a registered nurse since 2011 with experience at Quail Ridge Senior Living in Oklahoma City as the director of nurses and was previously a registered nurse care manager at Providence Home Care in Oklahoma City.
The Fountains at Canterbury is dedicated to being the first choice in senior living, providing a continuum of care including independent living, assisted living, memory care, innovative rehabilitation therapies and skilled care. The Fountains at Canterbury is managed by Watermark Retirement Communities and is committed to creating an extraordinary community where people thrive. To learn more, please call (405) 381-8165 or go online to www.watermarkcommunities.com.