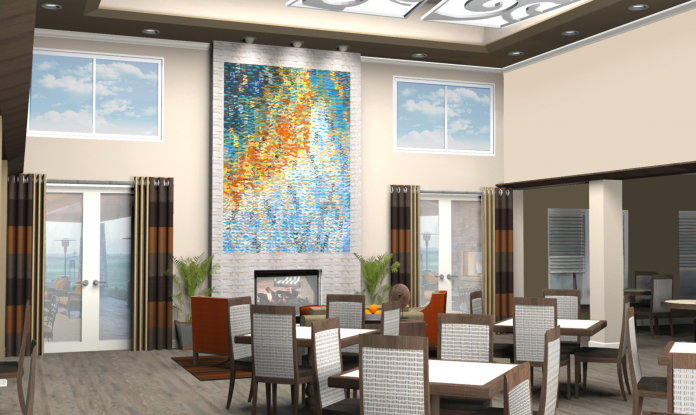 Story and photos by Vickie Jenkins
Meet Donna Bingham, Community Manager for the upcoming Grand Tapestry at Quail Springs apartments in Oklahoma City, Oklahoma. This brand new luxury apartment community is exclusively for active adults 55 and older and will be a spacious, gated and pet-friendly community, the perfect place to call home.
Avenida Senior Living LLC, in partnership with Black Oak Reality Fund of Oklahoma City is proud to unveil their newest development, located at 14101 North Kentucky Avenue, Oklahoma City, OK. The walkable location offers easy access to retail, entertainment, restaurants and medical facilities. This 140-unit community will feature state of the art amenities not previously available in Oklahoma City.
"I love what I do. I am proud of the community that Grand Tapestry is building. We are providing everything the 55 and better community loves to do under one roof with convenience, comfort and affordability," Bingham states. Avenida Senior Living is dedicated to developing this new generation of active senior living communities intelligently and strategically located to meet the needs and preferences of today's active and engaged senior. These age-restricted apartment communities are a 'right at home fit' for this stage of life, providing residents a safe and secure maintenance-free lifestyle with a full daily schedule of physically invigorating, emotionally engaging and socially stimulated activities. The senior tenant lives independently with a full amenity and activity package and shuttle transportation, which are all included at a comfortable, monthly rental cost that meets a senior's budget. There are no buy-in or entrance fees. Additional services can be added by the tenant on a la carte basis, so that the senior pays only for the services needed.
The completion date for Grand Tapestry at Quail Springs is set for December 1, 2015. Designed in a resort-like, craftsman inspired architecture style Grand Tapestry at Quail Springs comes in a variety of one-and two-bedroom floor plans to meet your specific needs.
"It is rewarding to spend my days with my community. I get to hear their stories, understanding how they feel and what they want, but the best part is I get the biggest hugs," Bingham says. "They know I am working alongside them to make this our community. They are my neighbors and my friends," she adds.
"When I tell others about Grand Tapestry, I tell them about our fabulous apartments with granite kitchens, walk-in showers and lots of attention to detail in their homes. Then, I tell them about all of the amenities; the continental breakfast, the daily activities, the fabulous heated salt water pool, and then I tell them, think hotel, actually a 5-star hotel, that's where you will be living," Bingham explains.
"It is always exciting to move into a brand new home, even more so when you realize all of the fun community activities you get with it. We have several area chefs that are willing to come in and do food demonstrations. We have a fabulous 3-tier theater room for movies. We expect to have catered brunches available for the community and their families on Sundays, and we even have several meeting rooms that will not only be open to our community but to groups that belong to as well, free of charge. We have spoken to a Red Hatters group and a bunco group, we will have many fun activities going on, no matter what you like to do," Bingham comments.
When asked about the area, Bingham replies, "The Quail Springs area is one of Oklahoma City's most desirable neighborhoods. The area is home to one of the city's major shopping malls and is a hub for all types of restaurants and retail options. World class health centers and churches are also close by." "When I met with the management company for GREYSTAR and I was told about the community that they were building in Oklahoma City, I was so excited! Then they asked if I would be the manager, I look forward to it and am proud to get the opportunity. After meeting with the owners, developers and marketing people of Grand Tapestry of Quail Springs, I was ready to move immediately! It's awesome to love what you do, love the people you do it with and the ones you do it for. What more could I ask for?" Bingham says with a smile.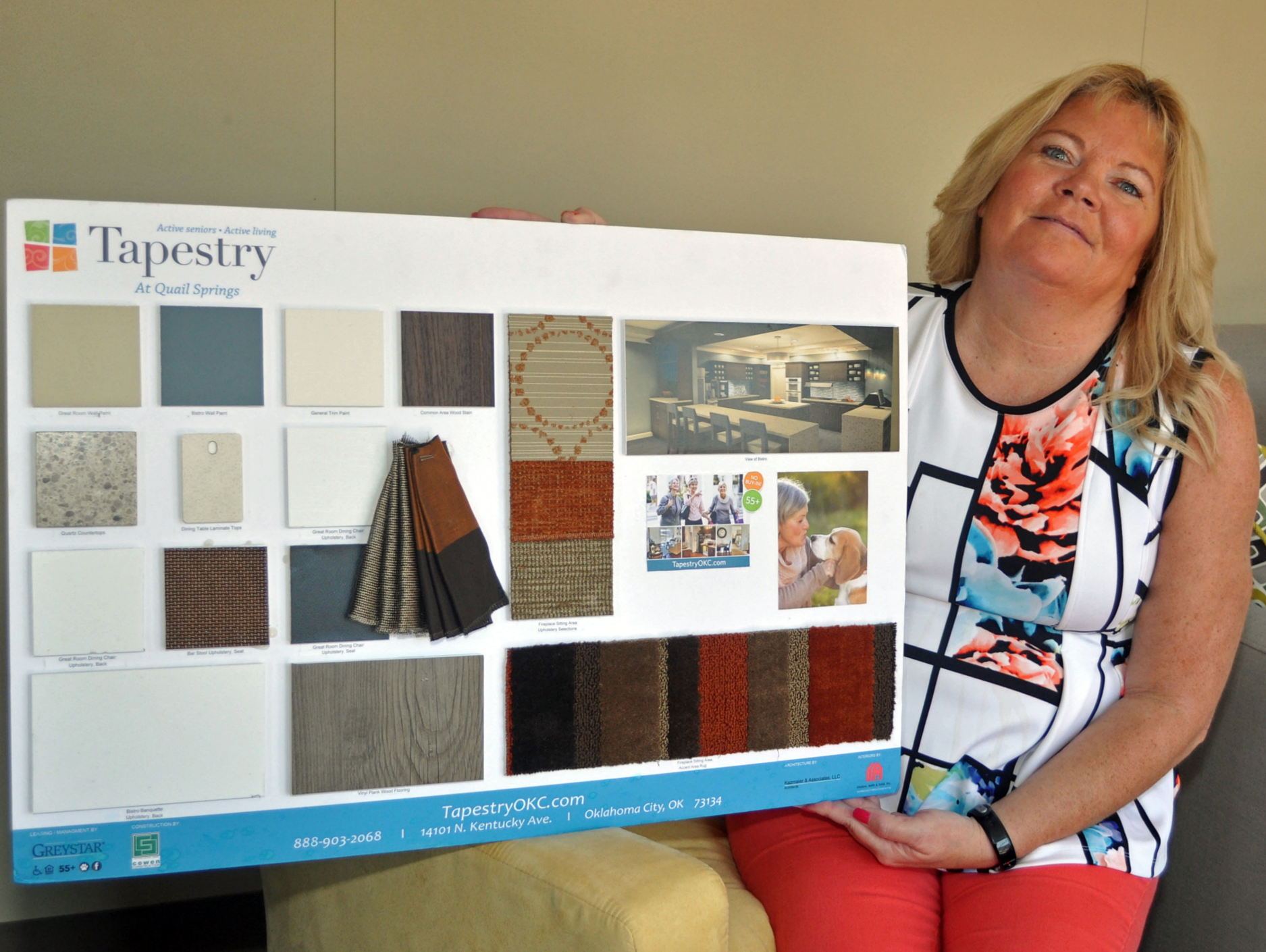 Donna Bingham, Community Manager of the upcoming Grand Tapestry at Quail Springs apartments, Oklahoma City, OK shows a display of the different finishes that are in the common areas; the bistro and the great room.