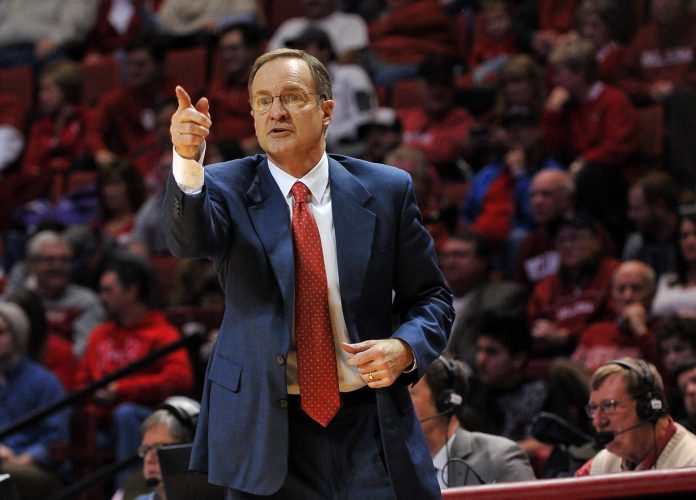 by Mike Lee, Staff Writer
For nearly three decades now, Lon Kruger has been called on to be a change agent. It's a role he's filled well, and at 63, one he still has a passion and knack for.
With more than 500 career collegiate victories and as the only Division I coach to ever take five different schools to the NCAA Tournament, Lon Kruger has been leaving his trademark rebuilding stamp on college basketball programs as a head coach for 29 years.
In fact, he is perhaps the greatest change agent in the sport's history.
Headed back from a coaches clinic in Kansas in August, Kruger shared some thoughts on his career, his stay in Norman and the season ahead.
Kruger admits this is his favorite time of the year.
"You've done it for a while but every year is different and unique," Kruger said. "The start of the school year is always a little bit special. Football season is right there and there's the start of school."
Kruger welcomes five newcomers this fall including Oklahoma's first seven-footer in nearly 15 years.
He subscribes to the philosophy that one of the best ways to stay young is to be around young people every day.
"I think there's truth to that because of their energy, their enthusiasm and their stage in life," Kruger said. "They're all changing and developing at different rates. Hopefully we're part of all of that and that's the challenge, to help them continue maturing and developing in a good way and be ready when they leave Oklahoma to do whatever they want to do successfully."
For Kruger, it's always been about the people he's coached. The things he is the most proud of are the people he's seen grow and move on, even though it's a bit humbling when they show back up toting grandchildren.
Now beginning his fifth season at the University of Oklahoma, Kruger's reconstruction job with the Sooners has occurred faster than even some of the program's most ardent fans imagined possible.
After inheriting a program that went 27-36 (.429) in the two seasons prior to his arrival, Kruger has coached the Sooners to a 82-49 (.625) record in his four years in Norman.
Kruger has led Oklahoma to three straight NCAA-tournament appearances.
The Sooners had not been to the postseason since 2009 when they advanced to the NCAA Elite Eight.
Oklahoma is the fifth school Kruger has taken to the Big Dance. His collegiate teams have made postseason appearances in 20 of the last 25 years, and he has the storied OU program positioned for another long run of success.
He's quick to point out that he hasn't done it alone, with wife Barbara at his side every step of the way – even when he made the jump to coach in the NBA as an assistant with the Atlanta Hawks and New York Knicks.
"That's huge," Kruger said, noting his 40th wedding anniversary is coming up in December. "That's the basis of everything. It's a partnership and we've done all that together. At the heart of it is that relationship."
What makes Kruger's more-than-500 career wins and NCAA Tournament trips with five different programs even more impressive is the condition of the programs when they hired him and the rebuilding jobs he faced at each.
In the year before his arrival as head coach at Texas-Pan American, Kansas State, Florida, Illinois, UNLV and Oklahoma, the schools combined for a 78-99 record (.441).
He directed all six programs to 20-win campaigns and took each of the last five to the NCAA Tournament or NIT by his second year.
In 2008, Kruger released his first book, "The Xs & Os of Success: A Playbook for Leaders in Business & Life." The book, which highlights the parallels between coaching a sports team and leading others in non-sports settings, consists of 40, five-minute lessons conducive to leadership, life and teamwork.
It uses sports as a way to tell the story and a way to make things tangible. All proceeds earned by Kruger from the book went to charity.
Kruger admits the conversation with his wife about life after basketball has come up recently.
So when will that happen?
"That's a good question," Kruger said with a chuckle. "We actually started talking about it and that's never happened before. Five, 10 years from now (the grandkids) will be active and doing their thing and we'll be enjoying that for sure."
Daughter Angie, an obstetrician, has given the Krugers a pair of grandchildren in Florida.
Son Kevin is an assistant men's basketball coach at Northern Arizona University.
Between now and then another season, or two, or three awaits.
And however many remain, Lon and Barbara will tackle them together.